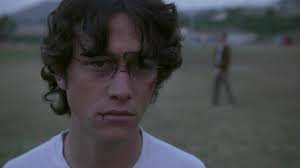 Trailer & Amazon Instant
| Rotten Tomatoes | IMDB | Wikipedia
Elizabeth:
Joseph Gordon-Levitt plays a high schooler trying understand his girlfriend's disappearance. Film noir style with excellent dialogue.
Ian:

Murder mystery from the perspective of an oddball kid in high school. All of the evidence seems to point him back to one person in town.
Karch: 
A new-age noir film follows a high-school detective trying to unravel what happened to his ex-girlfriend through the mysterious underground drug ring at his school.
Description:
Brick is a 2005 American neo-noir thriller film written and directed by Rian Johnson, starring Joseph Gordon-Levitt. It was Johnson's directorial debut and won the Special Jury Prize for Originality of Vision at the 2005 Sundance Film Festival. Wikipedia
This suggestion uses material from this Wikipedia article which is released under the Creative Commons Attribution-Share-Alike License 3.0.
Comments
comments
Tags:
Dark
,
Horror
,
Mystery
A Good Movie to Watch -
Movies you have not watched which you will like.
 Handpicked movie suggestions from the GOOD film recommendation generator engine.