Best Live TV Streaming Services with Unlimited DVR
By Brittany Storniolo • Published Jul 13, 2022
Updated Jul 13, 2022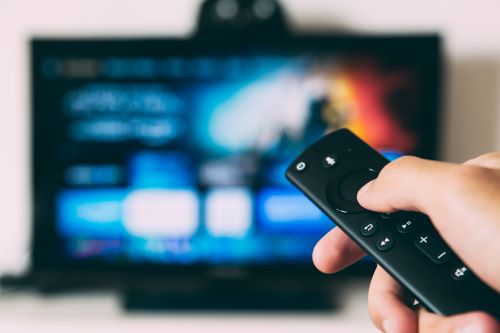 Remember in the 90s, when most of us used VCRs to keep records of TV shows? Back then, you had to buy tapes to keep separate recordings unless you were willing to overwrite older recordings. Not to mention you also couldn't switch the channel while the VCR was recording.
Luckily, at the start of the new millennium, TiVo introduced DVR technology. Hard drives were installed in DVR machines, which removed the necessity for video tapes. Additionally, DVRs like TiVo allowed users to watch separate channels while recording another.
These days though, TiVo and other DVR services still cost an arm and a leg. When you also factor in a cable subscription, you're spending a lot of money just to watch and record TV.
Best Live TV Streaming Services with Unlimited DVR
Thankfully, we now have alternatives like internet TV.
Internet TV services provide us with all the benefits of cable TV at a lower cost and additional functions. And in this case, DVR capabilities. However, with all the internet TV services out there, how do you decide which will give you the best bang for your buck? And most importantly, which platforms provide unlimited DVR?
To help narrow down your choices, we've collected the best internet TV services that provide unlimited cloud DVR.
Sling TV is a great budget option if you're looking for an internet TV service with excellent channel coverage and premier cloud DVR storage.
Base subscriptions come with 50 hours of cloud DVR. While more substantial than what some hard drives have the capacity for, it might not be enough for your needs. After all, you're here to look for unlimited cloud DVR. Luckily, for a small additional fee of $5/month, you can add unlimited cloud DVR to your Sling TV subscription.
Besides cloud DVR capabilities, Sling TV also offers excellent incentives. For one, with a Sling TV Blue subscription, you'll get to choose from 41 different channels. That way, you can watch channels like ESPN, CNN, and TNT. And of course, you can stream on up to 3 different devices.
Philo - $25/month
Philo is one of the best budget-friendly internet TV services that provide outstanding DVR features. And at that price, the main selling point is Philo's Cloud DVR features. Every Philo subscriber gets access to unlimited cloud DVR. However, it comes with the caveat of storing content for just 1 year. While a limitation, you should have enough time to watch your saved content.
Another advantage of Philo comes with excellent features such as device compatibility. Most modern devices have Philo app support which allows you to watch content on almost any device. Watch shows on your phone, TV, or tablet no problem.
All that aside, the main deciding factor for choosing a specific internet TV platform is its channel lineup. With Philo, you'll get over 60 different channels to stream. You can watch crowd-pleaser channels like Comedy Central and A&E. On top of that, you can pay to add premium channels like STARZ, EPIX, and Sony Movies.
When it comes to streaming, Hulu is one of the giants of the industry. Along with Netflix and Amazon Prime Video, it's one of the most recognizable names in the industry.
First and foremost, every Hulu + Live TV subscription now comes with unlimited cloud DVR.  That means you definitely won't have to worry about storage concerns when you subscribe to Hulu + Live TV.
Besides DVR capabilities, you also benefit from the diverse catalog of on-demand content in the Hulu media vault. Browse a library that hosts over 43,000 episodes of TV series and 2,500 different movies.
Other than the on-demand library, Hulu + Live TV comes with over 70 different cable channels. With that number of channels, you'll get to enjoy content from channels like FX and the CW, to name a few. Plus, for an additional $9.99/month, you can subscribe to premium channels like NFL Red Zone which allows you to stay tuned in to your favorite football teams.
Another bigwig in the internet TV market, DirecTV Stream, gives you industry-leading features and content for a very reasonable price.
Base subscriptions to DirecTV Stream only come with 20 hours of cloud storage. However, if 20 hours might not be enough to satisfy your needs, for an additional $10/month, you can upgrade your DirecTV Stream subscription to have unlimited cloud DVR.
Still not enough to convince you to subscribe to DirecTV Stream? Thankfully, one of the best selling points of DirecTV Stream is its healthy channel lineup. You can get over 140 different channels when you subscribe to the platform. Add to that, you'll get DirecTV Stream's on-demand library, which has over 65,000 hours of content.
Like Philo, Youtube TV features unlimited cloud DVR, with a caveat. You have a hard cap for how long your recorded content gets stored in the cloud. For Youtube TV, that limit is 9 months. Unless you're wanting content saved for years, that's more than enough time to enjoy your saved shows and movies fully.
Another selling point for Youtube TV is its excellent channel lineup. You'll get to watch content from grade-A channels like AMC and Comedy Central. Lastly, every Youtube TV subscriber can tune in to the NFL Network, giving you unprecedented coverage of the world of football.
Enjoy Unlimited Cloud DVR With Internet TV
Back in the day, we had to resort to external devices to keep records of our favorite shows and live events. Add to that, these devices came with a share of difficulties, such as requiring tapes and TV time to save recordings.
Then, when TiVo became popular, it introduced the world to DVR storage. While very handy, it came at a premium. Thankfully, these days all internet TV services come with cloud DVR storage. With these 5 platforms, you'll be spoiled for choice. Pick your favorite and subscribe to an internet TV service today!