Streaming Services
Sling
Hulu
fubo
YouTube TV
DAZN
Simultaneous Streams
DAZN: How Many Screens Can You Watch at Once?
By Staff, Deja Harris• Edited by Lisa Holden • Updated Nov 09, 2023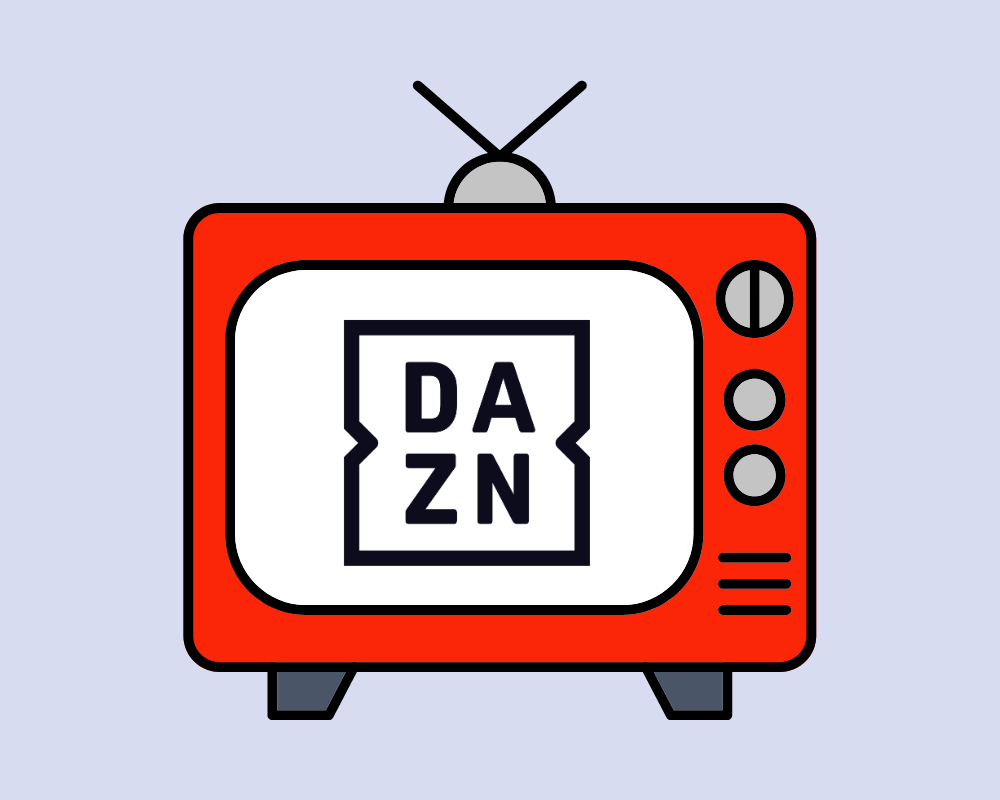 Wondering how many simultaneous streams you get with your DAZN subscription? In this guide, we'll tell you everything you need to know.
How many screens can you stream on at once with DAZN?
With DAZN, you can stream on up to 2 devices at once. The second someone signs in on a third device, one will immediately stop playing content. You can, however, connect up to 5 different devices to your DAZN account, but you just won't be able to watch on all of them at the same time.
That said, 2 streams at a time for DAZN is usually good enough for couples, small families, or roommates who are sharing accounts.
Is there a way to upgrade DAZN and get more streams?
Unfortunately, as of the time of publication of this article, you cannot upgrade your account to get more than 2 streams at a time. However, DAZN is still a fairly new streaming service, having launched just in 2018, so there is hope that they could eventually add the possibility of upgrading for more streams.
What is there to watch on DAZN?
DAZN is an international sports-centric streaming service that focuses on combat sports like boxing and MMA, along with content from a few other select sports like cycling and baseball. With your subscription, you'll get access to some of the most exclusive boxing fight nights and Bellator MMA with top fighters.
The streaming service has an on-demand library where it stores all the events that are broadcasted on DAZN. There isn't a particular expiry date for events. You'll be able to watch events for at least a few weeks after they've aired.
DAZN also has rights deals with many promoters in the fighting world, including the World Boxing Super Series, Combate Americas, Golden Boy Promotions, and Bellator. Depending on where you live, you can expect to find 100 fight nights per year from promoters in the on-demand library, along with lots of other content from the most popular international sports competitions.
Even while catering heavily to fans of combat sports, DAZN's on-demand library is hardly limited to fighting sports. You'll find plenty of content on-demand from various other sports. When browsing their on-demand library, you'll find cycling, pool, snooker, soccer, gymnastics, cricket, and even some Major League Baseball highlights. You won't be able to watch MLB games, but DAZN has partnered up with the MLB to produce a series called ChangeUp which will keep you up to date with all the latest MLB news and game highlights.
DAZN even offers a growing list of archived classic fights in its on-demand library, as well as tons of behind-the-scenes content and original programming. You can watch some deep and enlightening interviews with some of your favorite fighters and some rare documentaries profiling top athletes like Canelo: Road to Greatness and Ronaldo: El Presidente.
Is DAZN worth the money?
It depends on what you like to watch. If you're looking to watch combat sports at the lowest cost possible, DAZN is a great option. Most people subscribe to DAZN so they can save the money they keep dishing out for pay-per-view fights.
Stream the biggest events in boxing and more
DAZN only offers one subscription package which you can pay either monthly or annually. What are some reasons why people might not find DAZN worth it?
Maybe you want more variety in terms of content.
If you're looking for an all-in-one streaming service that offers more than just combat fights and limited other sports content, you might be disappointed with DAZN, as variety is quite limited. DAZN has niched down to really be the top spot for people looking to watch those popular fighting events at the lowest price possible.
DAZN doesn't offer any channel add-ons or ways to customize your subscription like Sling TV or Hulu + Live TV does. You won't be able to pay an added fee for extra content. DAZN is also not the best choice if you're looking to watch live games or fights on networks like Paramount Network. If that's the case, you may also need to get another live-streaming service like Fubo or YouTube TV.
Which devices can I use to stream DAZN?
When it comes to device compatibility, you shouldn't have any problem watching DAZN on the devices of your choice. You can stream DAZN on Apple TV, Amazon Fire TV Cube and TV Stick, Chromecast, Roku, Xfinity X1, Xfinity Flex, LG Smart TV, Samsung Smart TV, VIZIO SmartCast TV, Android TV, and Roku TV, on both Android and iOS devices, PlayStation 4, PlayStation 5, Xbox One X, Xbox Series X, and most Mac and PC browsers.
Keep in mind however that although DAZN has fairly decent device coverage, we don't recommend that you use the streaming service on a device or software version that's older than those recommended above. Doing so may lead to limited functionality within the DAZN app, which could hinder your overall watching experience. We suggest you use DAZN's app only on currently-updated devices.
Does DAZN come with DVR?
Unfortunately, as of the time of publication of this article, DAZN does not have DVR capabilities. This means you won't be able to record content to watch at your leisure. On the flip side, DAZN's on-demand library does carry most fights and shows broadcasted on the streaming service, which negates the need for a DVR in the first place.
Can I watch DAZN for free?
Sadly, DAZN doesn't currently offer a free trial of any sort for users in the U.S. To try DAZN out, you'll need to at a minimum subscribe to its monthly package. If you decide you don't like it enough to proceed with your subscription, then just cancel your subscription before the month is up.
Stream the biggest events in boxing and more
To cancel your DAZN subscription before getting charged for another month, just open a live chat with customer service from DAZN's website, give the customer service agent your account information, and request them to cancel your subscription.
Tara Khudairi • Author
Tara Khudairi is a freelance content writer and copywriter based in Toronto. Since 2014, she has contributed to brands and blogs alike to tackle popular topics relating to technology, personal finance, entertainment, travel and lifestyle. Whether it's the latest streaming service or cryptocurrency, she's passionate about making the complex simple. When she's not busy typing away, you'll find Tara watching Netflix's latest true crime doc or a classic 90's horror flick.
Lisa Holden • Editor
Lisa Holden is an editor and creative based in Houston, TX. Lisa holds a BA in African-American Studies from Temple University and has spent her career working in news publications and magazines, even founding a magazine herself. When she's not editing or working on one of her many creative endeavors (whenever that is), she enjoys traveling to new places and biking on sunny days.