Streaming Services
Sling
fubo
YouTube TV
Hulu
DirecTV Stream
Alternatives
Best DirecTV Stream Alternatives
By Staff, Deja Harris• Edited by Lisa Holden • Updated Oct 29, 2023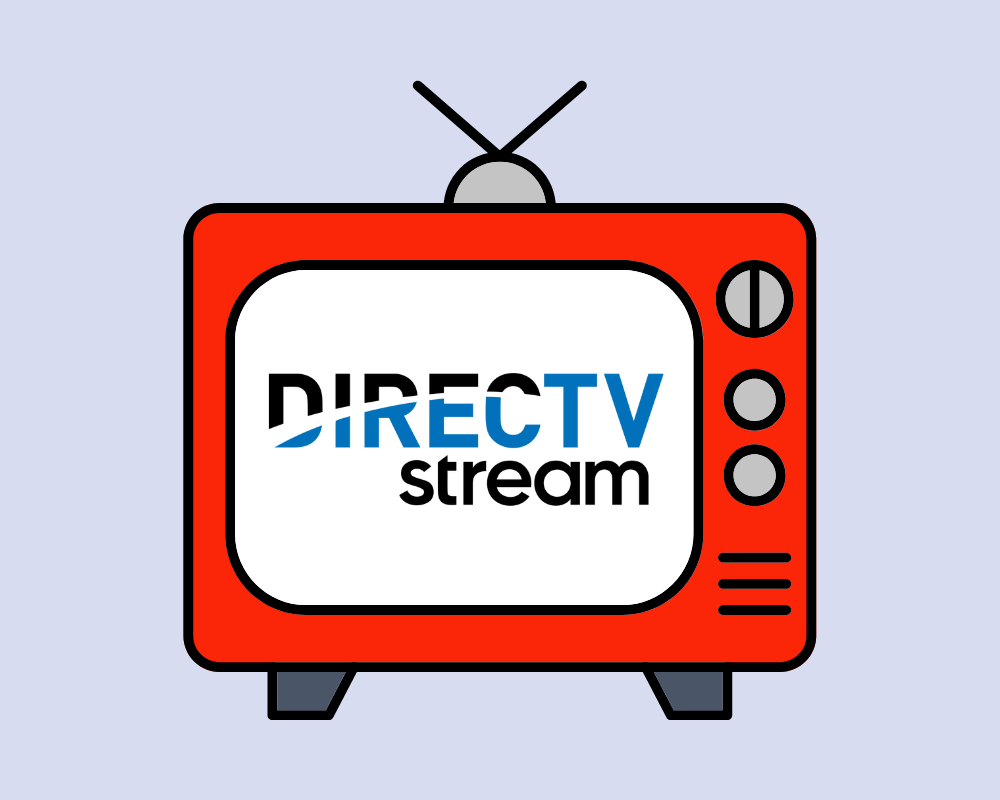 The streaming landscape is constantly changing. In addition to new services, every month can also bring price hikes, price cuts, and even free plans to old ones. So, whether you're a current subscriber to DirecTV Stream or thinking about signing up, you're probably wondering if it's the best service to suit your needs. But don't worry, we've got the best DirecTV Stream alternatives to help you in your decision.
What is DirecTV Stream?
DirecTV Stream is known for being a complete cable TV replacement. (But it's also known for being expensive.) Every plan includes the 4 major broadcast TV networks as well as PBS, and at least 65+ live channels. And starting from its second-tier plan, it offers the best selection of regional sports networks (RSNs) in the industry.
You get upwards of 45,000 on-demand titles and a wide selection of premium add-on channels to choose from. Feature-wise, 20 simultaneous streams and unlimited cloud DVR come standard with every plan.
It sounds hard to beat, but we narrow things down with our top 4 alternatives. Sling TV, Fubo, Hulu + Live TV, and YouTube TV all offer live TV with a variety of pros and cons.
Sling TV is the cheapest DirecTV Stream alternative.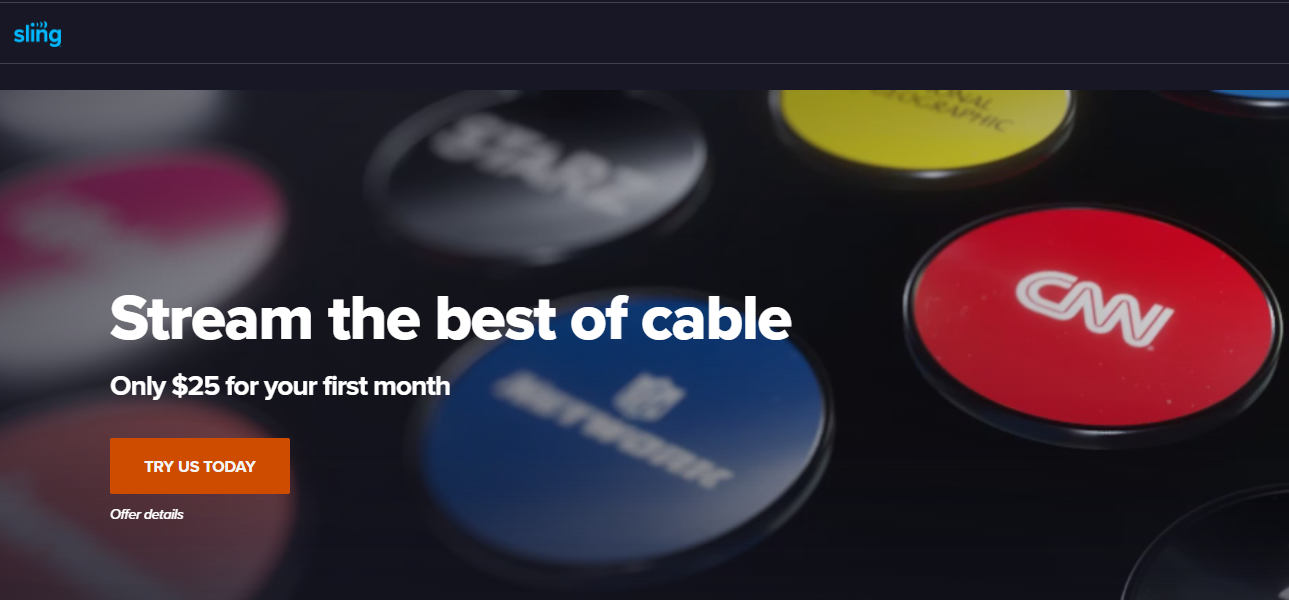 The biggest thing stopping many people from signing up for DirecTV Stream is the price. With prices on the more expensive end, it simply doesn't fit into everyone's budget - especially if they're looking for big savings by cutting the cord.
Enter Sling TV. It starts at half the price of DirecTV Stream's cheapest plan, but those savings come at a cost – namely, local affiliates. Sling TV can offer such low prices because it only carries 2 of the Big 4 networks – Fox and NBC.
What are Sling TV's pricing plans?
Sling TV has 2 main plans – Orange and Blue. Orange includes 30+ channels while Blue has 45+ channels. Only Blue includes Fox and NBC, but you can merge both plans with Sling TV's Orange & Blue plan.
Both plans include popular cable channels like A&E, AMC, and TNT. They also include entertainment channels MGM+ Drive-In, IFC, and Comet, as well as kid's programming with Cartoon Network, Nick Jr., and Investigation Discovery.
Other than local channels, the decision between Sling TV's plans really comes down to sports and news. Orange has ESPN while Blue has FS1 and NFL Network. They both have CNN, but Blue also has Fox News and MSNBC.
What are Sling TV's pros and cons?
Excluding Paramount+, which might stream your local CBS station for around ten dollars per month, Sling Blue is the lowest-priced streaming service with local TV.
However, those savings come at a price. Sling TV's cloud DVR is limited to a paltry 50 hours, although that can be upgraded to 200 hours for a small extra fee. Furthermore, Orange only allows a single stream, while Blue lets you stream up to 3 devices at once. If you opt for the combined plan, Sling Orange + Blue, you can stream on up to 4 screens at a time.
Fubo is the best DirecTV Stream alternative for sports.

When it comes to sports, Fubo gives DirecTV Stream a run for its money. It may not have all the RSNs that DirecTV Stream offers, but it's worth a look for any sports fan. Especially football fans.
What are Fubo's pricing plans?
Fubo has 3 main plans. They all include the 4 major broadcast networks, come with 1,000 hours of cloud DVR, and allow 10 simultaneous streams at home.
The Pro plan includes 170+ channels, while the Elite has 240+. Premier has about 250 channels and includes 9 Showtime channels and Showtime on-demand.
How is Fubo's sports coverage?
ESPN and FS1 come standard with every plan. So does NFL Network – which you cannot get through DirecTV Stream.
The Pro plan has up to 10 RSNs, including ATT Sportsnet and NBC Sports. It also has Big Ten Network, SEC Network, and beIN Sports.
Elite adds premium channels like NBA.TV, NHL Network, and MLB Network, as well as Tennis Channel and ACC Network.
Ultimate adds a half-dozen Pac-12 RSNs and 4 Stadium channels, as well as NFL RedZone and MLB Strike Zone.
What are Fubo's pros and cons?
Fubo has more sports channels than DirecTV Stream, and it offers some key channels that DirecTV Stream doesn't, namely NFL Network and NFL RedZone.
Another checkmark in Fubo's column is that your DVR recordings don't expire. They are yours until you delete them, while DirecTV Stream's auto-delete after 9 months.
The main downside of choosing Fubo over DirecTV Stream is losing the RSNs. But depending on which market you live in and the sports you follow, that could be the deciding factor.
Hulu + Live TV is the best DirecTV Stream alternative for original content.

Everyone knows of Hulu as Netflix's main competitor, but fewer people may know about its live TV service. If you're looking for you're looking for a service that makes its own content – seeing as DirecTV Stream doesn't – look no further than Hulu + Live TV.
What are Hulu + Live TV's pricing plans?
Hulu + Live TV has 2 plans, but their only difference is commercials: ad-free or ad-supported. However, "ad-free" only applies to the on-demand library. It doesn't remove ads from live TV.
Both plans include Disney+ and ESPN+, making it an easy choice for a lot of families cutting the cord.
You get 85+ channels, including the 4 major networks, as well as The CW, Telemundo, and Univision. You'll also find popular cable channels such as A&E, FX, and History Channel. For sports, it includes ESPN, FS1, NFL Network, and 13+ other sports channels – but you won't find MLB Network or NBA.tv.
You get unlimited cloud DVR and recordings last 9 months – as long as they do with DirecTV Stream. And while you can only watch 2 streams simultaneously, an upgrade lets watch unlimited devices at home.
Award winning Hulu originals
Thousands of shows and movies
Award winning Hulu originals
Thousands of shows and movies
Does Hulu + Live TV have original content?
Since The Handmaid's Tale made Hulu the first streaming service to win an Emmy for Best Drama in 2017, a steady lineup of top-notch original content has followed. It even launched an FX content hub in 2020 to feature original FX content specifically made for Hulu.
One of Hulu's strengths appears to be limited series. Here are a few of their most popular miniseries:
22.11.63
Mrs. America
The Dropout
Devs
The Looming Tower
Highly rated, recurring original TV shows by Hulu include:
The Great
How I Met Your Father
Only Murders in the Building
Ramy
Reservation Dogs
What are Hulu + Live TV's pros and cons?
Hulu + Live TV produces high-quality original content and, for the same price as DirecTV Stream's lowest-priced plan, includes Disney+ and ESPN+ as well. In terms of value, it's hard to beat.
However, Hulu + Live TV offers the least amount of channels out of any service in its price range, so you may not find everything you're looking for.
YouTube TV is the best DirecTV Stream alternative for offline viewing.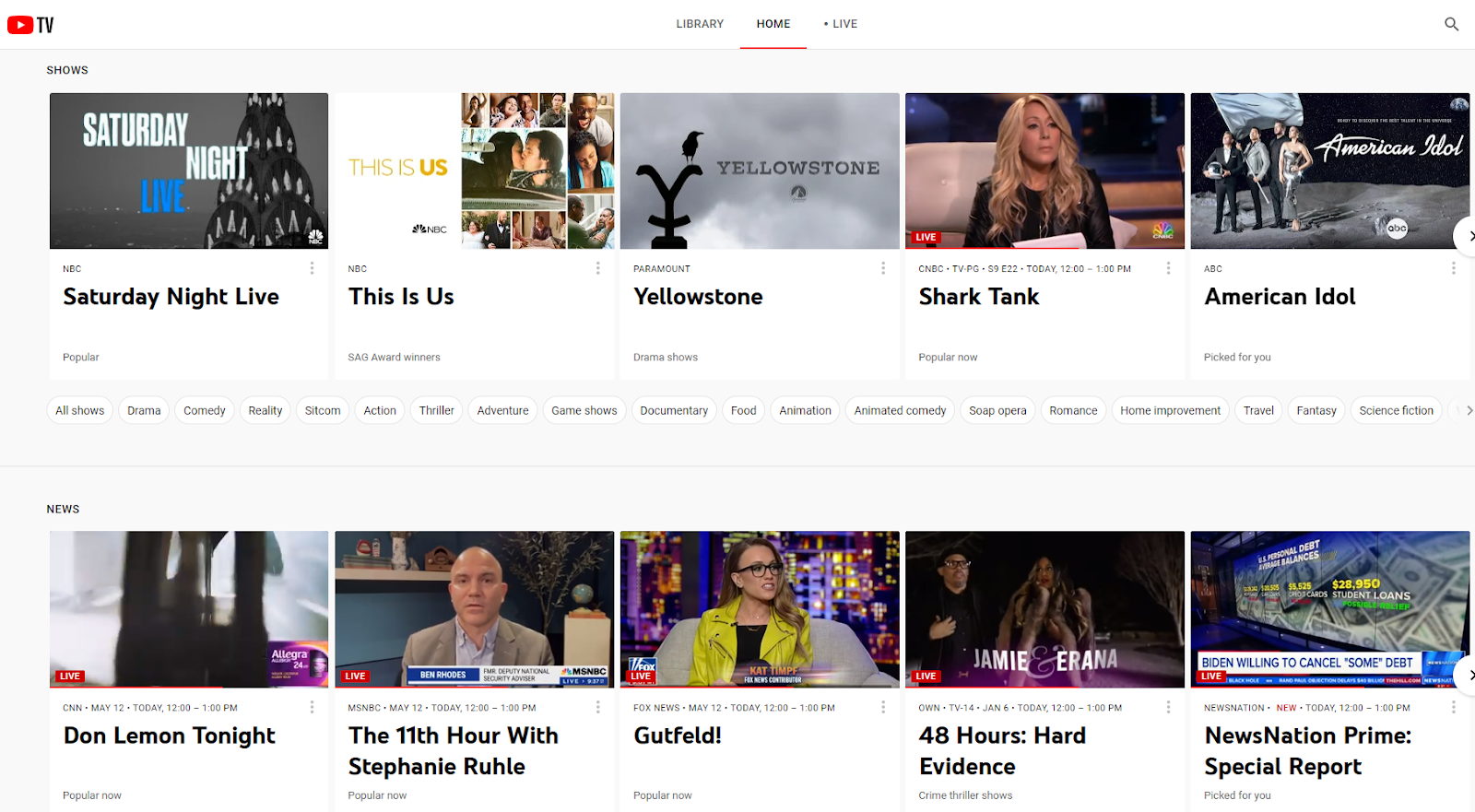 Some people like to spend most of their summer at the cabin or the lake – or someplace else without reliable internet. But that doesn't mean they want to leave their favorite shows and movies behind. It's is why downloadable content is a nice feature to have in a streaming service.
However, most live TV streaming services – including DirecTV Stream – don't support downloads. But YouTube TV does. And it does it very well.
What are YouTube TV's pricing plans?
YouTube TV keeps things even simpler than Hulu + Live TV. It has one plan and one plan only. YouTube's only plan has 100+ channels, including the 4 major broadcast networks, PBS, TBS, and TNT. There's no Telemundo, but it's got UniMás and Univision.
There are premium sports channels like MLB Network, NBA.TV, and NFL Network, as well as RSNs SportsNet NY and NBC Sports in 5 markets.
The plan lets you watch 3 simultaneous streams and comes with unlimited cloud DVR recordings with a 9-month shelf life.
85+ broadcast, cable, and regional sports networks
How is YouTube TV's offline viewing?
There are currently only 3 other live TV streaming services with downloadable content: Hulu + Live TV, Paramount+, and ESPN+. As ESPN+ is sports-centric and Paramount+ has only one network, Hulu + Live TV is the only real competition. And YouTube TV blows it away.
YouTube TV has unlimited downloads compared to Hulu's 25, 9 months retention compared to 30 days, and unlimited devices compared to five.
What are YouTube TV's pros and cons?
YouTube TV checks all the boxes for a cable replacement and is the industry's best option for watching offline.
Like every other streaming service, it doesn't have DirecTV Stream's cherished RSNs. But unlike Hulu, it doesn't offer original content. So, it all depends on your viewing priorities.
Douglas Wright • Author
Douglas Wright is a freelance writer based in Japan. A former web designer and technical writer, he left beautiful Vancouver for bustling Tokyo, where he spent a decade recruiting for software and high-tech firms. No longer commuting through the world's busiest train station, he writes fiction and a wide range of formats for clients around the world. When he gets AFK, he's either outdoors with his two boys, streaming a show with his wife, or reading a book over a French-pressed, hand-ground coffee.
Lisa Holden • Editor
Lisa Holden is an editor and creative based in Houston, TX. Lisa holds a BA in African-American Studies from Temple University and has spent her career working in news publications and magazines, even founding a magazine herself. When she's not editing or working on one of her many creative endeavors (whenever that is), she enjoys traveling to new places and biking on sunny days.