Streaming Services
DirecTV Stream
fubo
Comparison
DirecTV Stream vs. Fubo in 2023
By Staff• Edited by Lisa Holden • Updated Jun 14, 2023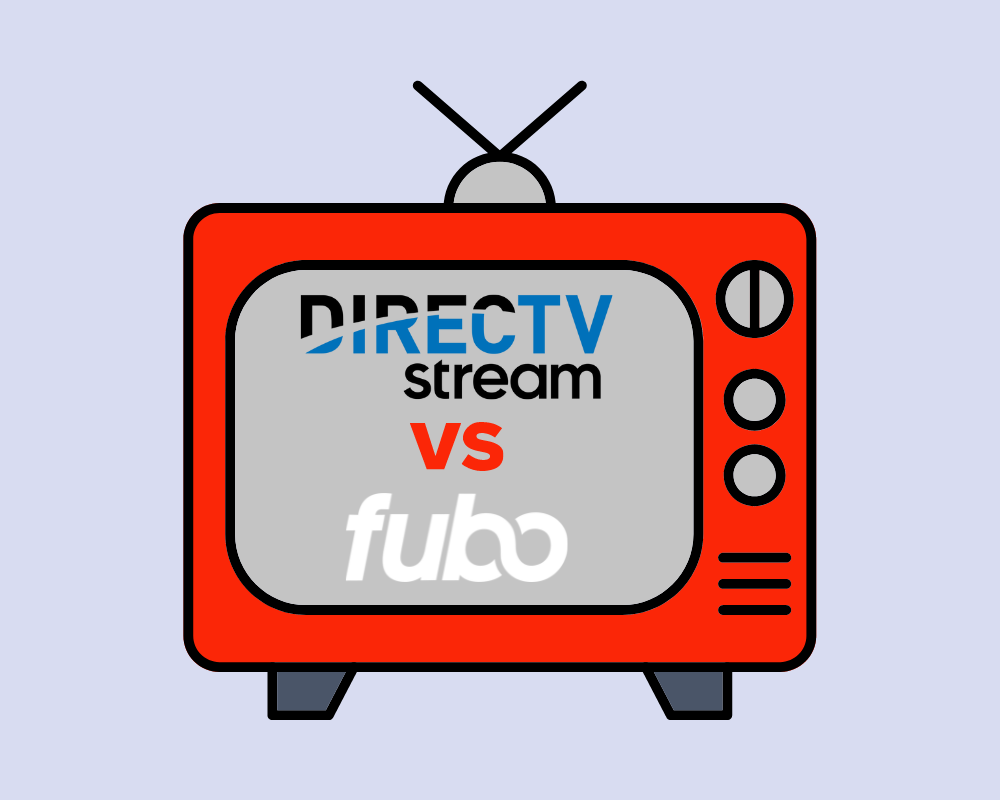 With more new streaming services popping up left and right almost every month, the latest and greatest trend in the business is the internet TV service. This service replaces standard cable with a cheaper, more feature-rich alternative. Now, canceling your cable is more viable than ever.
Thanks to these services, you don't have to worry about missing live events since you can save everything to your DVR. Add to that, you don't have to shackle a viewing experience to your TV. Internet TV platforms allow you to stream our content across almost every device imaginable.
But today there are a lot of different options out there. While Netflix once reigned supreme as the only streaming service on the market, competitors are popping up left, right, and center. And it begs the question—which service is worth your dollar?
Today, we answer that by putting DirecTV Stream and Fubo up against each other.
Best Internet Streaming Service Free Trials
Before we get down to the nitty-gritty and compare the two platforms, let's talk about their free trial periods. After all, if you can get a sample of what the streaming services offer, you'll get an idea of whether DirecTV Stream or Fubo suits your needs.
DirecTV Stream free trial
First, let's ‌look at what's on the plate for DirecTV Stream as far as free trials are concerned. If you're a new subscriber to DirecTV Stream, you're in for a surprise.
Earlier this year, DirecTV Stream introduced a new free trial period for new subscribers. That means you can now use DirecTV Stream for 5 whole days if you subscribe today and decide how you feel about it before you commit.
Fubo free trial
As for Fubo, you're in an even better situation. You'll get to demo Fubo for an entire week. During the trial periods of both platforms, you'll get to sample their entire channel lineup and all their additional features.
Then, if you're satisfied with either one, you can keep enjoying your new streaming platform, and you'll receive your bill in the following month. But, first, don't forget to remove your credit card details or delete the account on the platform you don't choose.
5 Differences Between DirecTV Stream Vs. Fubo
To decide which platform is worth your time, getting a clear picture of what each service can offer you is vital. So, we've broken down DirecTV Stream and Fubo across a couple of different categories below to make the decision easier for you.
1. Plans And Pricing
The price will probably be the first thing that will catch your eyes when picking a service. After all, you don't want to have a repeat of cable TV where the value proposition is tough to swallow. So, let's see how DirecTV Stream and Fubo stack up.
DirecTV Stream pricing
As of writing, there are 4 different plans to choose from as far as DirecTV Stream is concerned. The main difference between each plan tier is the number of channels available.
Stream on unlimited devices at home
Regional sports networks included
Stream on unlimited devices at home
Regional sports networks included
Stream on unlimited devices at home
Regional sports networks included
Stream on unlimited devices at home
Thanks to its 4 different subscription tiers, DirecTV Stream allows you to pick the best plan that fits your budget and your desires.
Fubo pricing
Differing slightly from its competitor, Fubo offers 3 main subscription tiers. And, unlike DirecTV Stream, the more premium plans also come with a bevy of additional features.
Like DirecTV Stream, Fubo has various plans that cater to separate customer brackets.
2. Channel Lineup
The next thing on your mind when choosing different streaming platforms will probably be their channel list. After all, you'd feel quite dissatisfied if you're missing out on your favorite channels. To give you more clarity about the right choice for you, here are DirecTV and Fubo's channel lineups.
DirecTV Stream channels
You'll find your usual suspects on DirecTV Stream's channel library. And you can expect to see most of the major entertainment and news networks on the streaming platform. For instance, here's a small sample of DirecTV Stream's channel lineup.
A&E HD
BBC America HD
BET
C-SPAN
Cartoon Network HD
CNN
Comedy Central
Discovery Channel
ESPN HD
FX HD
You can also add premium channels to your account for a small fee. Some of these premium add-ons include:
HBO
Cinemax
Showtime
Starz
MGM+
Fubo channels
Fubo is primarily a sports-centric platform. For that reason, you'll find a hefty serving of sports channels on Fubo. But besides that, you'll also get a fair share of Spanish language networks. Some of the channel highlights include:
ABC
FOX
FX
ESPN
beIN Sports
AMC
BBC America
E!
VH1
MTV
CNN
Like the competition, Fubo also has a fair share of add-on networks like:
Showtime
Starz
MGM+
AMC Premier
In the channel lineup category, Fubo beats DirecTV Stream because of the sheer volume of available channels. However, DirecTV has more premium add-ons available.
3. DVR
One of the most important features that separate one platform from the other when it comes to the best streaming platforms is DVR. So, how do DirecTV Stream and Fubo compare when their DVR features face each other?
DirecTV Stream DVR
As far as DVR features are concerned, DirecTV Stream has the corner on that market. It beats most of this category's competition thanks to its unlimited hours of cloud DVR. Whether you're looking to save all 121 hours of F.R.I.E.N.D.S or any live sports event, you'll never run out of space when subscribing to DirecTV Stream.
Fubo DVR
When it comes to DVR, Fubo is more generous than other internet streaming platforms. For example, most platforms have a 200-hour DVR limit, while Fubo has 1000 hours. Still, compared to DirecTV Stream's unlimited DVR, Fubo falls flat in this area.
4. Simultaneous Streaming
Remember when you'd argue with your siblings about what to watch on TV? Well, with a simultaneous stream feature, you won't have a repeat of that. Instead, on DirecTV Stream or Fubo, you can share your account and watch different content on a single account concurrently.
Between Fubo and DirecTV Stream, which has more robust simultaneous streaming features?
DirecTV Stream simultaneous streaming
DirecTV Stream has another unlimited feature under its belt, and that's the unlimited screen features. All users on DirecTV Stream can stream across an infinite number of devices simultaneously.
Whether you're having a family reunion or a house party, your guests will never get bored with DirecTV Stream's rich simultaneous streaming features.
Fubo simultaneous streaming
Unlike its DVR features, Fubo doesn't fall behind DirecTV Stream with simultaneous streaming. In the same vein as its competitor, Fubo also shares the unlimited streams feature. So, every Fubo user can stream in parallel across unlimited devices.
As you can see,  Fubo and DirecTV Stream are comparable in simultaneous streaming.
Last, but certainly not least, comes device support. No one watches shows just on their TV anymore after all, so you want to make sure you're streaming service works on everything. Between DirecTV Stream and Fubo, which service has the best app support?
5. Device Support
DirecTV Stream device support
As you'd expect from a modern service, DirecTV Stream is compatible with most modern devices.
Internet Browsers - Safari and all Chromium-based browsers
Smart TVs - Select Samsung TVs
Streaming Devices - Chromecast, Amazon Fire, Roku, and Apple TV
When it comes to device support, DirecTV Stream meets the industry standards.
Stream on unlimited devices at home
Regional sports networks included
Stream on unlimited devices at home
Regional sports networks included
Stream on unlimited devices at home
Regional sports networks included
Stream on unlimited devices at home
Fubo Device Support
Fubo doesn't lag when it comes to device support. In fact, it comes out on top of DirecTV Stream‌.
Internet Browsers - Safari and all Chromium-based browsers
Smart TVs - Select LG, Hisense, and Samsung models
Streaming Devices - Chromecast, Amazon Fire, Roku, and Apple TV
Game Consoles - Xbox One S | X, Xbox Series S | X
Fubo wins the round of device support comparison.
Enjoy Your Favorite Content with DirecTV Stream and Fubo
Between the scores of different streaming services on the market today, it's a tough call to find the perfect candidate for you.
When it comes to choosing between Fubo or DirecTV Stream, though, you can't go wrong with either. So, whether you decide DirecTV Stream for its more robust DVR content or Fubo for its more potent lineup of sports channels, you'll be happy with either.
Lisa Holden • Editor
Lisa Holden is an editor and creative based in Houston, TX. Lisa holds a BA in African-American Studies from Temple University and has spent her career working in news publications and magazines, even founding a magazine herself. When she's not editing or working on one of her many creative endeavors (whenever that is), she enjoys traveling to new places and biking on sunny days.