Streaming Services
fubo Canada
DAZN Canada
Comparison
Fubo vs. DAZN in Canada in 2023
By Staff, Deja Harris• Edited by Lisa Holden • Updated Nov 17, 2023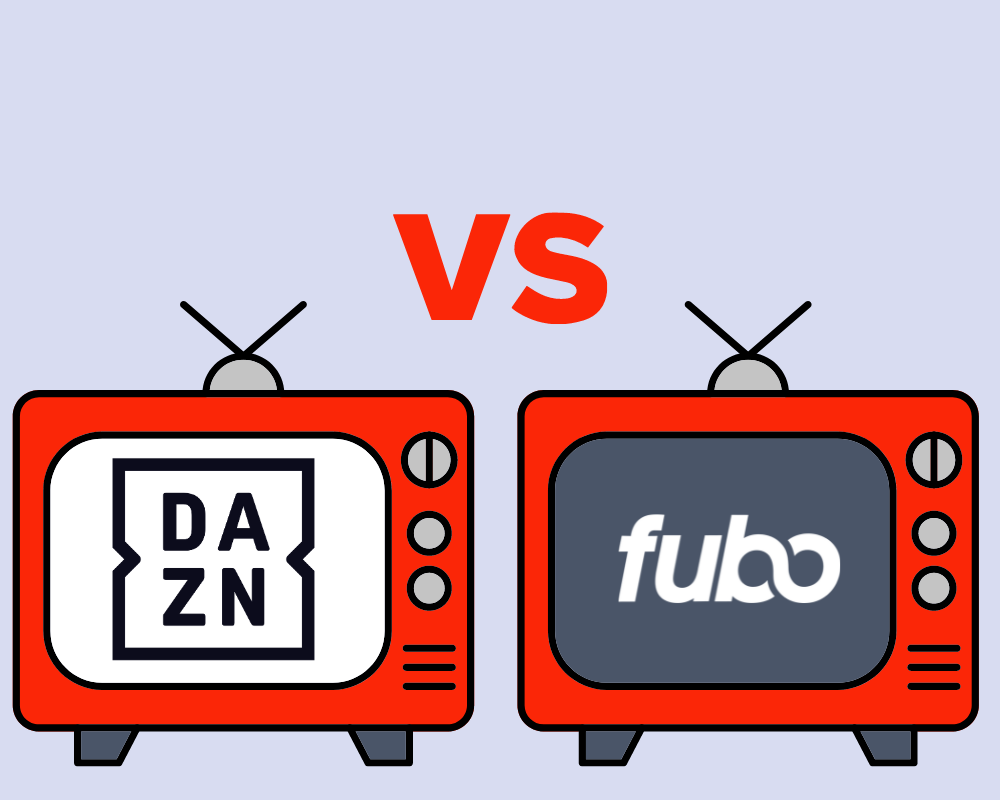 Sports fans from Canada might have a dilemma – should I subscribe to Fubo or DAZN? Both streaming services are available in this country, but which is better for you?
It would be best if you knew more info about the platforms, and that's what our guide brings to you. Here's a detailed overview of the things you get with Fubo and DAZN in Canada!
How does Fubo vs DAZN in Canada compare?
| Feature | Fubo | DAZN Canada |
| --- | --- | --- |
| Free Trial | No | Occasional limited offers |
| Simultaneous Streams | 3 | 3 (on the same network) |
| On-Demand Content | 30,000+ hours | 10,000+ hours |
| Live Channels | 48 | Live events |
| Local Channels | 1 | 0 |
| Sports Channels | 30+ | 3+ and live events |
How do the pricing and plans compare?
Fubo has two available packages. Each deal is available in monthly, quarterly, and annual deals. If you pick a long-term subscription, you'll save in the long run. If you are in the USA, the costs are different, so consult our Fubo pricing guide for more info.
DAZN offers simple pricing with only one subscription plan. You can pick between monthly and annual payments. It's the same pricing as Fubo's Essentials package, but Fubo has much more to offer content-wise.
How do Fubo and DAZN's channels compare?
Fubo's focus might be on sports, but that doesn't mean it neglects those who love other content. You can enjoy dozens of sports channels, ranging from World Poker Tour to BeIn Sports Canada. The Premium package secures 26 entertainment channels, including HGTV, National Geographic, Paramount Network, etc.
DAZN is a sports-oriented service, so you'll find different events on this platform. NFL fans can enjoy channels like NFL Network and NFL Red Zone. You can also watch European and international soccer, baseball, rugby, combat sports, tennis, pool, darts, etc.
How do the local channels compare?
Fubo partners with CBC to offer this channel on the platform. It's the national public channel in Canada and is great for following the latest news. Other news channels, such as Revry News, Cheddar News, Euronews, and Africanews, are also available.
There's no local content on DAZN. Furthermore, even matches of Canadian teams in MLS soccer are delayed. You might be able to see individual performers in various events and the national team playing in the FIFA World Cup Qualifiers.
How do the sports channels compare?
Brace yourself for a truly impressive list of sports channels and events supported by Fubo. For starters, it has the right to broadcast all Premier League football matches, as well as Serie A and other European football events. MLB Network, Fight Network, Sports Grid, World Poker Tour, and ten different Fubo Sports Network channels are also available. It's an excellent all-around offer of North American and international sports.
DAZN focuses on events rather than a large number of channels. You can enjoy continental European competitions, such as the UEFA Champions League, UEFA and FIFA qualifiers, the EFL Championship and other competitions, and MLS. NFL and MLB are covered, as well as the WTA Tour in tennis and the Six Nations Championship in Rugby. You can watch pool, snooker, and darts, as well as loads of boxing and MMA.
Which has the better on-demand library?
DAZN has a decent sports-focused on-demand library. It includes a huge archive of important sports events, but also sports shows, including ChangeUp, an MLB series produced by this platform. Documentaries like The Journey: Canelo/Rocky and other great sports-based films are also in the VOD library.
Although Fubo has an on-demand library in the USA, it doesn't seem that this option is available to viewers in Canada. However, this could change anytime, so stay tuned for the latest news.
Do both services have a free trial?
DAZN has occasional limited offers where they offer a free trial. You might encounter an option where you can try the service for seven days if you sign up for the platform.
How do the other features compare?
What about the additional options that Fubo and DAZN offer to their viewers in Canada? Here's a quick comparison of the most important features!
How are the cloud DVR options?
Fubo offers 1000 hours of cloud DVR space with its basic subscription. It should be more than enough to record your favorite sports content and watch it later. On the other hand, DAZN fails to provide any DVR options, so Fubo is the clear winner in this category.
How are the simultaneous streaming options?
The platforms take two different approaches. Fubo allows three simultaneous streams regardless of the network used. You can enjoy the content on three different devices with a single registered account. It's possible to upgrade this but find more info in our Fubo availability in the Canada article.
On the other hand, DAZN also supports three simultaneous streams, but the trick is they have to be on the same network. If you connect from different IPs/locations, you can only use two simultaneous streams.
What are the device support options?
Both services do well in this department. You can find apps for Fubo and DAZN for various devices in their respective app stores. The apps are free and function flawlessly. The compatibility includes all Android and iOS devices of a fairly new release date, but also Amazon Fire, Chromecast, smart TVs, gaming consoles, etc.
Here's our verdict: Fubo is better than DAZN in Canada?
Ultimately, we'd say there's no doubt that Fubo designed great packages for Canadian viewers. The affordable subscription plan offers excellent content primarily focused on sports. Whether you are a football or baseball fan, you'll enjoy the selection. And you can unlock even more, including extra entertainment channels, with the additional package.
That being said, it's not like DAZN doesn't have anything to offer. If you enjoy European and international soccer competitions, NFL, or combat sports, you'll enjoy this platform. It's best to check their exact channel and event lineup – that will help you pick the service that broadcasts your favorite sports and teams!
Aneeca Younas • Author
Aneeca Younas is a graduated journalist with years of experience writing in different niches based in Oakland, CA. She is a huge movie fan that also enjoys watching sports. That's why she spends hours daily using various streaming services. Over the years, Aneeca profiled herself as an expert in cable-free and VOD platforms.
Lisa Holden • Editor
Lisa Holden is an editor and creative based in Houston, TX. Lisa holds a BA in African-American Studies from Temple University and has spent her career working in news publications and magazines, even founding a magazine herself. When she's not editing or working on one of her many creative endeavors (whenever that is), she enjoys traveling to new places and biking on sunny days.