Streaming Services
Peacock
fubo
Comparison
Fubo vs. Peacock 2024: Which Service Is Better for You?
By Staff, Deja Harris• Edited by Lisa Holden • Updated Dec 04, 2023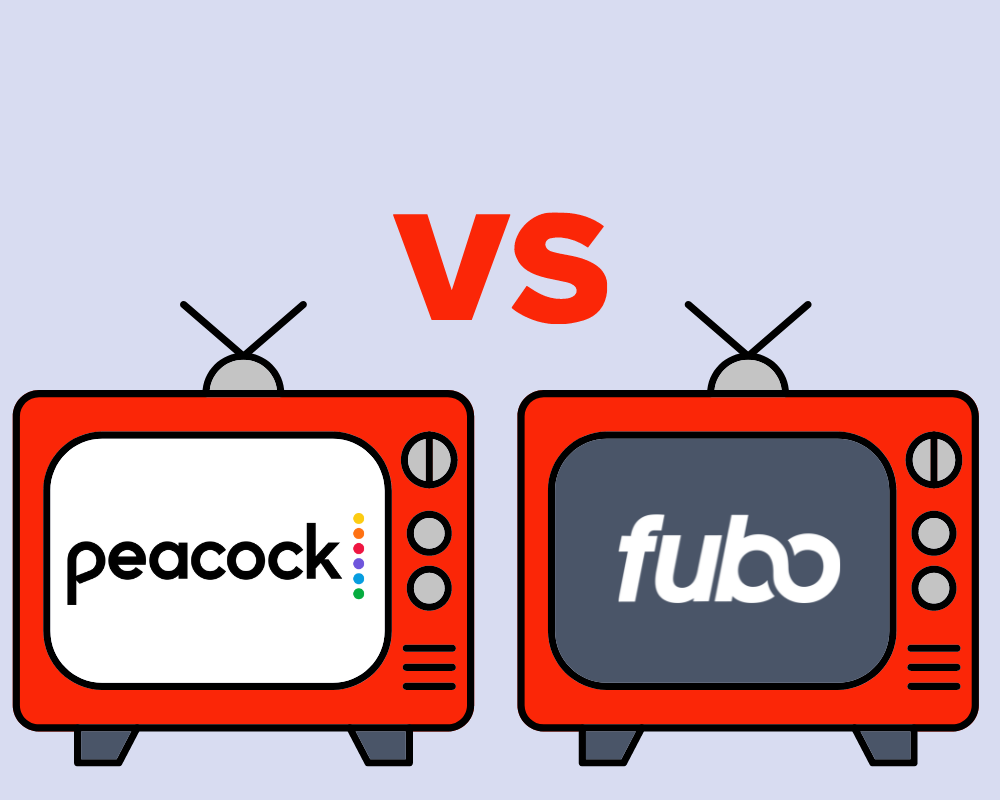 Fubo is one of our favorite streaming services for sports and entertainment, while Peacock has all our favorite NBC binge-worthy series, including The Office and Law & Order SVU.
Overall, these two streaming services are very different. Fubo is a great cable replacement, with over 170+ live channels and tons of great features. But if you're looking for something more affordable and stripped down, with still lots of on-demand content and some live channels, Peacock would be the better choice. Interested in other Peacock comparisons? Check out our Paramount+ vs. Peacock article!
How do Fubo and Peacock compare?
| | Fubo | Peacock |
| --- | --- | --- |
| Free Trial | 7 days | 7 days |
| Simultaneous Streams | 3 | 3 |
| On-Demand Content | 400+ movies, hundreds of TV show episodes | 80,000+ |
| Live Channels | 170+ | 30+ |
| Local Channels | ABC, CBS, FOX, NBC, CW… | NBC |
| Sports Channels | Big Ten Network, ESPN, FS1, FS2, CBS Sports Network, beIN Sports… | NBC Sports on Peacock, WWE Network, Olympic Channel |
What are the pricing and plans?
Fubo offers 4 different packages. The cheapest (but still pricey, especially when facing the budget-friendly Peacock) Pro plan gets you 170+ channels, the Elite plan offers you 240+ channels and certain content available in 4K, and the Premier plan comes with 250+ channels, including Showtime and NFL RedZone, plus the Sports Plus add-on that gives you another 13+ sports channels. Fubo's final package is the Latino plan, which packs 60 Spanish channels.
Other add-ons available with Fubo include Starz, MGM+, International Sports Plus (includes channels like Fox Deportes, Real Madrid TV, and ESPN HD Deportes), News Plus, NBA League Pass, and more.
Peacock offers 2 different plans. Both plans offer more than 50 'always-on' channels, 80,000 hours of streaming content, live sports, and events, along with fantastic exclusive titles. Opting for Premium Plus provides additional benefits such as live local news, the option to download and watch your favorite titles offline, and the perk of skipping ads.
Live and on-demand titles
Exclusive content like The Office
Exclusive content like The Office
Live and on-demand titles
How do Fubo's channels and Peacock's channels compare?
Overall, Fubo offers way more channels than Peacock, both in terms of quantity and variety.
If you're looking for a streaming service that will give you a range of local, sports, news, entertainment, and family channels, Fubo wins by a landslide. Peacock boasts about 40 themed channels like SNL Vault, True Crime, and Peacock Reality. While it offers a good selection of talk shows, reality TV, and sports content like Premier League matches and WWE, it doesn't compare to what you get with Fubo.
But for a fraction of the price (between Peacock's most expensive plan and Fubo's cheapest one), it's still a fairly good deal.
How do the local channels compare?
Fubo has a solid selection of local channels, which includes ABC, CBS, FOX, NBC, and CW. Availability may vary depending on your location, but you'll be able to find out during the free trial which channels are available in your area.
When it comes to local channels, Peacock only offers NBC.
How do the sports channels compare?
When it comes to sports programming, Peacock doesn't stand a chance against Fubo's mammoth collection of sports channels. And Fubo has plans to suit every appetite—if you want more than what your base package offers, you can juice up your plan with a Sports Plus, International Sports Plus, or Sports Lite add-on.
Peacock, on the other hand, focuses primarily on Premier League and WWE, with some focus on other miscellaneous sports such as golf, figure skating, motocross, and rugby.
Which has the better on-demand library?
Where Peacock really shines is in its precious vault of on-demand content. It holds the key to decades of content from NBCUniversal, which translates to hours of blockbuster films, classic sitcoms, and everything in between. In the vault, you'll find every season of The Office and 30 Rock, nostalgic favorites like 13 Going On 30 and Bruce Almighty, and so much more.
Fubo's on-demand library certainly isn't lacking, either. The library changes quite frequently, but you'll usually find hundreds of recently aired shows from channels it carries in its repertoire and an ever-changing list of movies.
Do both services have a free trial?
No. Fubo provides a 7-day free trial for any of its plans. Peacock, on the other hand, no longer offers a free trial.
How do the other features compare?
There are plenty of other features that may come into play when making a decision on a streaming service. Here are a few others you might want to consider before deciding between Fubo and Peacock.
How do the cloud DVR options compare?
Every Fubo package includes 1,000 hours of DVR (with the exception of the Latino plan, which comes with 250 hours of DVR). Your old recordings will remain saved until you choose to delete them, so long as you don't go over the storage limit.
Since Peacock is primarily an on-demand service, it doesn't currently offer DVR capabilities.
How do the simultaneous streaming options compare?
Both streaming services offer 3 simultaneous streams with all their packages. However, Fubo has a slight advantage in this department, since with an add-on, it allows users to stream on up to 10 devices at the same time if they are all connected to the same home network.
How do the supported devices compare?
Both Fubo and Peacock have pretty good device support—you shouldn't have any trouble streaming on your device of choice. However, keep in mind that Fubo is not available on PlayStation devices, but Peacock is.
Our verdict: Fubo is better than Peacock
Overall, Fubo is a stronger competitor than Peacock due to its larger scope of live channels, which includes local channels, news, entertainment, family programming, and more. So if you're a big sports fan or a cord-cutter looking for a replacement for cable TV, you should try out Fubo.
However, Peacock is much cheaper than Fubo, and offers a competitive package, especially at its price point. With over 10,000+ hours of shows and movies in its on-demand library that keeps evolving to keep things fresh, you'll never run out of entertainment.
Tara Khudairi • Author
Tara Khudairi is a freelance content writer and copywriter based in Toronto. Since 2014, she has contributed to brands and blogs alike to tackle popular topics relating to technology, personal finance, entertainment, travel and lifestyle. Whether it's the latest streaming service or cryptocurrency, she's passionate about making the complex simple. When she's not busy typing away, you'll find Tara watching Netflix's latest true crime doc or a classic 90's horror flick.
Lisa Holden • Editor
Lisa Holden is an editor and creative based in Houston, TX. Lisa holds a BA in African-American Studies from Temple University and has spent her career working in news publications and magazines, even founding a magazine herself. When she's not editing or working on one of her many creative endeavors (whenever that is), she enjoys traveling to new places and biking on sunny days.