Streaming Services
Netflix
Hayu
Comparison
Hayu vs Netflix: Which Service Is Right For You?
By Staff• Edited by Lisa Holden • Updated Jul 28, 2023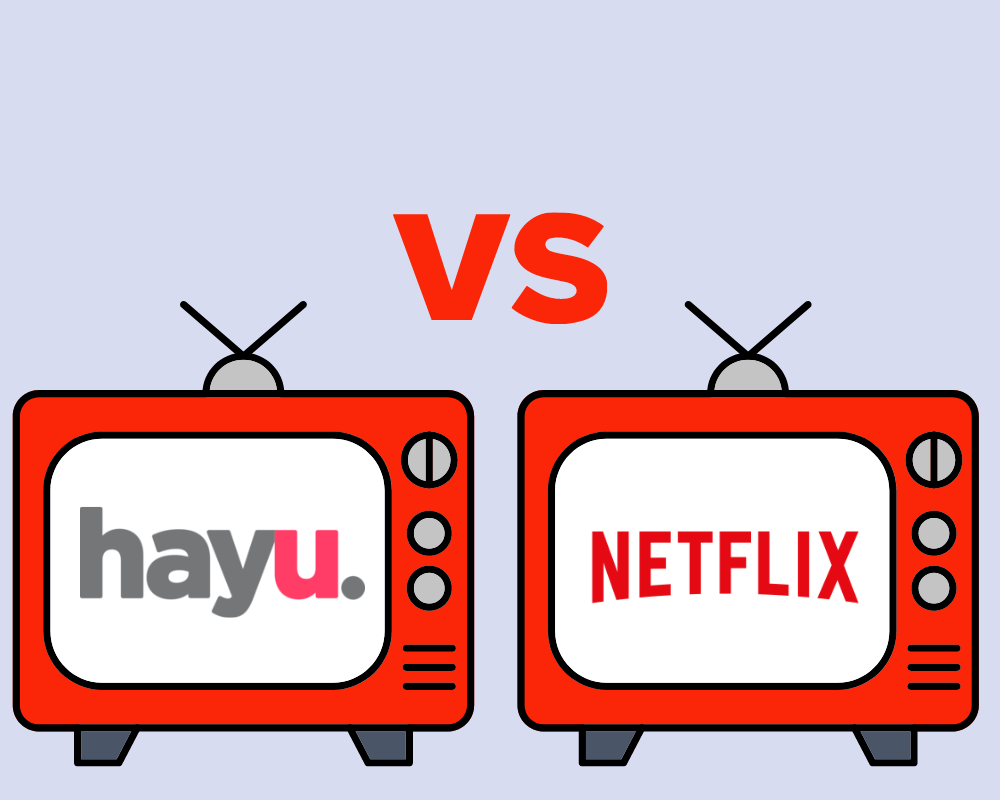 With Netflix recently under fire for its crackdown on password sharing, people are looking for alternatives to the world's most popular streaming service. And rather than signing up for another on-demand generalist, a niche streamer is something to consider. We look at Hayu vs Netflix to see how the reality TV specialist measures up.
hayu and Netflix compared
| | Hayu | Netflix |
| --- | --- | --- |
| Base Price | $6.99 CAD | $6.99 |
| Free Trial | 7 days | No |
| Simultaneous Streams | 1 | 1 |
| On-Demand Content | Yes | Yes |
| Live Channels | None | None |
| Local Channels | None | None |
| Sports Channels | None | None |
Pricing And Plans
The table above gives Hayu's price in Canadian dollars because it's not available in the United States. That's because Hayu's mission is to bring American reality TV to the world. (And because of lucrative domestic broadcasting deals.) There's just a single plan for Hayu, but it's cheaper if you pay for it semi-annually or annually.
Netflix recently added a new Standard with ads plan, which knocks about $8/month off the regular Standard plan. It also knocks some TV shows and movies out of the library dues to licensing restrictions. Maybe they should have called it the Netflix Lite plan.
However, if you want access to the full content library and to download on 2 devices at once, you'll need the Standard plan, which is one of the most expensive on-demand plans on the market. And the Premium plan is the most expensive. And unlike most streaming services, there's no option to save a bit by paying for a year up front.
Hit movies, TV shows, and more.
Hit movies, TV shows, and more.
Hit movies, TV shows, and more.
2 screens at the same time
Hit movies, TV shows, and more.
4 screens at the same time
Channels Compared: Hayu vs Netflix
Netflix and Hayu are both purely on-demand streamers with no channels of any kind. However, Netflix CEO Ted Sarandos recently stated that the streamer is open to adding free ad-supported TV (FAST) channels down the road.
Local channels compared
Neither Hayu or Netflix have channels — not local, live or linear. But their closest competitors do. You'll get your local NBC channel with Peacock and your local CBS channel with Paramount+.
Sports channels compared
If you're looking for sports, keep looking. Netflix has repeatedly said it has no plans to offer live sports, nor does it have any recorded games. And the closest Hayu gets to sports is Revenge Body With Khloe Kardashian.
For on-demand streamers under $10/month with some live sports, see what Amazon Prime Video, Apple TV+, Peacock and Paramount+ have to offer.
Which Has The Better On-Demand Library?
This question depends on whether you're looking for variety — or just reality. Television, that is. Netflix's library is far more diverse and better for families, but Hayu has a staggering amount of reality television.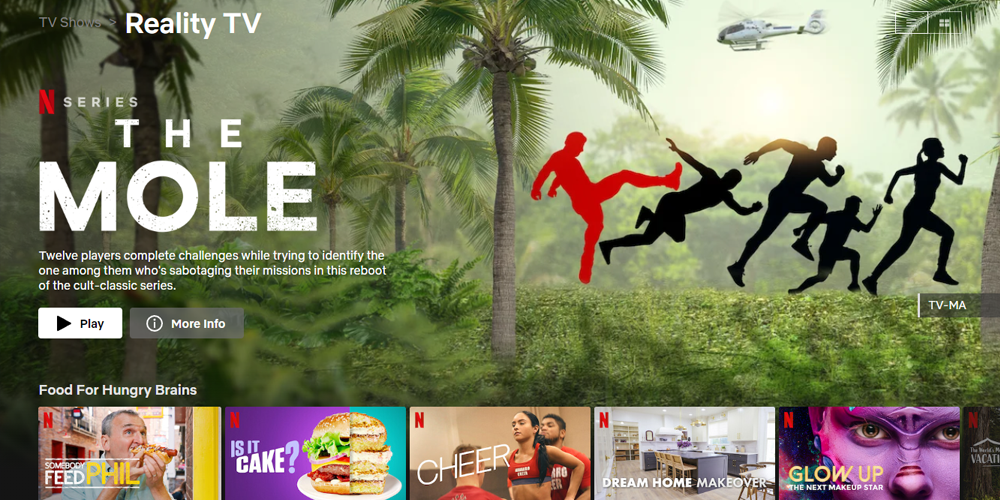 Movies on Hayu and Netflix
This is an easy win for Netflix as Hayu doesn't have any movies. Netflix has around 4,000 movies to choose from, including critically acclaimed originals like The Pale Blue Eye, Da 5 Bloods and Enola Holmes. Some other movies currently popular on Netflix are:
All Quiet on the Western Front
Bullet Train
Glass Onion
The Woman King
Check out the 100 Best Movies On Netflix Right Now for some of our top recommendations.
Reality TV on Hayu and Netflix
With shows like Too Hot to Handle, Ru Paul's Drag Race and Love is Blind, Netflix is no slouch when it comes to reality TV. But reality TV is Hayu's raison d'être. With 350+ shows and 10,000 hours to watch in its library, you won't have to face your own reality for quite some time.
Hayu breaks its library down into 17 categories, including The Real Housewives (with a whopping 36 shows!), True Crime and Competition. There's even a category just for Kardashian Kontent.
Popular shows on Hayu include:
Below Deck
Love Island
Top Chef
Vanderpump Rules
Original series on Hayu and Netflix
Hayu is owned by NBCUniversal, and that's where most of its content comes from. It currently does not produce any original content.
Netflix is known for its high-quality, award-winning original content. Everyone knows about The Crown, Ozark and Stranger Things, but it produces original reality TV shows as well. These include:
Blown Away
The Circle
Physical: 100
Queer Eye
For more shows that might surprise you, check out the 50 Most Underrated TV Shows on Netflix Right Now.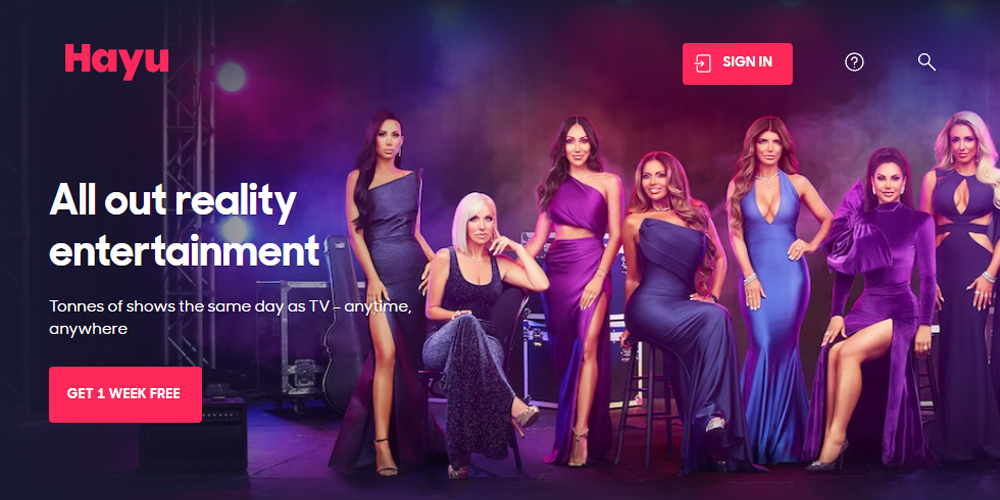 Do Both Services Have A Free Trial?
You can watch Hayu free for 7 days. Netflix does not have a free trial.
Other Features Compared
There's more to a streaming service than content, especially if you've got a lot of viewers under one roof. Here are some other features to consider.
Cloud DVR
Both Hayu and Netflix are completely on-demand, so there's no need for a cloud DVR.
Offline viewing
You can download Hayu shows to watch in its iOS and Android mobile apps.
You can't download content with Netflix's new Basic with ads plan. The Basic plan lets you download on 1 device, the Standard plan on 2 devices and Premium on 6 devices.
Simultaneous streams
With its singular focus on reality TV, Hayu is geared toward the single user. So it's not surprising you can only watch on 1 device. And there's no option to upgrade.
Netflix lets you watch on 1 screen with the Basic plans, 2 screens with Standard and 4 screens with Premium. Considering Netflix's higher price and a library that has something for everyone, these screen limits may not satisfy families.
Supported devices
Hayu has mobile apps for iOS and Android, as well as Amazon's Fire Tablet. It supports Apple TV, Fire TV, and Roku streaming devices, Xbox, and various smart TVs and cable set-top boxes. Visit the website for an up-to-date list of Hayu supported devices.
Netflix offers the most device support in the industry, including streaming media players, mobile devices, game consoles, smart TVs, set-top boxes, Blu-ray players, and PCs. It even has apps for Facebook Portal and Windows Phone. Check the website for the most up-to-date list of Netflix supported devices.
Our Verdict: Netflix Is Better Than Hayu
Despite Netflix's price increases and crackdowns on password sharing, it's still a top choice when it comes to on-demand streaming.
Until the recent addition of the ad-supported plan, Netflix's Basic plan was a paltry 480p resolution, while the Standard plan was needed for 720p HD. But that's no longer the case and 480p is finally gone. If you only watch 1 screen at a time, you can now safely downgrade to the Basic plan and save about 33% per month.
However, if you're a diehard fan of The Real Housewives, The Kardashians, or just looking for a lot of reality TV, Hayu makes a great complement to a general streaming service.
Douglas Wright • Author
Douglas Wright is a freelance writer based in Japan. A former web designer and technical writer, he left beautiful Vancouver for bustling Tokyo, where he spent a decade recruiting for software and high-tech firms. No longer commuting through the world's busiest train station, he writes fiction and a wide range of formats for clients around the world. When he gets AFK, he's either outdoors with his two boys, streaming a show with his wife, or reading a book over a French-pressed, hand-ground coffee.
Lisa Holden • Editor
Lisa Holden is an editor and creative based in Houston, TX. Lisa holds a BA in African-American Studies from Temple University and has spent her career working in news publications and magazines, even founding a magazine herself. When she's not editing or working on one of her many creative endeavors (whenever that is), she enjoys traveling to new places and biking on sunny days.