Streaming Services
Hulu
Peacock
Comparison
Hulu + Live TV vs. Peacock in 2024
By Staff• Edited by Lisa Holden • Updated Dec 04, 2023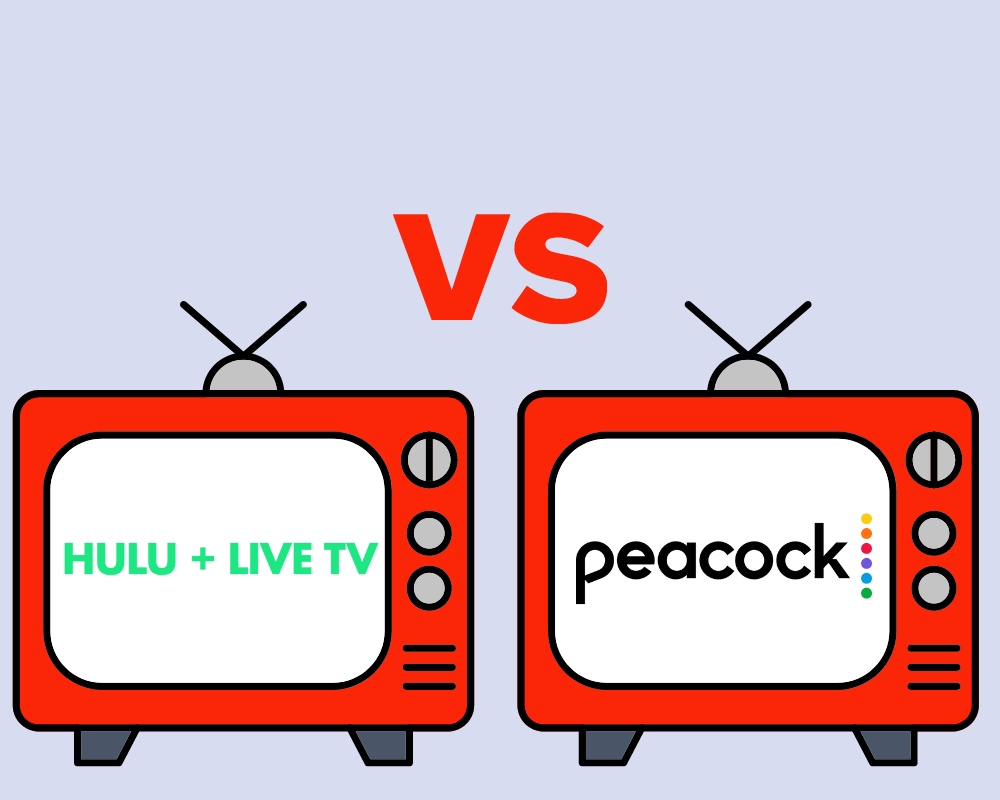 Hulu + Live TV and Peacock are two of the most popular streaming services available right now. They both have a lot of advantages, including live channels, on-demand content, and the ability to stream shows and movies across a range of devices.
But which is the best between Hulu + Live TV and Peacock? If you're struggling to decide, this guide should make it easier to make up your mind. Below, we'll put Hulu + Live TV vs Peacock in key areas like channels, value for money, and features.
Hulu + Live TV and Peacock compared
| | Hulu + Live TV | Peacock |
| --- | --- | --- |
| Base Price | $76.99/month | $5.99/month |
| Free Trial | None | 7 days |
| Simultaneous Streams | Unlimited at home (3 on the go) | 3 |
| On-Demand Content | 40,000+ hours | 80,000+ hours |
| Live Channels | 90+ | 50+ |
| Local Channels | 5+ | NBC only |
| Sport Channels | 10+ | 3 |
Pricing and plans
When it comes to comparing these two services, Hulu + Live TV is the most expensive of the two. Hulu offers the same channel package at two different tiers: ad-free and ad-supported. Both Hulu + Live TV packages give you access to over 90 live channels, Hulu's library of on-demand content, and Disney+. Hulu + Live TV also has some optional add-ons like Showtime, Max, and various channel packages available for extra monthly fees.
Award winning Hulu originals
Thousands of shows and movies
Award winning Hulu originals
Thousands of shows and movies
Peacock is much cheaper than Hulu + Live TV. However, you will have to watch ads on a regular basis in between your shows and movies if you choose the entry-level option. To watch Peacock without ads, you'll have to roughly double the amount you pay.
Live and on-demand titles
Exclusive content like The Office
Exclusive content like The Office
Live and on-demand titles
Channels compared: Hulu + Live TV vs. Peacock
Hulu + Live TV has a pretty big and impressive selection of things to watch in terms of live channels. There are more than 90 channels available on Hulu + Live TV at this time, and the list includes everything from news networks to sports channels, kids' entertainment, local channels, and much more. Some of the channels included with Hulu + Live TV are CNN, Fox, FX, MTV, ABC, Bet, Cartoon Network, and ESPN.
Over on Peacock, the selection of channels is a little smaller. There are just over 50 channels available on this service, and a lot of those channels simply show reruns of content that is available elsewhere on the Peacock service. However, the selection of channels on Peacock is still quite varied and includes news channels like NBC News Now, as well as lifestyle channels like Food52.
Local channels compared
ABC, CBS, NBC, FOX, The CW, Telemundo, and local sports networks are available with Hulu + Live TV. This gives you quite a lot of local options to check out, although the list may be smaller, depending on availability in your area.
Over on Peacock, subscribers only get access to one local channel: their local NBC affiliate. This can be useful for finding out about local news or viewing regional sports teams, but it's a much smaller offering than Hulu.
Sports channels compared
In the sports department, Hulu + Live TV continues to impress. There's quite a comprehensive list of sports-oriented channels on this service, including ESPN, ESPN2, NBA TV, MLB Network, NHL Network, CBS Sports, Golf Channel, Big Ten Network, and NFL Network. You can even pay a little extra ($9.99) a month for the premium sports add-on to get even more channels.
Peacock, meanwhile, does not have ESPN, nor does it have any of the other sporting options available on Hulu + Live TV. Instead, it has the NBC Sports on Peacock channel, where you can watch Premier League soccer, among other events, as well as the Olympic Channel and the possibility to watch regional sports events through your local affiliate.
Which has the better on-demand library?
Hulu + Live TV has one of the biggest on-demand libraries, as it comes not only with all of the content on Hulu, which includes more than 40,000 hours of shows and movies, but also includes a subscription to Disney+, which has thousands more hours to watch. There are also plenty of popular Hulu Originals and exclusives like The Handmaid's Tale and The Bear.
As a primarily on-demand platform, Peacock also has a huge amount of on-demand content. In total, the service boasts more than 80,000 hours of movies, shows, and other kinds of content. From comedy shows like Girls5eva to major blockbuster movies like Nope and Jurassic World: Dominion, there's a lot to watch on this platform.
Do both services have a free trial?
Right now, only Peacock has a free trial. Peacock offers new users a 7-day free trial to test out the service before they have to pay any subscription money. Hulu itself has free trials, but Hulu + Live TV does not, so you'll have to simply sign up and at least pay for your first month if you want to try it out.
Other features compared
There's much more to streaming services than channels and content. Today's services offer advanced features like DVR and simultaneous streams. Below, we'll look at Hulu + Live TV and Peacock compare in these key areas.
Cloud DVR
Hulu + Live TV gives users unlimited DVR space, for no additional fee. You get to save as many shows and movies as you like to watch again later, which is ideal for busy people who might not always be able to watch certain live events, depending on their schedule. Unfortunately for Peacock users, Peacock has no DVR at all.
Simultaneous streams
Hulu + Live TV is quite generous with its simultaneous streams, as users can actually watch on an unlimited number of devices within the same home. So, if you've got a large family and everyone wants to watch something different, you can do that. If you want to watch on other networks, the maximum limit is three devices, and this is the same limit as Peacock.
Supported devices
Hulu + Live TV and Peacock are both available on quite a wide range of devices, like Apple TV, Amazon Fire TV, Roku, smart TVs, Android and iOS mobile devices, and so on. However, Hulu + Live TV has a slightly larger range of compatible devices and works on almost anything, so it has a slight edge in this department.
Our verdict: Hulu + Live TV is better than Peacock
In our view, Hulu + Live TV is the best overall option of the two. It definitely costs a lot more, but it provides amazing value for the money with its huge range of sports channels, massive live channel list, unlimited DVR space, and colossal collection of compatible devices.
However, Peacock is still a very impressive streaming service, and it's a good choice for anyone on a budget, as well as people who aren't too interested in live channels and prefer watching shows and movies on demand instead.
Khadija Bilal • Author
Khadija Bilal is an accomplished writer with over a decade of experience under her belt. Having developed a versatile writing style that allows her to tackle a wide range of topics, Khadija has several publications to her name. Khadija's expertise includes in-depth guides and how-to articles.
Lisa Holden • Editor
Lisa Holden is an editor and creative based in Houston, TX. Lisa holds a BA in African-American Studies from Temple University and has spent her career working in news publications and magazines, even founding a magazine herself. When she's not editing or working on one of her many creative endeavors (whenever that is), she enjoys traveling to new places and biking on sunny days.