Streaming Services
Hulu
Channels
How To Watch Local Channels on Hulu + Live TV 2023
By Staff• Edited by Lisa Holden • Updated Nov 28, 2023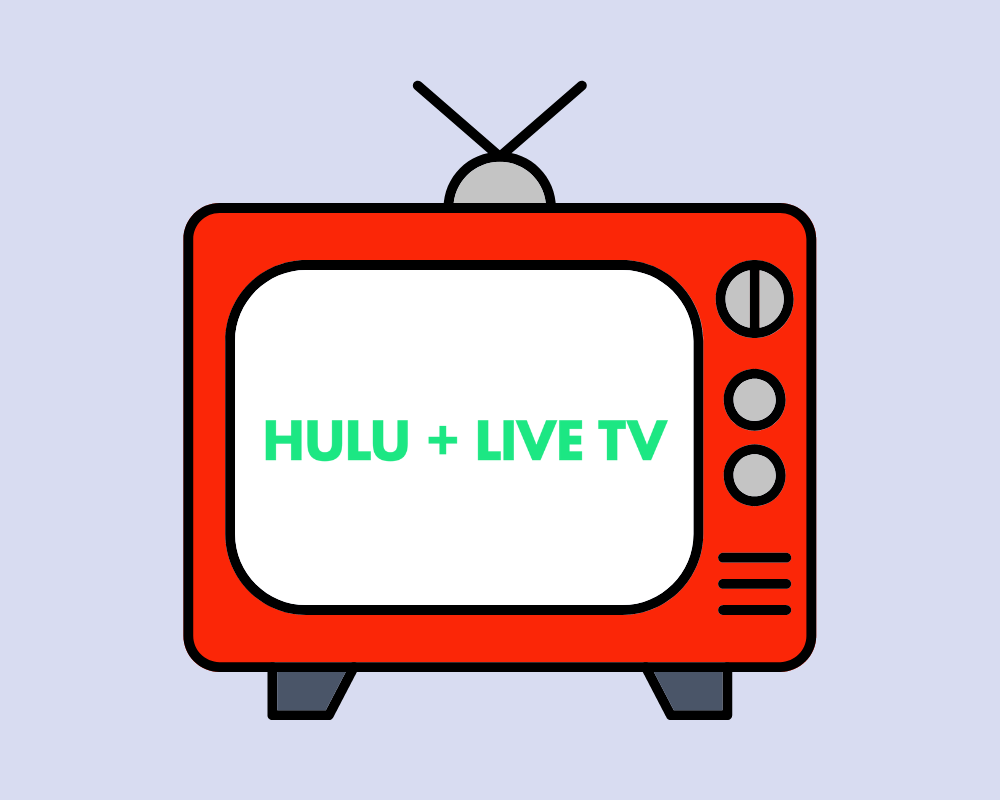 If you're thinking about cutting the cord and freeing yourself from cable TV, the question of local channels is likely on your mind. Not all streaming services can serve as a true cable TV replacement. And even if they offer "live TV", that doesn't mean you'll find all (or any) of the local stations you're used to watching. Keep reading to learn how to watch your favorite local channels on Hulu + Live TV.
What is Hulu + Live TV?
Nearly everyone's heard of Hulu. It was one of the first big streaming services, launching a couple of months after Netflix started its streaming business. A joint venture between industry giants at the time – AOL, Comcast, Facebook, MSN, Myspace and Yahoo – Hulu quickly became a household name.
But while Netflix remained an on-demand player, Hulu branched out into live TV. It now offers 2 different services: an on-demand service to compete with the likes of Netflix and Max, and a live TV service that aims to replace your cable bill while going up against a range of services, such as Sling TV, Fubo and DirecTV Stream.
How much does Hulu + Live TV cost?
If you're wondering whether to go with Hulu's on-demand option, don't worry — it's included with the Hulu + Live TV plan. There are 4 live TV plans to choose from:
Hulu (on-demand, with ads) + Live TV, Disney+ (with ads), and ESPN+ (with ads)
Hulu (on-demand, no ads) + Live TV, Disney+ (with ads), and ESPN+ (with ads)
Hulu (on-demand, with ads) + Live TV, Disney+ (no ads), and ESPN+ (with ads)
Live TV by itself, with no additional services
Award winning Hulu originals
Thousands of shows and movies
Award winning Hulu originals
Thousands of shows and movies
It's important to note that "no ads" for Hulu only applies to Hulu's on-demand library. Therefore, if you plan to use it solely or even mainly for live TV, the ad-free version may not be worth it. The live TV broadcasts will have ads, meaning anything you record to your cloud DVR will also have ads. However, you can fast-forward through the ads on your DVR recordings – with either plan.
Speaking of DVR, all plans include unlimited cloud DVR, allowing you to record sports, local news, TV shows, movies, and events. They'll stay in your cloud storage for up to 9 months, at which point they're automatically deleted.
Hulu + Live TV lets you stream different channels on 2 screens at a time. That means if there's an NFL game on CBS, you can only have it on in one room in the house. However, for an extra $9.99/month, the Unlimited Screens Add-on lets you watch as many screens as you can on your home network, plus 3 more on the go.
How to find local channels on Hulu + Live TV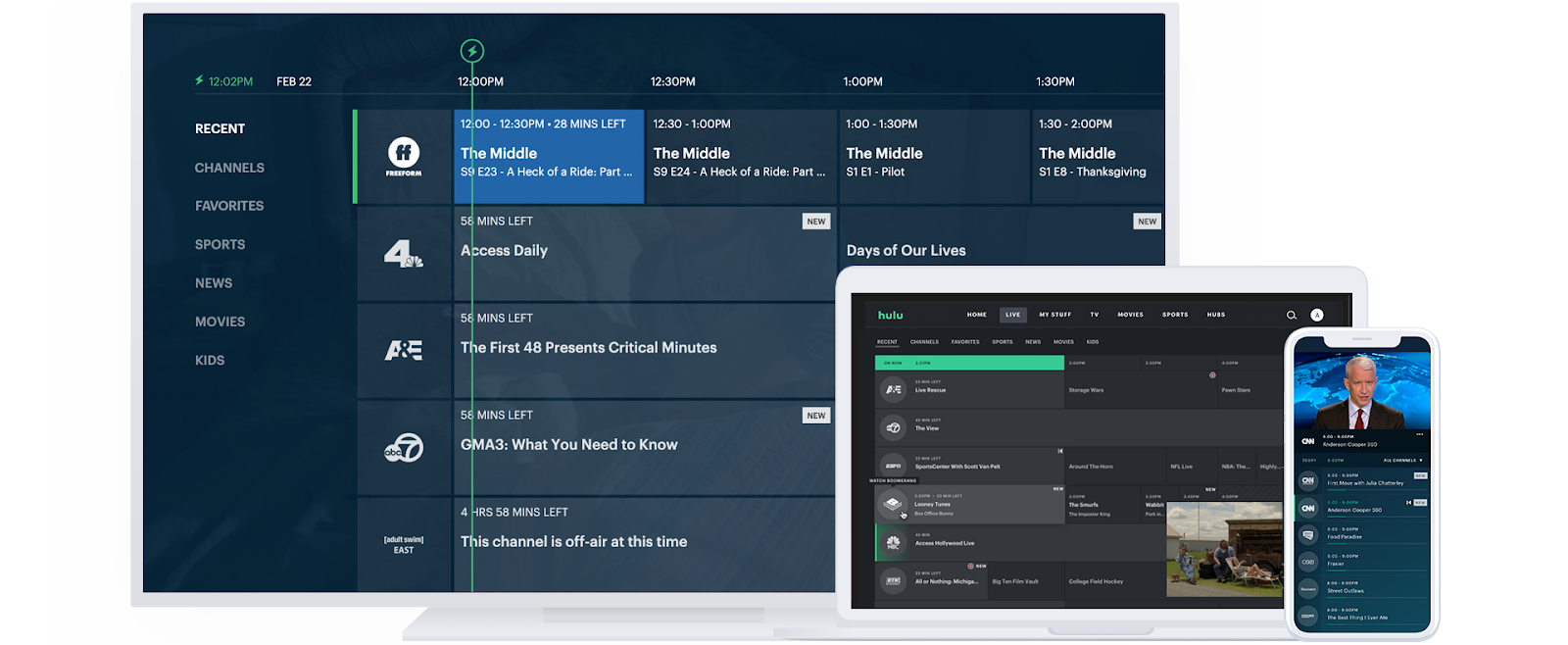 Finding your favorite local channels on Hulu + Live TV is as easy as using a cable or satellite TV menu. Simply log in to your device's Hulu app and click on "Live" from the main menu bar on top of the home screen.
To pull up the programming guide, press the down button on your remote (or swipe up on Apple TV). You'll see a guide very similar to those for cable or satellite TV, except that the channels will appear in alphabetical order. To browse what's currently streaming, simply scroll up or down. To see what's coming up, click right.
If you'd like to filter your content, click left until you're in the sidebar menu and choose from 6 preset categories: Recent, My Channels, Sports, News, Movies and Kids.
Once you locate one of your favorite channels, you can add it to the "My Stuff" section, where it will appear under the Networks tab. This makes them easily accessible from the main menu. You can also add your favorite TV shows, movies, sports, teams and cloud DVR recordings, making My Stuff the go-to place for your personalized content.
Which local channels are on Hulu + Live TV?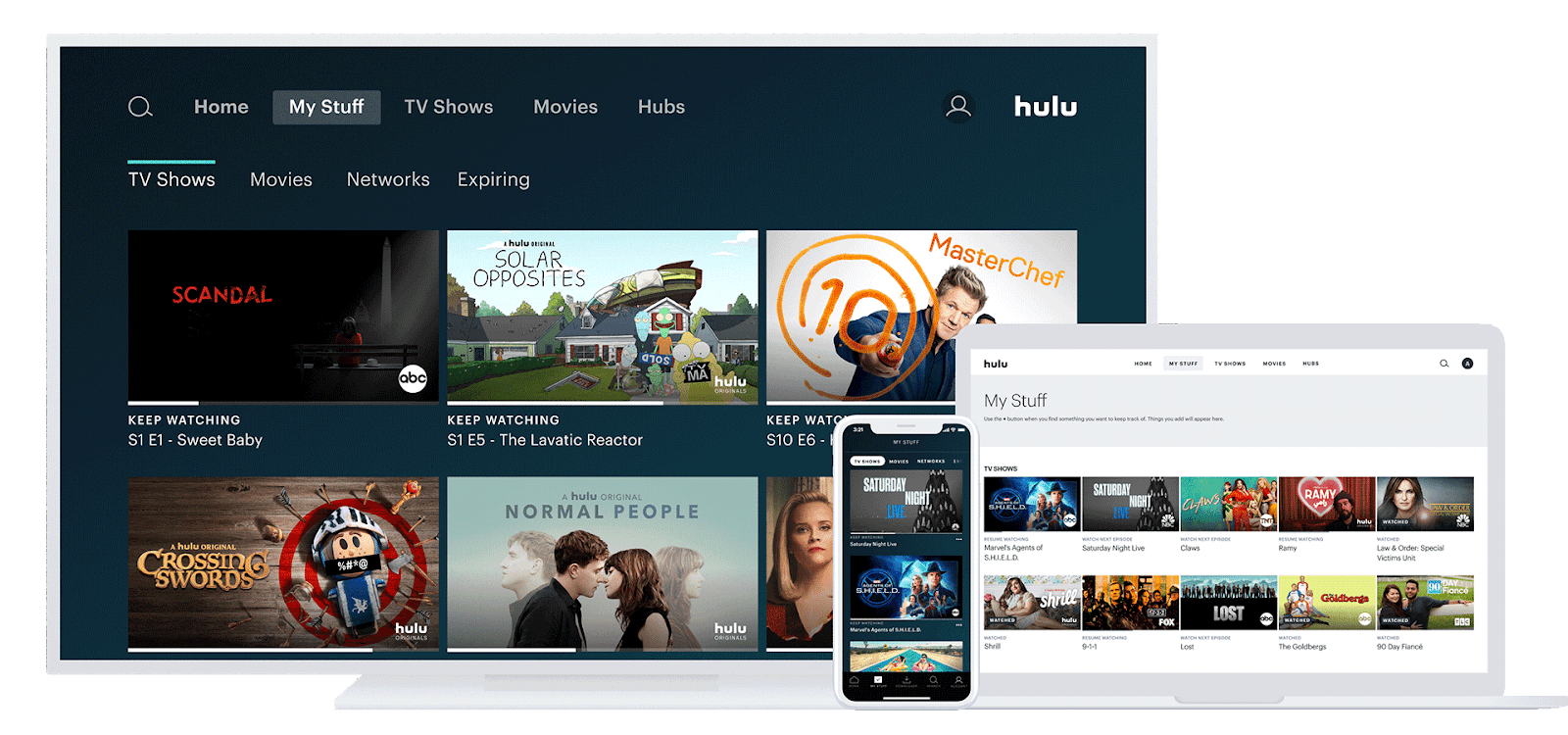 With 90+ live TV channels, Hulu + Live TV doesn't have the largest channel list compared to other services in its price range. YouTube TV has 100+ channels, while sports-centric Fubo offers 150+ channels. Only DirecTV Stream's entry-level plan offers fewer with 75+ channels.
However, Hulu + Live TV offers a solid variety of high-quality channels, including the 4 major broadcast networks (ABC, CBS, FOX and NBC). There's something to appeal to everyone in the family and you should be able to find your local affiliate station for all or most of the following networks:
ABC
CBS
The CW
FOX
NBC
Telemundo
MyNetworkTV
If you'd like to see which channels Hulu + Live TV has in your area, you can enter your ZIP code on the website to see the complete list.
Which networks are missing from Hulu + Live TV?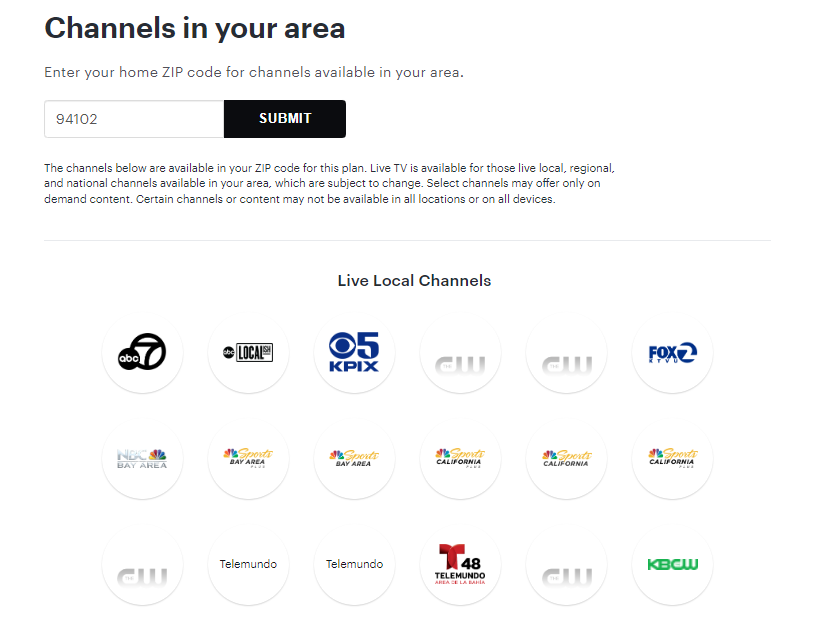 It should be noted that when it comes to streaming, "local channel" refers to an affiliate of a national broadcast network, such as KIRO 7 in Seattle that broadcasts the CBS lineup of shows.
Live TV that makes you feel good
You also won't find popular Spanish-language networks Univision, UniMás and Estrella TV. There is the Español Add-on for $4.99/month if you're looking for Spanish-language content, but it doesn't include any of those 3 networks. However, there are better (and cheaper) Spanish-language options out there, like Fubo's Latino plan or Vidgo's Mas package.
Does Hulu + Live TV have regional sports networks?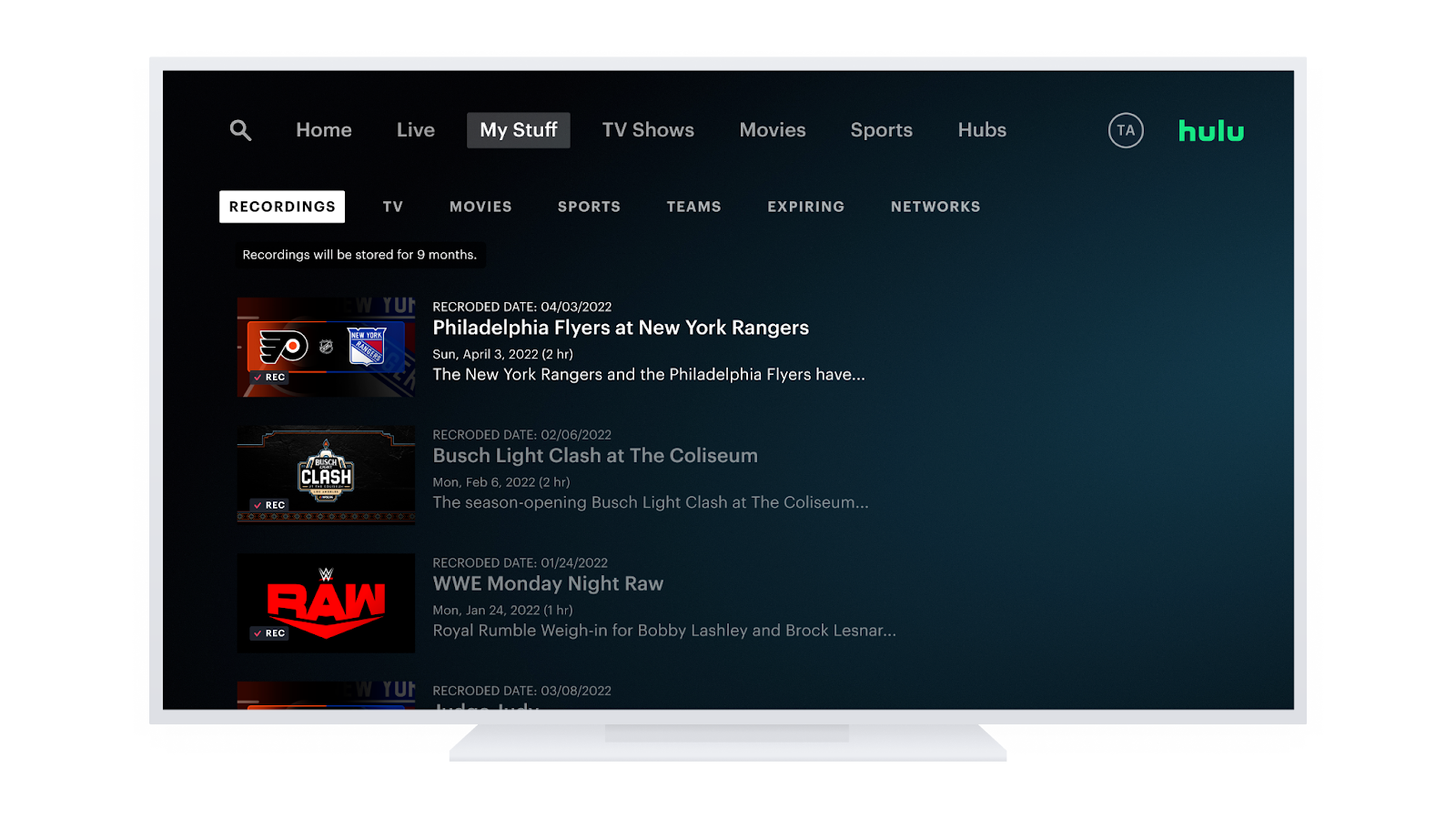 Hulu's contract to carry Bally Sports regional sports networks (RSNs) expired back in 2020 and despite its best efforts, it wasn't able to negotiate a new deal. Neither was YouTube TV. So you'll need DirecTV Stream's Choice plan or higher if you want a streaming service with Bally Sports.
However, Hulu + Live TV does have 8 RSNs that cover a limited number of markets. These include SportsNet NY, which covers New York and parts of New Jersey, Connecticut and Pennsylvania. The rest are NBC Sports RSNs covering the Bay Area, California, Chicago, Boston, New York, Philadelphia and Washington.
If you live in a market with an RSN, you can record games to your cloud DVR.
Does Hulu + Live TV Have A Free Trial?
No. While it still offers a free trial for its on-demand packages, Hulu no longer offers a free trial for Hulu + Live TV.
Douglas Wright • Author
Douglas Wright is a freelance writer based in Japan. A former web designer and technical writer, he left beautiful Vancouver for bustling Tokyo, where he spent a decade recruiting for software and high-tech firms. No longer commuting through the world's busiest train station, he writes fiction and a wide range of formats for clients around the world. When he gets AFK, he's either outdoors with his two boys, streaming a show with his wife, or reading a book over a French-pressed, hand-ground coffee.
Lisa Holden • Editor
Lisa Holden is an editor and creative based in Houston, TX. Lisa holds a BA in African-American Studies from Temple University and has spent her career working in news publications and magazines, even founding a magazine herself. When she's not editing or working on one of her many creative endeavors (whenever that is), she enjoys traveling to new places and biking on sunny days.