Streaming Services
Philo
Free trial
Philo Free Trial: How to Get a Philo Free Trial in 2024
By Staff• Edited by Deja Harris • Updated Dec 04, 2023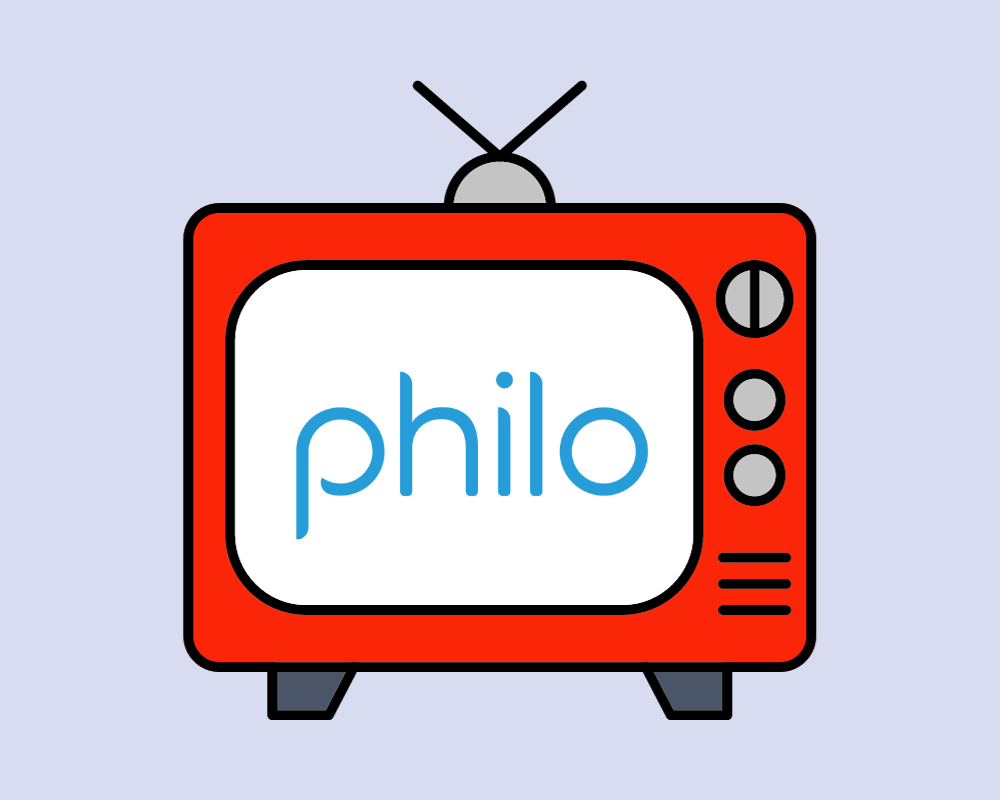 If you're looking for a streamer focused on lifestyle and a variety of channels and aren't all that interested in sports or news, Philo may be the one for you. This cable alternative offers 70+ channels as well as on-demand content all for a great price. But if you're not ready to spend money just yet, fear not.
Read on to get the full rundown on Philo's free trial and how to get one.
How long does the Philo free trial last?
Philo, like a few other streaming services, offers a 7-day free trial. With this, you have a full week to browse around and get a good feel for the streamer before deciding to subscribe.
How do I get the Philo free trial?
You can get signed up for Philo's free trial in just a few steps:
1. Go to Philo's website and click "Start your 7-day free trial".
All you need to do is click this link and enter your mobile number or email. Create a Philo account, and you'll unlock your initial 48 hours of membership right away. You'll get a reminder to enter a credit card after 48 hours so that you can unlock the remaining 5 days of free service.

2. Enter your phone number or email and hit continue (it'll ask you to agree to the terms and conditions).
A code will be sent to your phone number or email that you'll need to enter on the next screen.

3. Choose your add-ons (if you want any).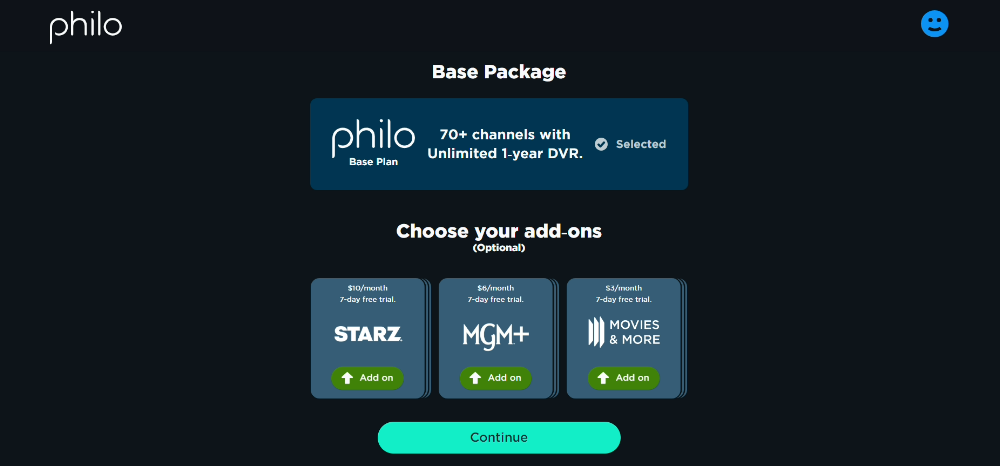 4. Choose your payment plan.
Philo only offers one plan, but you can choose to pay monthly or pay every 3 months.
5. Enter your payment information (you won't be charged until after the free trial).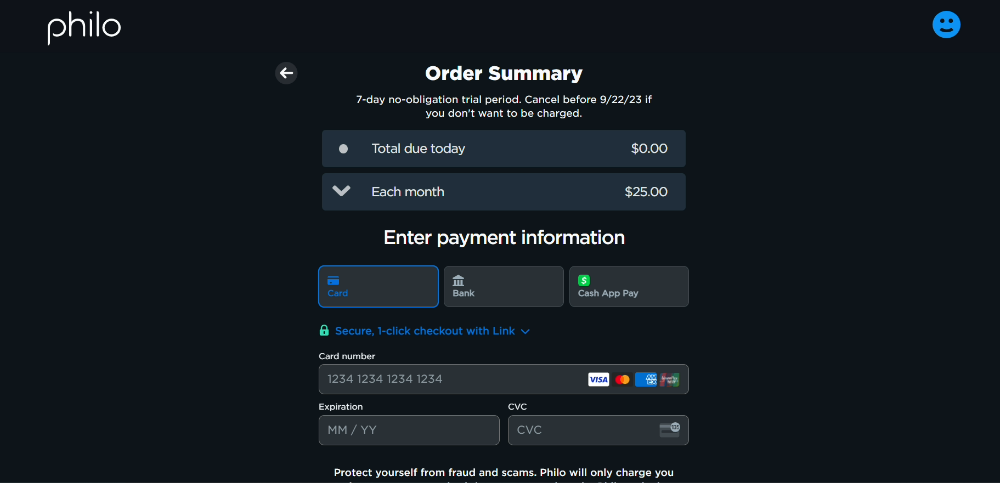 6. Enjoy!
How much does Philo cost once the trial ends?
Thinking about subscribing to Philo? Luckily, it won't cost you too much. Philo currently offers one singular plan at a flat rate with no hidden fees. It's one of the live TV streaming services on the market.
What can I watch on Philo?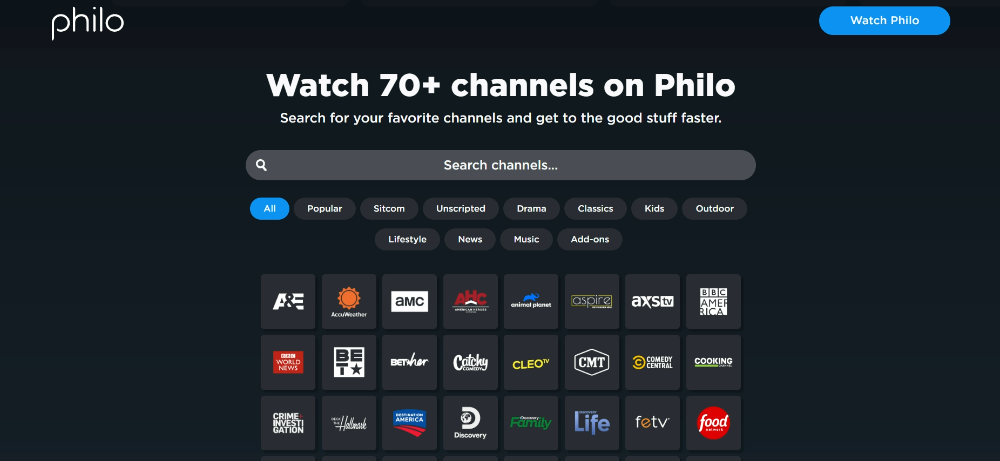 Philo specializes in lifestyle and entertainment channels. Some of its most popular offerings include A&E, AMC, BET, Comedy Central, Food Network, HGTV, Lifetime, MTV, Nickelodeon, Paramount Network, and TLC.
If you're looking for any sports or news, you won't find them on Philo, but the service has more than enough in other areas to satisfy your entertainment TV needs.
What's even better is you'll get access to unlimited DVR space. That means you can record as many shows as you want, as well as enjoy all of Philo's already on-demand content.
More Reading:
The Complete List of Streaming Services - 200+ Services
Philo Channels, Plans, and Costs
Davan Hamilton • Author
Davan Hamilton is an editor and writer based in Jacksonville, FL. Holding a degree in Interdisciplinary Studies, her writing spans a wide range, from essays on film criticism and analysis to surreal poetry. When she's not glued to her computer, you can find her building endless amounts of Lego sets, binge-reading manga, or playing with (fighting) her cat.
Deja Harris • Editor
Deja is a digital media editor hailing from Delaware, USA, and is currently embarking on a global adventure. Her insatiable curiosity fuels her passion for exploring new destinations, connecting with new people, and engaging in unique experiences. When she's not immersed in her professional pursuits, you'll often find her trying out new recipes, indulging in compelling cinematic experiences, or gracefully engaging in the art of Latin dance.