Streaming Services
Philo
fubo
Comparison
Philo vs. Fubo in 2024
By Staff• Edited by Lisa Holden • Updated Dec 04, 2023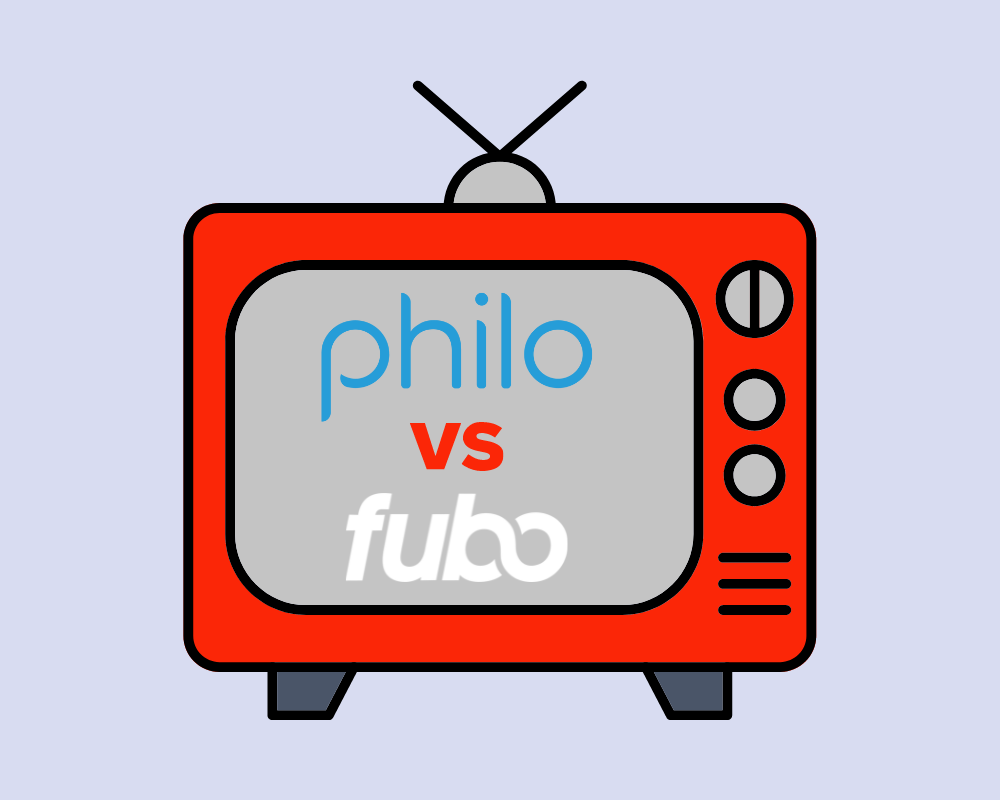 If you compare Philo and Fubo, which one would come out on top in terms of what users get? That's what our detailed guide tries to discover by analyzing different areas important to viewers. Keep reading to learn about available channels and devices, pricing details, and other crucial features. Our Philo vs. Fubo comparison will make it easier to find your ideal streaming service!
Most people should choose Philo, and here's why
Let's cut to the chase immediately – the main advantage Philo offers is pricing. The internet TV platform was launched in 2010, and it gathered a decent core of loyal users. Philo did that by keeping the price low and sticking to a single package. You can access over 70 channels and a generous on-demand library with over 50,000 titles. Check out our Philo pricing guide to discover the channel lineup and learn more about the platform.
Fubo takes a different approach. They keep their price higher, but with their Pro plan, you receive over 170 channels with some impressive names in the lineup. The list includes ESPN, Fox News, beIN Sports, etc. Fubo has two other packages - Elite and Ultimate. Check out our Fubo pricing guide to discover the entire channel lineup and extra options.
If you are a sports fanatic, choose Fubo
Do you enjoy watching sports, especially live broadcasts of major events? If that's your cup of tea, there's no doubt you should choose Fubo. Many describe it as a sports-focused streaming service. In its default package, it gathers ESPN, beIN Sports, Fox Sports, and other popular channels. The more expensive subscription plans will unlock NHL Network, NBA TV, Fight Network, etc.
It's not hard to beat Philo in this category since it doesn't focus on sports content. Philo doesn't have any premium channels offering live sports, which is a part of the strategy to keep the costs low.
If you have local channels over a TV antenna, pick Philo
Philo is an affordable live TV service. It has a fine channel selection, especially at that price range. However, you won't find local broadcast networks. But if you want to access local channels, all you need is a TV antenna. With it, Fox, CBS, ABC, and other stations that are national network affiliates in your area will be available for free. That's why it's logical to pick a cheaper streaming service, and Philo is far more affordable than Fubo.
If you want excellent device support, go with Fubo
Philo mentions that it has dedicated iOS and Android apps you can download for free. Thanks to these, you can enjoy this service on Chromecast and Android smart TVs. It's also possible to watch Philo on Fire TV and Roku, and it covers all current models. Accessing it via web browsers, including Chrome, Safari, Edge, and Firefox, is also possible.
While that's a decent coverage, Fubo has much better device support. There's an approved mobile app for iOS and Android, and it also supports LG, Samsung, and Vizio SmartCast TVs. Roku, Fire TV, and Apple TV are among the included devices, and you can even watch Fubo on Xbox One. Its extensive coverage is important for those who plan to use multiple devices to watch live TV.
If you want to check the service first, both have free trials
Fubo and Philo both understand the importance of trying out a service before paying for it. You'll find a generous free trial offered on these platforms. The duration is seven days from the moment of registration. It's sufficient to test both services and see which fits you better. But make sure to cancel the service you don't like before the trial expires. And read the terms to know when you can expect them to charge you a monthly subscription if you don't cancel.
If you want to watch outside the United States, you'll need a VPN
Fubo is available in the United States, Canada, and Spain. On the other hand, Philo is only available to US customers. If you go on a vacation to another country, you can only access your account with a VPN. Make sure to choose ExpressVPN or a similar premium service. Premium VPNs offer faster and more reliable servers that will allow streaming in high resolution.
Aneeca Younas • Author
Aneeca Younas is a graduated journalist with years of experience writing in different niches based in Oakland, CA. She is a huge movie fan that also enjoys watching sports. That's why she spends hours daily using various streaming services. Over the years, Aneeca profiled herself as an expert in cable-free and VOD platforms.
Lisa Holden • Editor
Lisa Holden is an editor and creative based in Houston, TX. Lisa holds a BA in African-American Studies from Temple University and has spent her career working in news publications and magazines, even founding a magazine herself. When she's not editing or working on one of her many creative endeavors (whenever that is), she enjoys traveling to new places and biking on sunny days.