Streaming Services
Philo
YouTube TV
Comparison
Philo vs. YouTube TV in 2023
By Staff• Edited by Lisa Holden • Updated Jun 05, 2023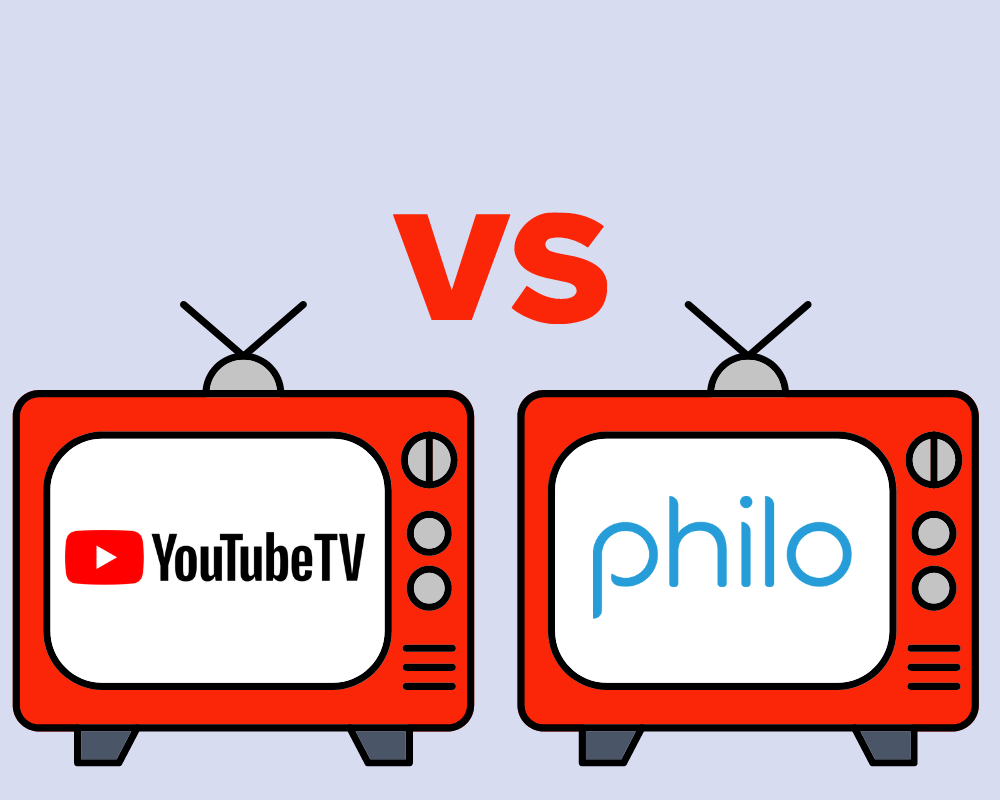 Are you still on the hunt for the best streaming service to use in 2023? In this article, we are comparing Philo and YouTube TV. These are streaming platforms with different approaches. Philo is affordable and family-friendly content, while YouTube TV focuses on premium channels and live TV broadcasts.
But which service is better for you? Here's a detailed comparison to help you pick between Philo and YouTube TV!
Philo and YouTube TV Compared?
| Feature | Philo | YouTube TV |
| --- | --- | --- |
| Base Price | $25 | $72.99 |
| Free Trial | 7 days | From 5 days / 20-minute preview |
| Simultaneous Streams | 3 | 3 |
| On-Demand Content | 30,000+ hours | 30,000+ hours |
| Live Channels | 60+ | 100+ |
| Local Channels | 0 | 6 |
| Sports Channels | 0 | 12 + add-ons |
Pricing And Plans
Philo is an affordable and low-cost streaming service with a single plan at $25/mo. It aims to serve those who don't need a comprehensive live TV channel selection but enjoy watching entertainment and other family-friendly linear content.
YouTube TV also doesn't come with contract obligations. It keeps things simple by offering a single Base plan at $64.99/mo that comes with over 85 channels, plus optional add-ons. It's more than two times more expensive than Philo, but with more channel options.
Channels Compared: Philo Vs. YouTube TV
Philo has a total of 64 channels, and you could say its focus is on family content. You can enjoy Discovery Channel, as well as History, Animal Planet, and Science Channel. Music fans will appreciate VH1, MTV and MTV Classic. Children will love Nickelodeon, film fans can watch Hallmark. There's also HGTV, Oprah Winfrey Network, and other entertainment channels available, too. Check out the Philo channels, plans, and costs for more information.
YouTube TV, on the other hand, focuses on premium content. It offers a lineup of over 80 channels, ranging from FOX and NBC stations to various entertainment, children, and family-friendly channels.
Local channels compared
YouTube TV is the obvious winner in this category because it actually offers local channels. You can watch ABC, CBS, NBC, PBS, The CW, and FOX. That means you get an entire package of local networks, so there's no need for an antenna.
On the other hand, the antenna is the only option to watch local channels if you go with Philo. This service doesn't have partnerships with any national networks.
Sports channels compared
Racing fans might enjoy MotorTrend, and some wrestling shows are available on AXS TV. But the quantity of sports on Philo is poor since the network doesn't focus on this content.
That makes YouTube TV the obvious winner here. Its default package includes CBS Sports, FS1 and FS2, NBA TV, NFL Network, MLB Network, and ESPN channels. If you want even more, there's a sports addon with NFL Red Zone, Poker Go, and other intriguing options. Check out the entire YouTube TV channel list for more information.
Which Has The Better On-Demand Library?
It might be surprising, but Philo has a huge on-demand library with over 60,000 titles. That translates to 30,000 hours of content, including titles from reputable companies like Sundance TV and AMC. South Park, Better Call Saul, and Killing Eve are among the most attractive titles. You can learn more about Philo's on-demand library in our specialized guide.
YouTube TV also has a generous on-demand library. However, there's no separate section for it. Instead, you need to use the search box to find the desired title. You can recognize VOD content because it will have this label next to the title.
Do Both Services Have A Free Trial?
Yes, both services have a free trial. You can try Philo for seven days before the platform charges you for a monthly membership. You get access to the entire platform during this time.
YouTube TV also has a free trial, although its duration can vary. For example, we tried to sign up and received a 7-day trial for the Spanish plan but a 5-day trial for the Base plan. It's convenient you can preview YouTube TV for 20 minutes without signing up for a free trial. That means you don't need to enter payment details for this promotion.
Other Features Compared
The abovementioned characteristics aren't the only ones that matter when choosing a streaming service. Here's what else we considered when comparing Philo to YouTube TV!
Cloud DVR
If you need an option to record live or future shows, you can't go wrong with either of these services. It's no wonder YouTube TV offers unlimited DVR since Google is the company behind it. With such vast resources, unlimited DVR keeps recordings stored for nine months as per expectations.
It's a bit surprising that Philo follows this trend. Furthermore, it also offers unlimited DVR but keeps recordings for an entire year. However, older users only get a 30-day DVR if Roku, Apple, Amazon, or Best Buy bill them for the platform's services. It's necessary to use Philo billing to get a 12-month DVR.
Simultaneous streams
It's a tie in this category since YouTube TV and Philo offer the same options to their users. Both services support up to three simultaneous streams. You can use the same account but different profiles for maximum convenience.
It's worth mentioning you can upgrade YouTube TV to get unlimited streams, but only on your Wi-Fi network. Check out our detailed guide on YouTube TV simultaneous streams to get more information about the platform.
Supported devices
YouTube TV is the winner here, which is expected since a large corporation is behind the platform. Apart from dedicated iOS and Android apps, you can watch content on streaming media players, such as Roku, Amazon Fire TV Stick, Chromecast, and Apple TV. You can also use PlayStation and Xbox gaming consoles, and there's integrated support for the Google Nest Hub smart display.
Philo supports iOS and Android devices via native apps, as well as Amazon Fire tablets. Chromecast and major smart TV support are included. Although it's more than a decent range of supported devices, it's nowhere near as impressive as YouTube TV.
Our Verdict: Philo Is Better Than YouTube TV
Ultimately, it depends on what you expect from a streaming service. If you need great movie classics, exciting documentaries and reality shows to relax when you come home from work, Philo is the perfect option. It has a cloud DVR, three simultaneous streams, and decent device support.
YouTube TV is a premium live-streaming service with an impressive list of local and sports channels. These famous channels come at a significantly higher price, so make sure you are okay with the cost before signing up for the service. And don't forget both platforms are available via a free trial, so you can check them out before deciding!
Aneeca Younas • Author
Aneeca Younas is a graduated journalist with years of experience writing in different niches based in Oakland, CA. She is a huge movie fan that also enjoys watching sports. That's why she spends hours daily using various streaming services. Over the years, Aneeca profiled herself as an expert in cable-free and VOD platforms.
Lisa Holden • Editor
Lisa Holden is an editor and creative based in Houston, TX. Lisa holds a BA in African-American Studies from Temple University and has spent her career working in news publications and magazines, even founding a magazine herself. When she's not editing or working on one of her many creative endeavors (whenever that is), she enjoys traveling to new places and biking on sunny days.