Streaming Services
Netflix
Shudder
Comparison
Shudder vs. Netflix in 2023
By Staff• Edited by Lisa Holden • Updated May 31, 2023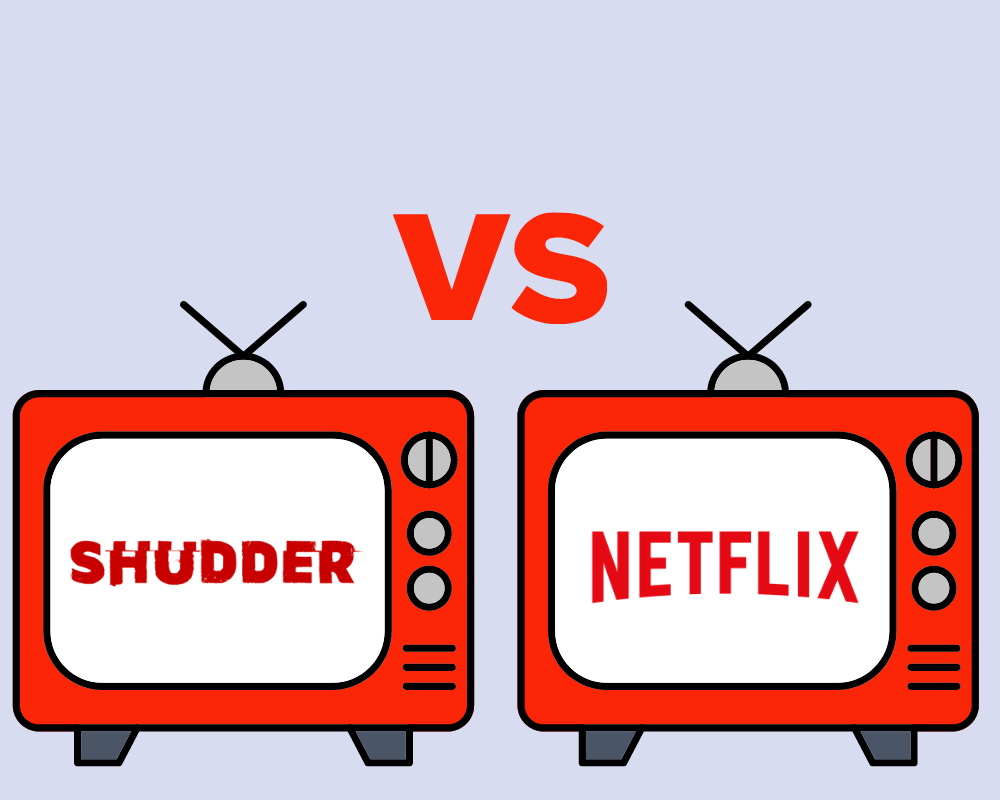 Get ready to rumble. In the boxing ring, we have two contenders: Shudder versus Netflix.
In the blue corner, we have Netflix—the founding father of content streaming. Since 1997, it has put Blockbuster and video rentals out of business. Today, you'll get tons of original programming and a healthy selection of fan-favorite films and TV shows that you can stream endlessly, regardless if you're a family of four little kids or dedicated film buffs.
Then, in the red corner, here's Shudder.
The horror-themed streaming platform that opened its doors in 2016. On the platform, you'll get to sample all-time favorite horror and slasher classics, like Halloween and Prom Night. On top of that, there's a good number of Shudder originals you won't find anywhere else. So if you're a horror nut, Shudder is the streaming service for you.
If you're on a budget and have to choose one over the other, we're here to give you the low-down. Here, we'll let you know the pros and cons of Netflix and Shudder and which will best suit your needs.
Side-By-Side Of The Two Streaming Giants
| | Shudder | Netflix |
| --- | --- | --- |
| Base Price | $5.99/month | $6.99 |
| Free Trial | 7-day free trial | No |
| Simultaneous Streams | No | Maximum of 4-device concurrent stream |
| On-Demand Content | Yes | Yes |
| Live Channels | Yes | No |
| Local Channels | No | No |
| Sports Channels | No | No |
Shudder vs. Netflix: Plans & Pricing
Shudder only offers one type of subscription. Here's what to expect:
Subscription will cost you $5.99 monthly. You'll get access to its complete on-demand library and Shudder TV, which is a 24/7 live stream featuring curated movie marathons.
Alternatively, you can subscribe for $56.99 annually. It doesn't offer any additional benefits, but paying for a yearly membership provides a discount of $4.75 per month. That adds up!
In contrast, Netflix offers 4 different pricing tiers:
Netflix Basic Plan with Ads costs $6.99 monthly. You'll get most of the Netflix library but with ad breaks. Plus, you can't stream from multiple devices simultaneously, and video quality is 720p.
Netflix Basic Plan costs $9.99 monthly. You'll get exactly the same perks of Basic Plan with Ads, but there won't be any advertisements interrupting your view time, and you get to download from 1 device—a big difference if you want to watch offline.
Netflix Standard Plan costs $15.49 monthly. You'll get quality 1080p definition and the ability to stream simultaneously and download from two devices on top of the Netflix library.
Netflix Premium Plan costs $19.99 monthly, where you'll have the best 4k streaming quality and the ability to stream simultaneously and download from four devices on top of the Netflix library.
You can find the full details of Netflix plans on their help page.
Shudder vs. Netflix: Channels & Shows
If you're looking for a genre-specific streaming service, in this case, horror, you won't find anything better than Shudder. Case in point, you'll find many horror classics from the past in Shudder's library.
For instance, classics like Child's Play and Halloween are available for viewing pleasure. Additionally, Shudder's library gets constantly updated with the latest horror treats. In fact, Shudder recently added the Chucky revival TV series to its streaming vault.
Plus, Shudder also provides original horror content you won't find anywhere else, like Channel Zero.
As for Netflix, it's the perfect streaming partner for almost everyone. For example, Netflix stores some of the best child-friendly content, like Sesame Street and Barney. Not only that, but you'll also find some fan-favorite 90's sitcoms like Seinfeld and Friends.
Additionally, Netflix offers many Netflix originals that anyone can enjoy. In fact, some of the most acclaimed shows in recent memory call Netflix their home, such as Stranger Things and Squid Game.
Local channels compared
Because Netflix and Shudder are platforms focused on delivering on-demand content, they don't offer access to local channels.
Sports channels compared
Neither Shudder nor Netflix offers any live sports coverage, although Netflix does have its own original documentaries and docu-series which cover sports, like The Last Dance (2022), which follows the Chicago Bulls' famous run of success in the 90's, and Break Point (2023), a docuseries that traces the rising stars in tennis right now.
Shudder vs. Netflix: On-Demand Libraries
Between Shudder and Netflix, your mileage may vary based on the type of content you enjoy.
On Shudder, you'll find many critically acclaimed horror movies. For example, one of the most controversial movies from the 70s, Cannibal Holocaust, has a home in the Shudder content vault. But also you'll even find the best foreign horror movies, like The Wailing.
But that's both its strength and its weakness. If you're into horror, you'll feel at home with Shudder. But if you're looking for something else, Shudder won't give you what you need.
On the other hand, Netflix provides a flexible entertainment experience.
Looking for horror? There's Stranger Things or The Babysitter to scratch your itch.
In the mood for a crime thriller? You can check out every season of Narcos. While Netflix doesn't have as robust a horror library as Shudder, it beats it in diversity.
All in all, we'd give a point to Netflix when it comes to on-demand libraries.
Need some Netflix movie recommendations? Check out our top 100 movies on Netflix list.
Shudder vs. Netflix: Free Trials
Only Shudder offers free trials. Shudder offers a 7-day free trial, which allows you to sample everything the platform offers, including its 24-hour curated live streams.
There is no free Netflix trial to speak of. In the past, Netflix offered a 30-day free trial, but it phased out the offer in October 2020, and it doesn't look like they're planning to renew the offer anytime soon.
Shudder vs. Netflix: Other Features
Despite on-demand libraries being a major deciding factor when choosing streaming services, it's not the only consideration. Between simultaneous streaming and device support, let's check out how Shudder and Netflix stack up against one another:
Cloud DVR: Neither Shudder nor Netflix provides cloud DVR features. However, Netflix allows subscribers to download content. That way, you can enjoy your favorite films and shows even offline. On the other hand, Shudder doesn't have any equivalent features.
Learn more at the Netflix support page if you need help downloading Netflix content.
Simultaneous Streaming: Netflix takes the lead in the simultaneous streams category. In fact, Netflix has a maximum limit of 4-device concurrent streams, while you can only stream from one device on Shudder.
Device Support: Most modern devices work on both Shudder and Netflix. They both support Amazon Fire, Chromecast, Roku, Apple TV, Android TV, smartphones, smart TVs, and Xbox consoles. However, Netflix also provides support to Playstation consoles.
Our Verdict: Netflix Is Definitely Better Than Shudder
It's 2023, and Netflix is still the king of the roost. The boxer just keeps on swingin' and there's no stopping Netflix from protecting its throne. With Netflix, you're getting one of the most robust streaming libraries available, and you can even enjoy your favorite content in 4k.
But that doesn't mean Shudder isn't worth considering. On the contrary, if you're a horror fan, Shudder is almost a must, thanks to its depth of horror content—something you won't get from Netflix.
Still, with so many diverse offerings, whether you decide on Netflix or Shudder, you won't be disappointed. So go subscribe!
And if you're looking for more spine-tingling content, check out our 13 best Shudder alternatives.
.
Lisa Holden • Editor
Lisa Holden is an editor and creative based in Houston, TX. Lisa holds a BA in African-American Studies from Temple University and has spent her career working in news publications and magazines, even founding a magazine herself. When she's not editing or working on one of her many creative endeavors (whenever that is), she enjoys traveling to new places and biking on sunny days.