Streaming Services
DirecTV Stream
Sling
Comparison
Sling TV Vs. DirecTV Stream in 2023
By Staff• Edited by Lisa Holden • Updated Jun 14, 2023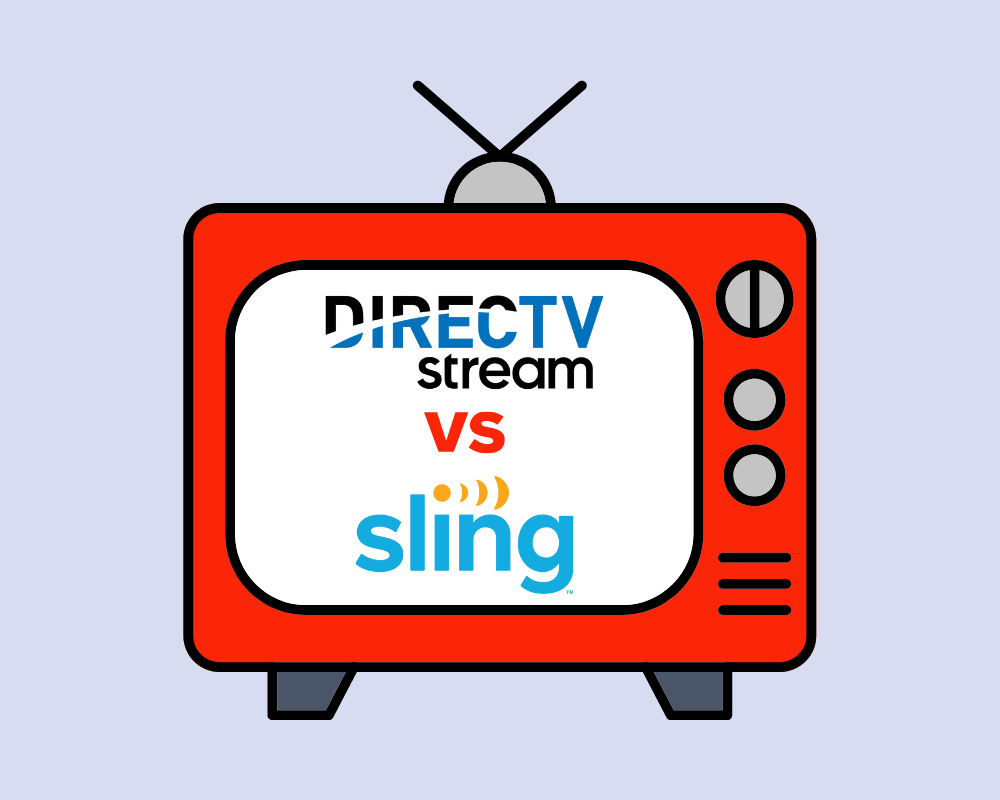 If you're considering signing up for a live streaming service, Sling TV and DirecTV Stream are two options you might be considering. In this guide, we'll look at DirecTV and Sling TV side-by-side to see which option is best.
Most People Should Choose DirecTV Stream
If you want a quick answer to the question of which is better between Sling TV and DirecTV Stream, we have to give the edge to DirecTV Stream. Formerly known as AT&T TV Now, DirecTV Stream has more channels, more local coverage, a wider range of plans, and even more impressive deals and discounts when compared to Sling TV, too.
DirecTV Stream also excels in terms of features. It has some of the best recording features around, offering 500 hours of DVR time (upgradeable to unlimited DVR for an extra $10 per month), compared to Sling's 10 hours, for example. It also offers more simultaneous streams across its plans and has a colossal on-demand library, too.
However, DirecTV Stream doesn't have everything its own way, and there are some points in favor of Sling TV. For example, Sling TV is considerably cheaper than DirecTV Stream, and it has a much broader lineup of sports channels. Sling TV also has more apps, giving you a wider range of devices to watch with.
Stream on unlimited devices at home
Regional sports networks included
Stream on unlimited devices at home
Regional sports networks included
Stream on unlimited devices at home
Regional sports networks included
Stream on unlimited devices at home
If You're a Sports Fanatic, Choose Sling TV
One of the main areas in which Sling TV excels over DirecTV is in terms of sporting content. Sling TV offers ESPN, ESPN2, ESPN3, beIN Sports, NFL Network, Golf Channel, and many other sporting channels. DirecTV Stream has some sports coverage, too, including ESPN, but it's not as deep as Sling TV when it comes to sports.
If You Want Lots of Content, Choose DirecTV Stream
If you're someone who wants the highest number of channels and the widest range of content, DirecTV Stream is the choice for you. It boasts an incredible amount of channels, higher than Sling TV and more than many other services, too. Plus, with the more expensive plans of DirecTV Stream, you also get lots of on-demand content like HBO Max.
If You're on a Budget, Choose Sling TV
A lot of people think about price and budget when choosing a streaming service, and if you're a budget-conscious streamer, Sling TV is the best choice of the two.
If You Want the Most Fully-Featured Service, Choose DirecTV Stream
Even though DirecTV Stream costs a lot more money, it does have many more features and represents a more comprehensive streaming package than Sling TV. For example, DirecTV Stream has up to 20 simultaneous streams on your home network, while Sling's Orange plan limits you to only one stream at a time and the Blue plan offers three simultaneous streams. DirecTV Stream also has much better DVR support.
Khadija Bilal • Author
Khadija Bilal is an accomplished writer with over a decade of experience under her belt. Having developed a versatile writing style that allows her to tackle a wide range of topics, Khadija has several publications to her name. Khadija's expertise includes in-depth guides and how-to articles.
Lisa Holden • Editor
Lisa Holden is an editor and creative based in Houston, TX. Lisa holds a BA in African-American Studies from Temple University and has spent her career working in news publications and magazines, even founding a magazine herself. When she's not editing or working on one of her many creative endeavors (whenever that is), she enjoys traveling to new places and biking on sunny days.