Streaming Services
Peacock
Sling
Comparison
Sling TV vs. Peacock in 2023
By Staff, Deja Harris• Edited by Lisa Holden • Updated Nov 17, 2023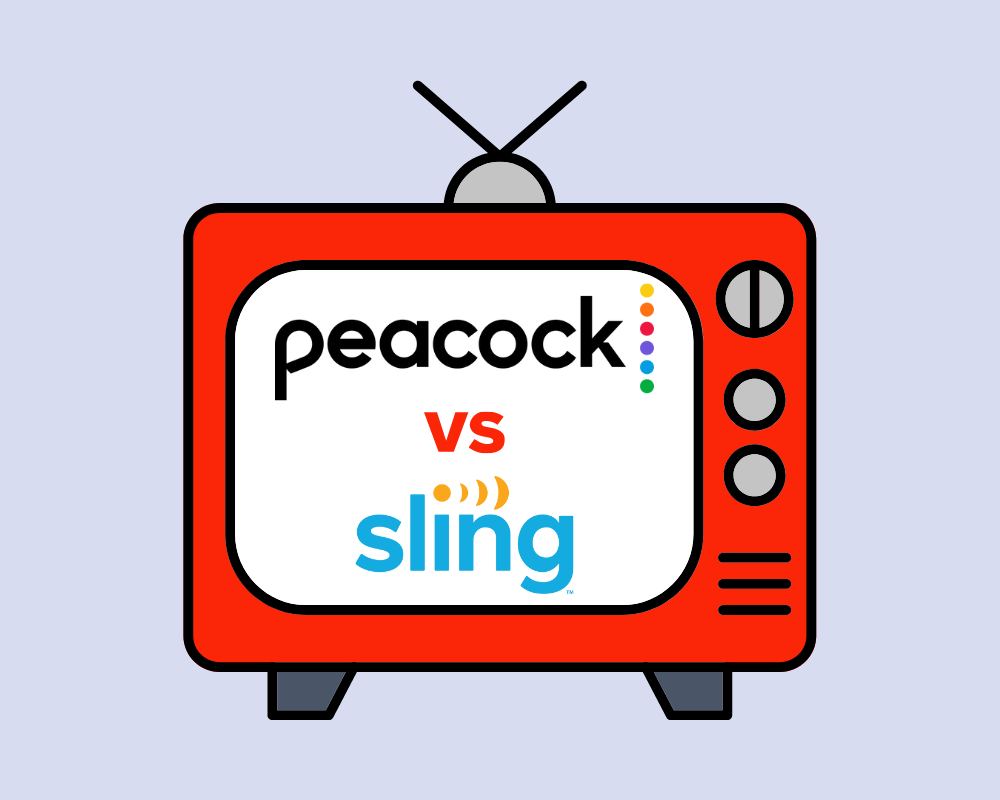 In the past, if you wanted to watch the best live TV channels and content, you had to have cable. But in today's world of online streaming services, more and more people are cutting the cord and signing up for platforms like Sling TV and Peacock. But which one of these services is the best? Read on through our Sling TV vs Peacock guide to find out.
Most people should choose Sling TV.
If you're simply looking for a quick and straightforward recommendation of which service to choose between Sling TV and Peacock, we have to give the edge to Sling TV. It's a much more comprehensive live TV streaming service than Peacock.
If you want to enjoy dozens of live TV channels, all kinds of content, and bonus features like DVR support, Sling TV has all of this and more. It's one of the leading online TV streaming services available right now, standing out for its quality channels like ESPN and CNN, as well as its diverse range of programming.
Peacock is much more of an on-demand platform than a live TV streaming service. It does have some level of live programming with news broadcasts, sports, and talk shows, but Peacock is much more focused on the on-demand crowd, aiming to compete with the likes of Netflix and Disney+.
If you like on-demand content, choose Peacock.
In the modern world, many people like the on-demand form of content delivery, picking and choosing whatever they want to watch, whenever they want to watch it, from a huge library of shows and movies. If that's how you like to watch things, Peacock could be great for you. It's an exciting on-demand service, offering a good selection of classic shows like Parks and Recreation, House M.D., and Saturday Night Live.
If you want lots of live TV, choose Sling TV.
If you prefer to watch live TV and like watching shows, news broadcasts, and other programs as they air, Sling TV is the better option for you. As explained above, Peacock is more of an on-demand platform, while Sling TV is catered to people who love live TV. It comes with dozens of channels, no matter which plan you pick, giving you lots of stuff to watch at any time of day.
If you're on a budget, choose Peacock.
In terms of pricing, there are some big differences between Sling TV and Peacock. In fact, Peacock has a low-cost plan, which is supported by ads. You can pay a premium rate for an ad-free experience, but this is still much lower than the minimum monthly charge of Sling TV.
Live and on-demand titles
Exclusive content like The Office
Exclusive content like The Office
Live and on-demand titles
If you want the most fully-featured service, choose Sling TV.
Even though Sling TV costs significantly more money than Peacock, it's also a much more comprehensive service. It has lots of live channels, DVR support for you to record and rewatch your favorite shows or live events, multiple subscription packages for sports fans, families, and other types of viewers, and up to four simultaneous streams per account, making it the best all-around package.
Khadija Bilal • Author
Khadija Bilal is an accomplished writer with over a decade of experience under her belt. Having developed a versatile writing style that allows her to tackle a wide range of topics, Khadija has several publications to her name. Khadija's expertise includes in-depth guides and how-to articles.
Lisa Holden • Editor
Lisa Holden is an editor and creative based in Houston, TX. Lisa holds a BA in African-American Studies from Temple University and has spent her career working in news publications and magazines, even founding a magazine herself. When she's not editing or working on one of her many creative endeavors (whenever that is), she enjoys traveling to new places and biking on sunny days.