Streaming Services
Apple TV+
Starz
Comparison
Starz vs. Apple TV+ 2023: Which Service Is Better for You?
By Staff, Deja Harris• Edited by Lisa Holden • Updated Nov 18, 2023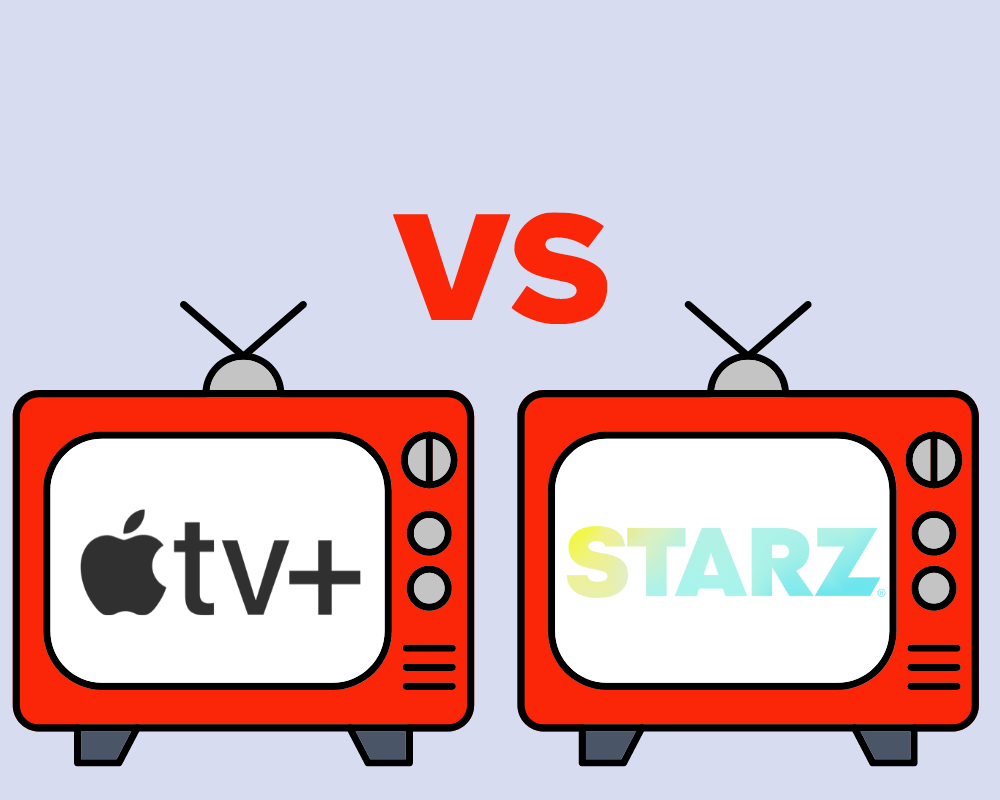 Today, there are more on-demand streaming services than ever before. And if you're looking to add another streamer to your lineup, you may be wondering if you should pick STARZ or Apple TV+.
There's not necessarily a wrong answer – both streamers have their pros and cons – but in this guide, we'll take a deeper look at each service, compare STARZ and Apple TV+ in 2023, and help you decide which one to choose.
How do Starz and Apple TV+ compare?
| | STARZ | Apple TV+ |
| --- | --- | --- |
| Free Trial | No | 7 days |
| Simultaneous Streams | 4 | 6 |
| On-Demand Content | 900+ movies, 20+ TV shows | 30,0000+ movies, 6,500+ TV shows |
| Live Channels | No | No |
| Local Channels | No | No |
| Sports Coverage | No | Yes |
How do the pricing and plans compare?
First, let's talk about pricing. STARZ and AppleTV+ are very close in cost. If you're on a tight budget, either are great options, especially compared to more expensive services like Netflix, which seem to be constantly raising prices on customers.
With Apple TV+, you can even get a free 90-day subscription with the purchase of most Apple devices, which is something to keep in mind.
With STARZ, there are no other real hidden costs, either. Unlike some other streamers, STARZ doesn't have add-ons for more channels or features. The price you see is the price you pay.
Obsessable original series
How do the available live events & sports coverage compare?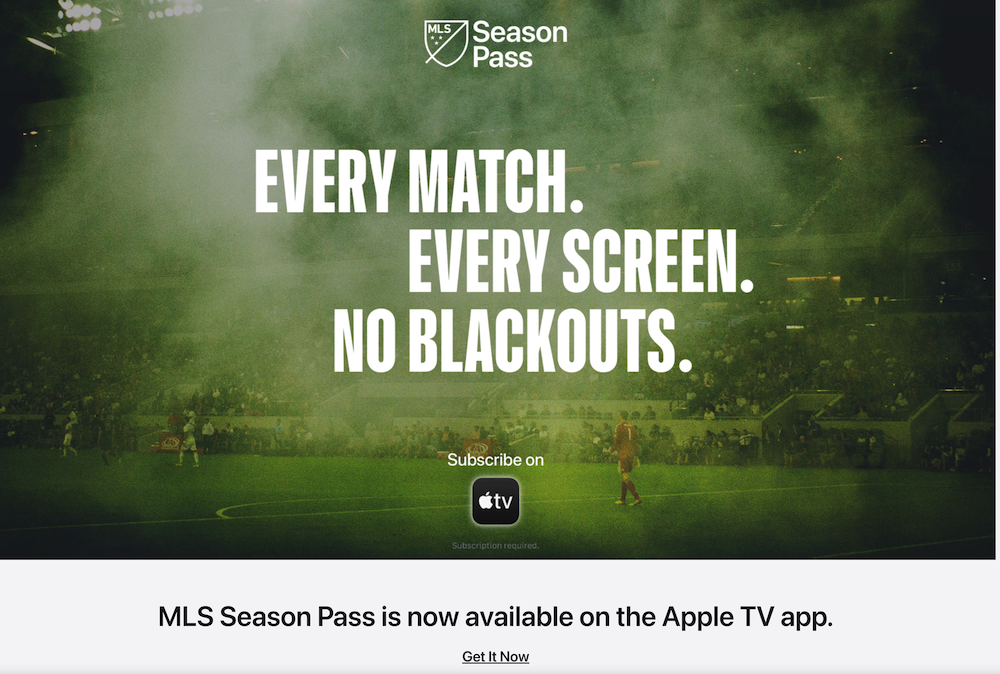 This is one area where Apple TV+ has a huge advantage over STARZ. STARZ exclusively provides on-demand movies and shows and doesn't have any coverage of live events or sports. But that's not the case for Apple TV+.
Apple TV+ is the new home for Friday Night Baseball games, which means you can watch more than 30 marquee MLB games with your subscription at no extra cost. And if you're a soccer fan, Apple inked a 10-year deal with the MLS to provide MLS Season Pass for $14.99/month for Apple TV+ subscribers.
With MLS Season Pass, you'll be able to watch every single MLS game. If you love Major League Soccer, this definitely tilts the scales toward Apple TV+.
Which has the better on-demand library?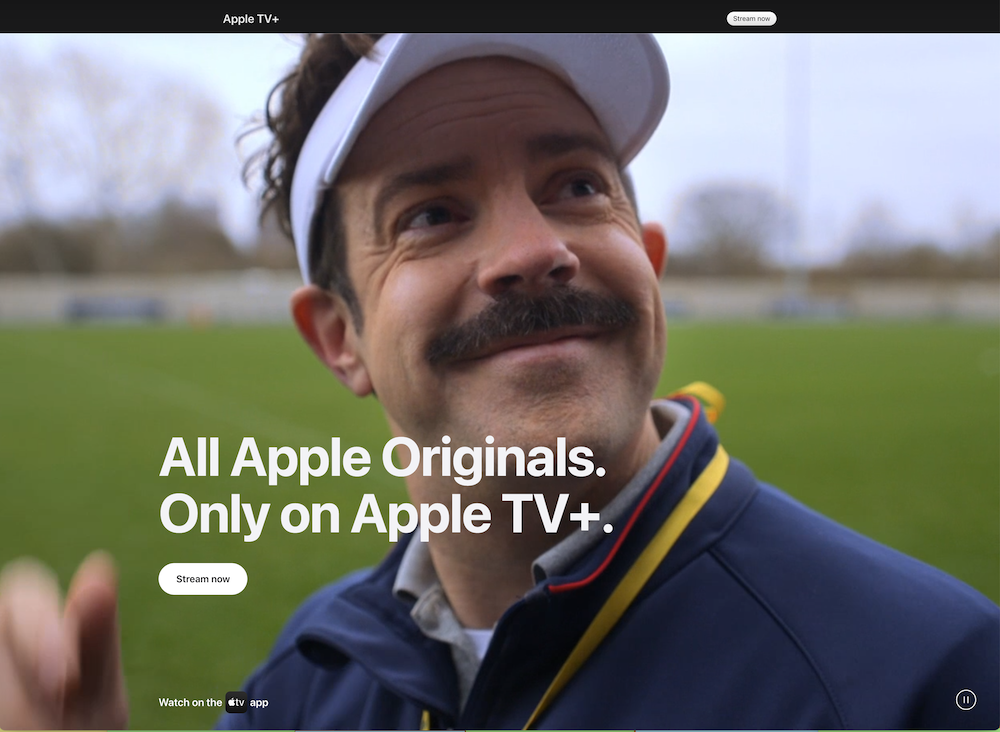 This is a bit of a tough one. When it comes to overall quality, we'll give the nod to Apple TV+. After a bit of a rocky start back in 2019 with shows like The Morning Show failing to meet critical expectations, Apple TV+ has produced some serious critical darlings, including Ted Lasso, Foundation, Mythic Quest, Severance, and even CODA, which won the Academy Award for Best Picture in 2022. Take a look at a list of the 10 best Apple TV+ shows here for a more detailed overview. It also has more content in its library,
STARZ also has wonderful content and a full library since the service is owned by Lionsgate, and has hundreds of licensed movies in its library. It has plenty of original programming, too, with some highlights including American Gods, Outlander, Power, Party Down, and P-Valley. Want more details? Check out this list of 20 of the best movies on Starz.
Overall, we'd say that Apple TV+ is a better option if you want high-quality originals and don't binge as much TV.
Do both services have a free trial?
No. While Apple TV+ currently has a free week-long trial, STARZ doesn't have a trial at all. It has had a free trial in the past, though. And if you want to give it a try for less, you can take advantage of a special intro deal, and get three months of STARZ for just $5/month. Check here for more information on trials and special offers with STARZ.
How do the other features compare?
Pricing, content libraries, and free trials are important, but there are plenty of other features that may come into play when you're comparing STARZ vs. Apple TV+ and trying to pick the right service for you. Let's dive into a few other features that differentiate these two streamers from one another.
What are the cloud DVR and offline viewing options?
Since they're on-demand services, neither STARZ nor Apple TV+ offers a cloud DVR, but there's no need for one since you can watch your favorite titles on demand. However, Apple TV+ offers the ability to download shows to your mobile device and watch them for up to 30 days, which is a feature that STARZ lacks entirely. If you often watch content on the go, this may be something to keep in mind.
What are the simultaneous streaming options?
Both STARZ and Apple TV+ are quite generous when it comes to simultaneous streams. You can stream on up to four devices at once with STARZ. That's good, but Apple TV+ goes even further, allowing you to stream on up to six different devices at once. If you've got a large family or share your subscription with your household, Apple TV+ may be a better option for you.
What are the device support options?
When it comes to device support, there aren't many surprises when comparing STARZ and Apple TV+. Both services support:
Web browsers
iPhone and iPad
Android phones and tablets
Amazon Fire TV
Roku
Apple TV
Google TV
Xbox consoles
Select smart TVs
Overall, though, Apple TV+ has support for more devices than STARZ, with support for a wider range of smart TVs, as well as the PlayStation 4 and 5 consoles, which are not supported at all by STARZ.
Here's our verdict: Apple TV+ is better than Starz.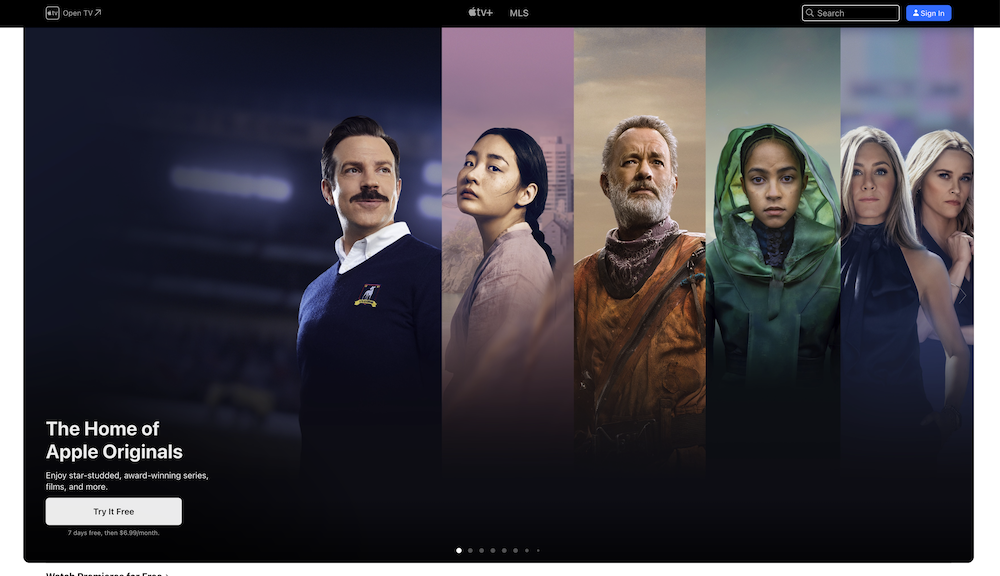 Overall, we'd say that Apple TV+ comes out ahead of STARZ in this head-to-head comparison. It's cheaper, offers a free trial, has some of the best shows and movies of any streamer, and even offers more simultaneous streams, as well as a selection of sports coverage.
However, this does not mean that STARZ isn't worth checking out. It has tons of amazing original content, and a much larger overall library of TV shows and movies. Sure, they may not be as consistently high-quality, but if you're a big binge-watcher, more is always better!
Eric Liston • Author
Eric Liston is a content writer based in Columbus, Ohio. Since 2015, he's been writing about technology, cord-cutting, and helping everyday people save money. He also has expertise writing about medicine, dentistry, insurance, and a variety of other industries. No matter what he's writing, his focus is always on simplifying complex concepts and making them approachable for everyone. When he's not slamming away on his keyboard at his home office, you'll find Eric reading sci-fi novels, improving his disc golf game (he just hit his first 400-foot drive) and playing video games on his gaming PC.
Lisa Holden • Editor
Lisa Holden is an editor and creative based in Houston, TX. Lisa holds a BA in African-American Studies from Temple University and has spent her career working in news publications and magazines, even founding a magazine herself. When she's not editing or working on one of her many creative endeavors (whenever that is), she enjoys traveling to new places and biking on sunny days.