Streaming Services
Vidgo
Review
Vidgo Review 2023
By Staff• Edited by Lisa Holden • Updated Nov 20, 2023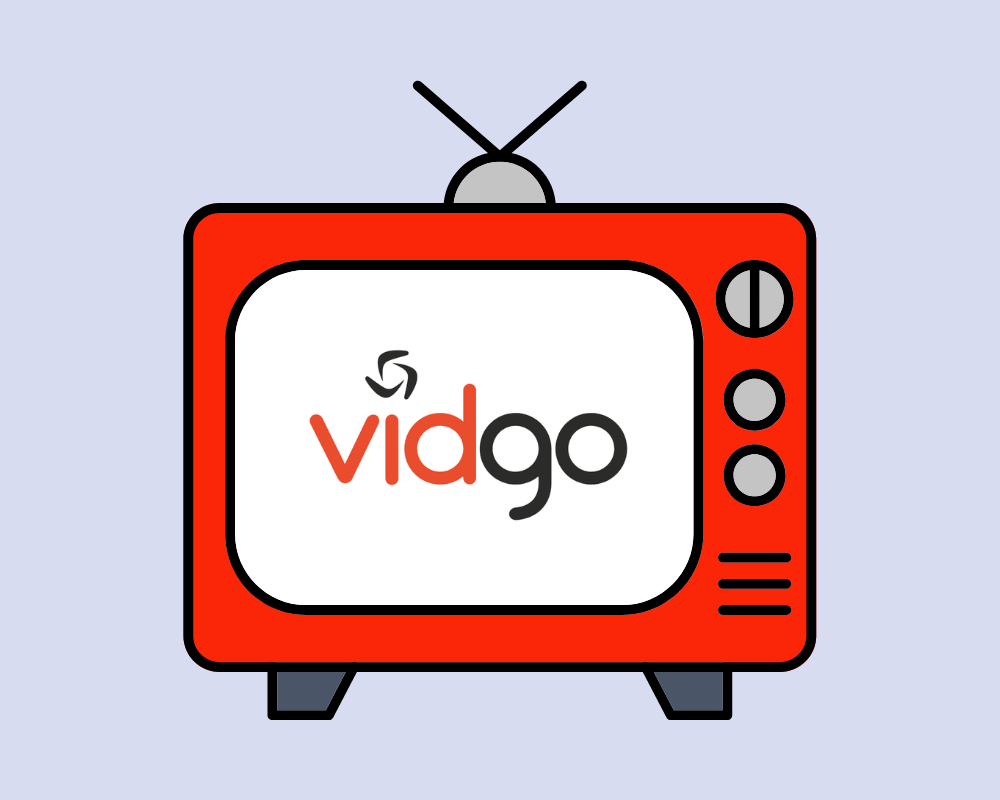 Vidgo launched in 2018 as a streaming service centered on sports programming, mainly soccer. Since then, it has expanded to offer cord-cutters a wide range of not just sports, but also tons of entertainment, news and family channels without the hassle of a traditional cable or satellite TV subscription.
If you've been considering giving Vidgo a go, here's what you need to know.
What content does Vidgo have?
Vidgo is primarily a live TV streaming service that specializes in providing access to a wide range of sports, entertainment, and news channels. The platform offers over 150+ channels across different categories, including sports, lifestyle, news, and entertainment. Some of the popular channels available on Vidgo include ESPN, NFL Network, Fox News, Discovery Channel, and Cartoon Network.
The platform is known specifically for having the most channels for college sports, and they've recently doubled down on their promise to deliver even more college sport content in the future.
Vidgo offers flexible subscription plans, allowing you to choose between English, Spanish and combined channel packages depending on your interests and needs.
Great for Live Sports and News
Great for Spanish Programming
Great for More Sports, News, and Shows
All your live TV programs
The platform also has an impressive on-demand library of over 14,000+ titles, including movies like 22 Jump Street and Office Christmas Party, and episodes of shows like Yellowstone and The Simpsons. According to Vidgo's website, their on-demand library is refreshed daily as they work to deliver the most relevant and popular content to their audience.
Vidgo does not have any original content of its own but focuses on providing viewers with access to live and on-demand content from popular networks. Although Vidgo's DVR capabilities are severely lacking, its 10,000+ hours of on-demand content means you can catch up on missed episodes or watch your favorite shows and movies at your own convenience.
Vidgo interface and usability
In late 2022, Vidgo rolled out a brand-new app with a new logo, still dark yet more neutral color scheme, and improvements to its interface.
Vidgo's new and improved interface is user-friendly and easy to navigate, making it simple for you to find your favorite channels and content. The home screen of the platform features a carousel at the top that highlights the latest content available on the platform, including live events and shows currently on.
The sections are easy to navigate, with an area dedicated to on-demand content, one dedicated to recordings, and a handy TV guide. You can click on the search bar to filter shows or movies on Vidgo by language, genre, title, popularity, and even location.

Overall, this recent update has served viewers well, so long as you have a device that's compatible with the Vidgo app. They've grown over time to include more devices on this list, but Vidgo's list of compatible devices is still extremely limited compared to competitors.
Vidgo compared to other services
Vidgo's entry-level subscription plan undercuts some of its competitors, but after the most recent price hike it underwent, it's hardly cheaper than many other competitors, without the features to justify its high price. For example, the most DVR you can get with a Vidgo plan is 20 hours, and that's only included in the two most expensive plans. Also,Vidgo doesn't support 1080p or 4K, although its picture quality is quite good in our experience.
If you're looking for more RSNs and local channels, DirecTV Stream dominates that avenue, with YouTube TV a close second. Both streaming services also offer unlimited DVR, with your recordings saved for up to 9 months, and free trials, so you can try before you buy. DirecTV Stream also offers unlimited simultaneous streams within the same household, making it great for big families.
Sling TV, on the other hand, is a cheaper alternative to Vidgo if you're looking for a stripped down streaming service with smaller English and Spanish channel packages.
| | Vidgo | DirecTV Stream | YouTube TV | Sling TV |
| --- | --- | --- | --- | --- |
| Monthly Price | Starts at $69.99 for English package, $39.99 for Spanish package | Starts at $74.99 | $72.99 | Starts at $40 for English package, $10 for Spanish package |
| Free Trial | None | 5 days | 7 days | None |
| On Demand Movies and Shows | Yes | Yes | Yes | Yes |
| Original Content | None | None | Yes | None |
| Live TV Channels | 150+ | 150+ | 100+ | 50+ |
| Number of Streams | 3 | 3 outside home network, unlimited within home network | 3 | 1-3 |
| Ads | For live TV only | For live TV only | For live TV only | For live TV only |
You can host watch parties on Vidgo
One of Vidgo's fan-favorite features is the ability to host social watch parties with friends and family. You can watch a show or movie at the same time and leave comments and emojis in the chat window to interact with each other throughout it.
Hardly any streaming services have successfully implemented this sort of feature, while others like Philo have teased at it for years but never followed through.
Who is Vidgo not good for?
Viewers looking for tons of local channels. Vidgo lacks quite a few local channels, meaning that if you wanted channels like CBS, NBC, the CW or Telemundo, you'd have to find another way, such as getting an OTA antenna or checking out another streaming service like DirecTV Stream.
People who like to record their shows or sports to watch later. Vidgo is quite expensive, yet only offers a maximum of 20 hours of DVR in any of its plans, whereas many competitors like YouTube TV and DirecTV Stream offer unlimited DVR. So if you were hoping to record shows or games to watch later, keep in mind that Vidgo will delete your oldest recordings to make room for new ones.
Final thoughts
Overall, Vidgo is a great choice for viewers looking for a wide range of popular channels for slightly cheaper than competitors charge. As long as you have a compatible device and don't mind its lack of DVR features, it's definitely worth a shot.
Tara Khudairi • Author
Tara Khudairi is a freelance content writer and copywriter based in Toronto. Since 2014, she has contributed to brands and blogs alike to tackle popular topics relating to technology, personal finance, entertainment, travel and lifestyle. Whether it's the latest streaming service or cryptocurrency, she's passionate about making the complex simple. When she's not busy typing away, you'll find Tara watching Netflix's latest true crime doc or a classic 90's horror flick.
Lisa Holden • Editor
Lisa Holden is an editor and creative based in Houston, TX. Lisa holds a BA in African-American Studies from Temple University and has spent her career working in news publications and magazines, even founding a magazine herself. When she's not editing or working on one of her many creative endeavors (whenever that is), she enjoys traveling to new places and biking on sunny days.