Streaming Services
ESPN
Apple TV
How to watch
How to Watch ESPN Live on Apple TV in 2023
By Staff, Deja Harris• Edited by Lisa Holden • Updated Oct 11, 2023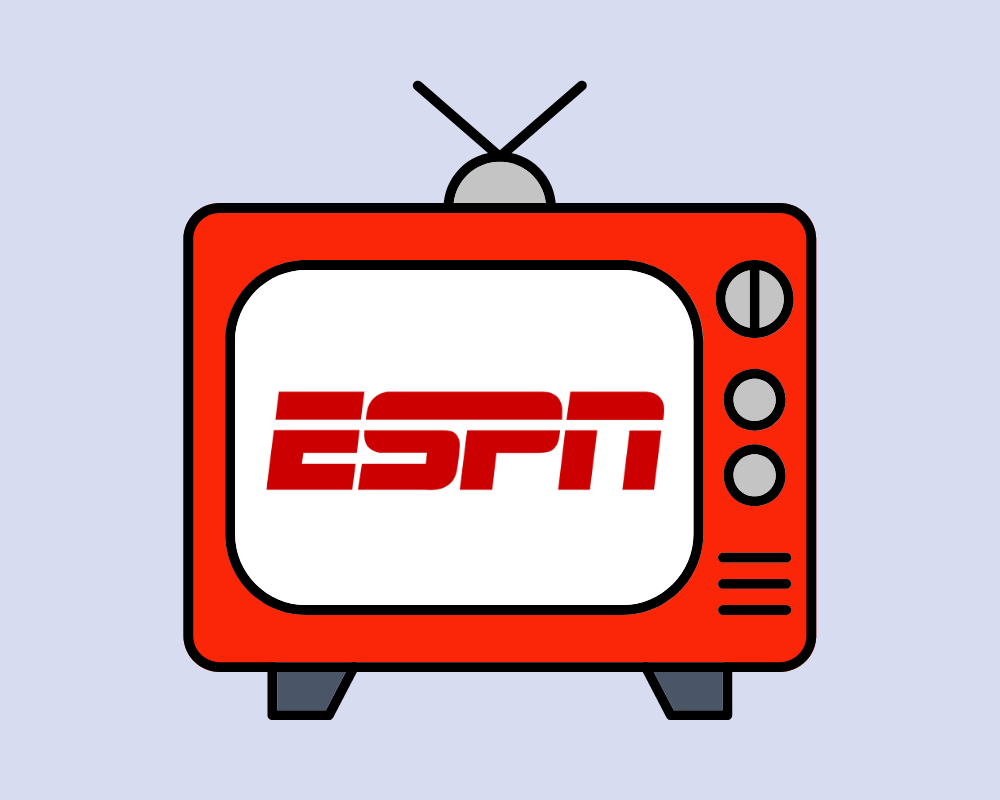 ESPN is a US cable sports channel with loads of exclusive broadcasting rights. This includes NBA and WNBA, club and national soccer games, college football, and other premium events. If you are a true sports fan, you can't miss the competitions and shows offered by ESPN. But what if you have Apple TV?
The answer is you can watch ESPN on Apple TV with these services:
Now, let's see the advantages and unique features of each streaming platform offering ESPN on Apple TV!
Let's talk about Sling TV.
If you are a sports and ESPN fan, Sling TV is the most affordable option to access these channels. But pay attention that you choose the Sling Orange subscription. It's the only package that unlocks three ESPN channels, and you also get Stadium and 20+ other standard networks, such as BBC America and CNN.
Sling TV considers ESPN its premium content, so there's a limitation to a single simultaneous stream. As for additional options, the Sports Extra package unlocks access to ESPNews and ESPNU, as well as the Tennis Channel, NBA TV, MLB Network, etc.
Let's talk about Fubo.
Fubo is another sports-oriented streaming service. It offers over 155 channels in its default package, and it's not an exaggeration to say that half of it is sports content. If you check our detailed Fubo pricing guide, you'll see that the channel list includes ESPN and ESPN2. Apart from that, there's beIN Sports, Golf Channel, NFL Network, etc.
More expensive plans unlock even more sports channels, and you can even pick the Latino subscription and unlock ESPN Deportes. Fubo supports Apple TV, but also other devices and offers multiple simultaneous streams. The default package comes with a 250-hour cloud storage, so you don't miss any favorite shows.
Let's talk about Hulu + Live TV.
Disney is the majority stakeholder of ESPN, and it's also behind the Hulu VOD platform. The company expanded the popular VOD streaming service and now offers a Hulu + Live TV combo. It's only expected that ESPN is among the live channels available on this platform. You'll get the complete package, including ESPNU and ESPN College Extra.
The channel selection on Hulu + Live TV is impressive, although it only offers a single subscription tier. It also has an impressive VOD library with original programming. The default version ensures two simultaneous streams and unlimited DVR with storage up to nine months.
Let's talk about DirecTV Stream.
DirecTV Stream is famous as a reliable premium service. It offers excellent video streaming quality and unique features like up to 20 simultaneous streams on the chosen network. Apart from Apple TV, the service has fantastic compatibility with other devices, ranging from Roku to Samsung Smart TVs.
While it's not the cheapest streaming service, DirecTV does come with a well-curated channel selection. Apart from the two ESPN channels, you get Disney Channel, Fox Sports, NBC, Telemundo, etc. If you have extra in your budget, add-ons and expansive channel packages offer even more fantastic content.
Let's talk about Vidgo.
Vidgo might seem like a minor market player, but it actually offers plenty of bang for the buck. Five ESPN channels are in both English language packages, including ESPN, ESPN2, ESPNU, ESPNEWS, and ESPN Deportes.
The Spanish package offers ESPN Deportes, but also other sports channels in Spanish language, such as beIN Sports and TyC Sports. Although DVR doesn't work with all devices, it's compatible with Apple TV. Vidgo also supports using their service on up to three simultaneous streams.
Let's talk about YouTube TV.
YouTube TV is another reliable live TV streaming service with a giant company behind it. Google launched it in the US and already attracted millions of subscribers. The default subscription includes over 80 channels, and that includes premium sports content.
Apart from ESPN, you'll appreciate a fine collection of news, entertainment, and family-friendly channels. YouTube TV has unlimited DVR with cloud storage that stores recordings up to nine months. Apart from working flawlessly on Apple TV, you can watch YouTube TV on gaming consoles, streaming media players, smart TVs, etc.
Let's talk about ESPN+.
ESPN+ is a streaming service launched by the ESPN network. But the trick is that you can't watch the same content and access actual ESPN channels. While there are live sports events available, the focus is on this network's shows, game replays, and fantastic documentaries.
The main advantage of using ESPN+ is its affordable price compared to other streaming services. You'll get up to three simultaneous streams, as explained in our guide, but there's no DVR option. Device support and the actual VOD library is impressive, with titles like 30 for 30 and Without Bias.