Streaming Services
Univision
How to watch
How to Watch Univision Live Without Cable in 2023
By Staff• Edited by Lisa Holden • Updated Oct 25, 2023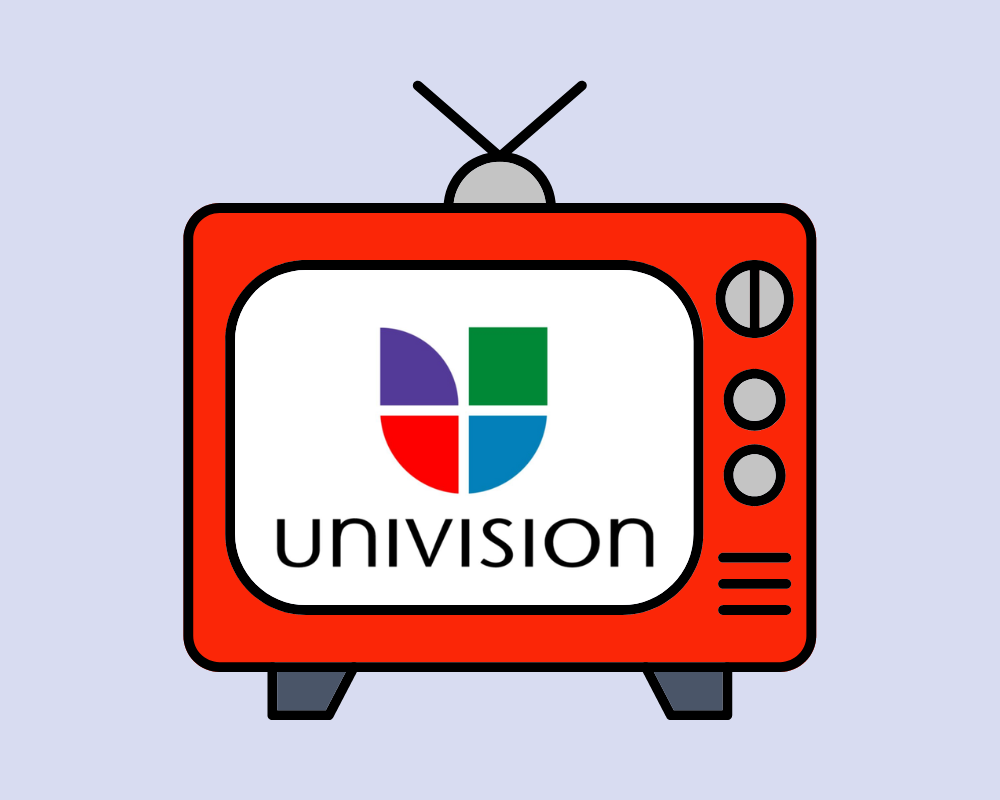 Viewers of Spanish-language programming will want to know a few things before cutting the cord. One of them is whether or not they'll still be able to watch the popular Spanish channel, Univision. So, let's look into that. We've got the 4 best ways to watch Univision live without cable in 2023.
What is Univision?
Launched in 1962, Univision is the largest provider of Spanish-language content in the US. The popular over-the-air (OTA) station broadcasts telenovelas, sports and news, and a variety of other content. It's available throughout most of the country via pay-TV providers and has local TV stations in 60+ markets.
Fortunately, you no longer need cable or satellite TV to watch Univision. It's available on Fubo, DirecTV Stream, and YouTube TV, as well as relative newcomer Vidgo, the first streamer to offer a dedicated Spanish-language plan.
How to watch Univision on Fubo?
While Fubo started out as a sports-only streaming service, it now offers a wide selection of channels covering everything from news to movies to kids' TV. It's also got an impressive lineup of Spanish-language content.
All 3 of Fubo's English-language plans – Pro, Elite, and Ultimate – include Univision. The plans have 155, 220, and 229 channels, respectively, with Elite and Ultimate offering 130+ events in 4K.
Fubo's Latino plan is more affordable than the entry-level Pro plan and includes Univision, plus 43 other Spanish-language channels. (However, only the English-language plans include Telemundo.)
The English-language plans all come with 1,000 hours of cloud DVR and the Unlimited Screens add-on that lets you watch 10 screens at home and 2 on the go.
The Latino plan includes 250 hours of cloud DVR and 2 simultaneous streams. But even if you add Unlimited Screens, it's still far cheaper than the Pro plan.
How to watch Univision on DirecTV Stream?
DirecTV Stream is known for being a more expensive streaming service. However, Univision is included with the lowest-priced Entertainment plan, which is on par with the other services mentioned here.
It includes 75 channels, all major broadcast TV networks, and 40,000 on-demand titles. But keep in mind, many other Spanish-language channels you'll get with competitors – such as TUDN, Universo, and UniMás – require an upgrade of 1 or 2 tier levels with DirecTV Stream.
The higher-tier plans – Choice, Ultimate, and Premier – all include DirecTV Stream's regional sports networks (RSNs) and the number of channels and on-demand titles increases at each level.
The Español add-on includes 60+ Spanish-language channels covering sports, entertainment, news, and more.
All DirecTV Stream plans let you watch 20 screens at once, plus 3 more on the go, and include unlimited cloud DVR storage.
Stream on unlimited devices at home
Regional sports networks included
Stream on unlimited devices at home
Regional sports networks included
Stream on unlimited devices at home
Regional sports networks included
Stream on unlimited devices at home
How to watch Univision on YouTube TV?
Similar to Hulu + Live TV, YouTube TV started out by offering a single-tier plan with 100+ channels. It's got all major TV networks, including PBS, and offers a long list of premium channels that can be added à la carte.
But YouTube TV recently added the Spanish Plan – which doesn't require signing up for the Base Plan. Both plans include Univision, but the Spanish Plan costs about half the price of the regular Base Plan.
The Spanish Plan includes 28+ Spanish-language networks of TV shows, telenovelas, and live sports. It's fine if Univision is mainly what you're after, but one noteworthy omission from the Spanish Plan's lineup is Telemundo. That's only available in the Base Plan.
YouTube TV has unlimited cloud DVR and lets you watch on 3 screens at the same time.
85+ broadcast, cable, and regional sports networks
How to watch Univision on Vidgo?
Launched in 2019, Vidgo is one of the newest live TV streaming services out there. It's got 2 English-language plans – English Plus and English Premium – to choose from. They've got 110+ and 150+ channels, respectively, and both include Univision. But Vidgo has a third option that may be much more appealing.
Vidgo was the first "major" American streaming service to have a standalone Spanish-language base plan. The Spanish Mas plan is more affordable than the Plus plan and gets you 45+ channels, including Univision. Similar to YouTube TV's Spanish Plan, however, it doesn't have Telemundo.
You can watch up to 3 devices at once with any plan.
Vidgo's Premium plan includes a rather paltry 20 hours of cloud DVR, which can be added to the Plus and Spanish Mas plans for an additional fee.
Great for Live Sports and News
Great for Spanish Programming
Great for More Sports, News, and Shows
All your live TV programs
Douglas Wright • Author
Douglas Wright is a freelance writer based in Japan. A former web designer and technical writer, he left beautiful Vancouver for bustling Tokyo, where he spent a decade recruiting for software and high-tech firms. No longer commuting through the world's busiest train station, he writes fiction and a wide range of formats for clients around the world. When he gets AFK, he's either outdoors with his two boys, streaming a show with his wife, or reading a book over a French-pressed, hand-ground coffee.
Lisa Holden • Editor
Lisa Holden is an editor and creative based in Houston, TX. Lisa holds a BA in African-American Studies from Temple University and has spent her career working in news publications and magazines, even founding a magazine herself. When she's not editing or working on one of her many creative endeavors (whenever that is), she enjoys traveling to new places and biking on sunny days.