Streaming Services
YouTube TV
Amazon Prime Video
Comparison
YouTube TV vs. Amazon Prime Video 2023
By Staff• Edited by Lisa Holden • Updated Jun 06, 2023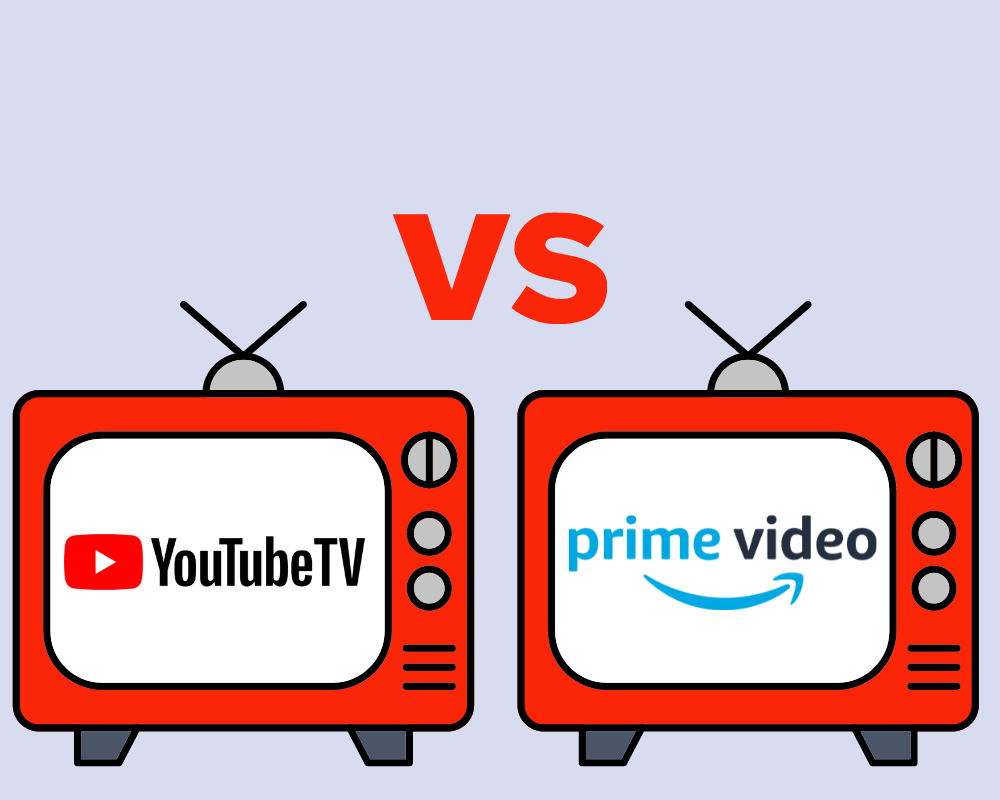 Google and Amazon are two of the biggest companies in the world — and their streaming services are two of the best on the market. But they're also quite different. Read on for our YouTube TV vs Amazon Prime Video matchup to see which one is right for you.
YouTube TV vs Amazon Prime Video Compared
| | YouTube TV | Amazon Prime Video |
| --- | --- | --- |
| Base Price (month) | $72.99 | $8.99 |
| Free Trial | Up to 14 days | 30 days |
| Simultaneous Streams | 3 | 3 |
| On-Demand Content | 1,000+ movies, 100s of TV shows | 10,000+ movies, 3,000+ TV episodes |
| Live Channels | 85+ | 100+ (with caveats) |
| Local Channels | ABC, CBS, FOX, NBC, PBS, The CW, Telemundo, UniMás, Univision and more | 259 local news channels |
| Sports Channels | CBS Sports Network, ESPN, FOX Sports, NBC Sports Network, various college networks and more | Streaming rights to select NFL, MLB, WNBA, MLS games and more |
Pricing And Plans
The two services are hard to compare on price, as one focuses on live-TV and the other is mainly an on-demand streamer. But both are well-priced among their competition.
YouTube TV keeps things simple with a single English-language base plan. It costs almost the same as similar competitors like Hulu + Live TV, Fubo and DirecTV Stream, and gets you more channels than two of those. There's also a long list of add-on networks and channels that can be added à la carte.
The Spanish Plan delivers 28+ Spanish-language channels for a fraction of the price of the standard plan.
For a rather steep $19.99/month, the 4K Plus add-on can be added to either plan.
85+ broadcast, cable, and regional sports networks
Prime Video is included with Amazon Prime ($14.99/month), which is a no-brainer if you're a regular Amazon shopper. Or you can knock off about 40% and get Prime Video as a standalone service.
You can add just about any channel or streaming service out there through Prime Video Channels, rent or buy movies in 4K, and rent or buy TV shows by the episode or season. Plus, there's no extra fee for 4K content — which is the way it should be.
Award-winning Amazon Originals
Channels Compared: YouTube TV Vs. Amazon Prime Video
YouTube TV has 100+ channels of live TV and sports. Amazon Prime Video is harder to tally, as it doesn't offer channels the same way. If you're looking for a familiar, normal TV viewing experience, YouTube TV is hands down the better choice. YouTube TV is also better for sports fans.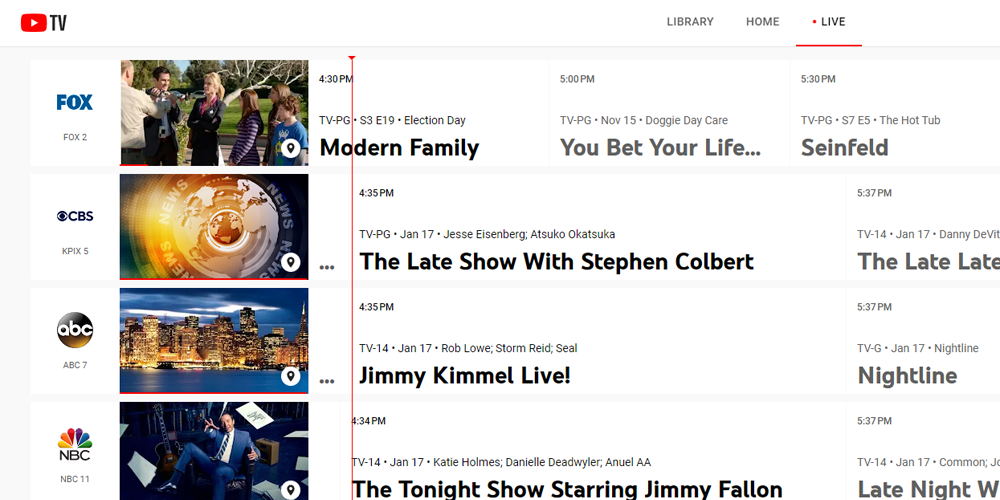 Local channels compared
YouTube TV offers all the major local channels you expect from broadcast television: ABC, CBS, FOX, NBC and PBS, as well as Telemundo, UniMás and Univision.
Prime Video has expanded its local news coverage to 259 cities, but you won't find complete local affiliates like you will on YouTube TV.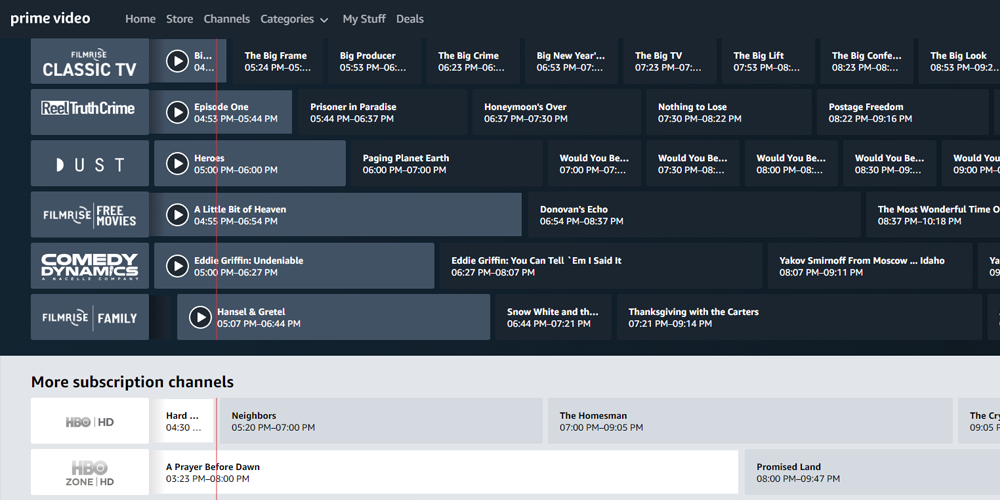 Sports channels compared
YouTube TV includes 20+ sports channels as part of its base plan. These include regional sports networks (RSNs) and college networks.
ESPN, ESPN2, ESPNU, FS1, FS2
CBS Sports Network, NBC Sports Network
Golf Channel, MLB Network, NBA TV, NFL Network
ACC Network, Big Ten Network, SEC Network
The Sports Plus Add-on ($11/month) gets you another 14 channels. They're mostly for niche interests, like billiards, poker and wrestling, but it's got NFL RedZone, Stadium and beIN Sports.
For a cool billion (and change) a year, Amazon signed an 11-year deal with the NFL to be the exclusive national live broadcaster of Thursday Night Football. It also has rights to other NFL games, select New York Yankees home games, select Seattle Sounders FC matches, 17 exclusive national WNBA games, and more.
Numerous sports channels are available as add-ons, including MLB.TV and NBA League Pass. However, you won't find NFL Network or NFL RedZone on Prime Video.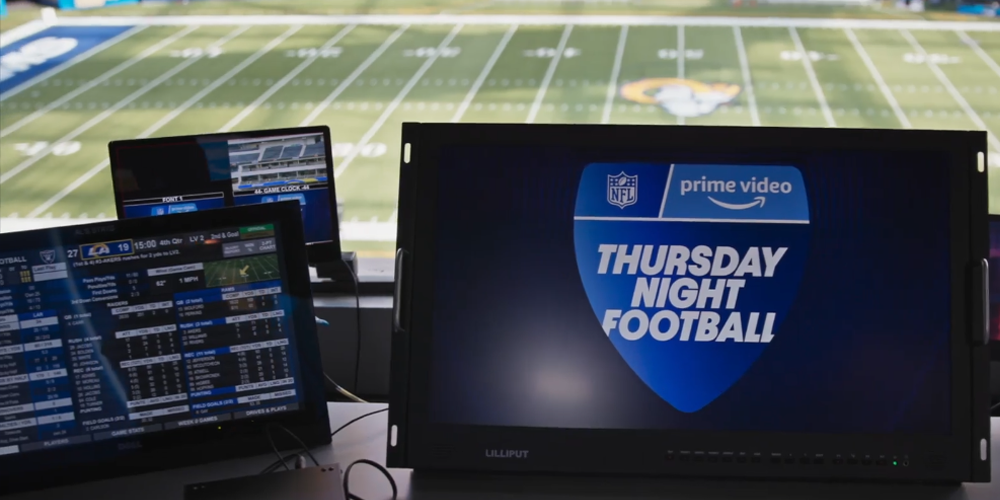 Which Has The Better On-Demand Library?
With 10,000+ movies and around 3,000 TV episodes, Prime Video has one of the biggest (and best) on-demand libraries out there.
Amazon's original content takes a big win here, with critically acclaimed shows like The Boys, The Expanse and Bosch. It's also the home to the most expensive TV show of all time, Lord of the Rings: The Rings of Power.
YouTube TV apparently has a lot of on-demand content — if you can find it. And that can be a hassle, involving a lot of searching and clicking, with search results often requiring a paid add-on. YouTube TV does not have original programming, although you do get access to the (underwhelming) YouTube Originals produced for YouTube Premium.
Do Both Services Have A Free Trial?
YouTube TV has a unique preview feature that lets you watch 20 minutes for free without signing up for a free trial. This is great if you just want to get a feel for the UI and take a quick look around. Plus, the 20-minute timer only counts down when you're actually watching content.
YouTube TV's free trial varies throughout the year. It's usually 7 days, but increases to 14 days during promo periods.
Amazon Prime Video has one of the best free trials in the industry. You get 30 days to try out the full Amazon Prime subscription, which includes Prime Video as well as shipping perks like free same-day delivery, Amazon Gaming and Amazon Music. Just be sure to change your subscription the standalone Prime Video option, unless you want the full-price Prime.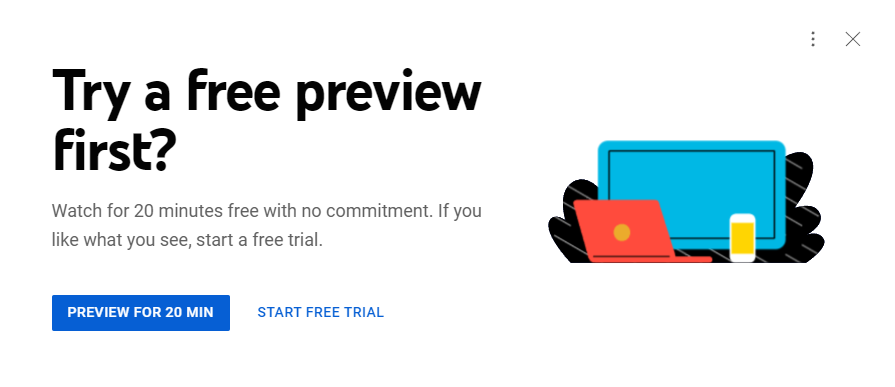 Other Features Compared
Cloud DVR
YouTube TV offers an unlimited cloud DVR that lets you store content for up to 9 months after its last air date. This is great for sports fans, as they can just record every game in the league.
Amazon Prime Video is mainly an on-demand service, so it doesn't currently have a cloud DVR for its live TV. However, it's added a DVR option for one show — Thursday Night Football — in order to adhere to licensing agreement with the NFL.
Simultaneous streams
YouTube TV allows 3 simultaneous streams shared among the 6 accounts/profiles you can setup. Each account does not get 3 streams, despite what you may read on the internet. The 4K Plus add-on gets you unlimited streams for an extra $20/month.
Prime Video allows 3 simultaneous streams, 2 of which can be the same content. There is no option to upgrade.
Supported devices
Both services support all the major devices, like Android, iOS and Fire Tablet for mobile, Apple TV, Fire TV and Roku for streaming, and Xbox and PlayStation for gaming consoles.
YouTube TV supports Google Nest, while Prime Video does not.
Prime Video supports 15 brands of smart TVs compared to 6 by YouTube TV, but both have apps for Android TV. Prime Video also has apps for many devices that YouTube TV does not:
Mac, Windows
NVIDIA Shield, TiVo, Xaiomi
Comcast Xfinity, Cox, Dish Network
Amazon Echo Show
Blu-Ray players by LG, Panasonic, Samsung, Sony
Our Verdict: YouTube TV Is Better Than Prime Video For Live TV
If you're looking to replace your traditional cable or satellite TV service, YouTube TV is the clear choice. But if you're looking for an on-demand streamer with original content and an easily navigable library, then go with Amazon Prime Video.
Douglas Wright • Author
Douglas Wright is a freelance writer based in Japan. A former web designer and technical writer, he left beautiful Vancouver for bustling Tokyo, where he spent a decade recruiting for software and high-tech firms. No longer commuting through the world's busiest train station, he writes fiction and a wide range of formats for clients around the world. When he gets AFK, he's either outdoors with his two boys, streaming a show with his wife, or reading a book over a French-pressed, hand-ground coffee.
Lisa Holden • Editor
Lisa Holden is an editor and creative based in Houston, TX. Lisa holds a BA in African-American Studies from Temple University and has spent her career working in news publications and magazines, even founding a magazine herself. When she's not editing or working on one of her many creative endeavors (whenever that is), she enjoys traveling to new places and biking on sunny days.