Streaming Services
Peacock
YouTube TV
Comparison
YouTube TV vs. Peacock in 2023
By Staff, Deja Harris• Edited by Lisa Holden • Updated Nov 11, 2023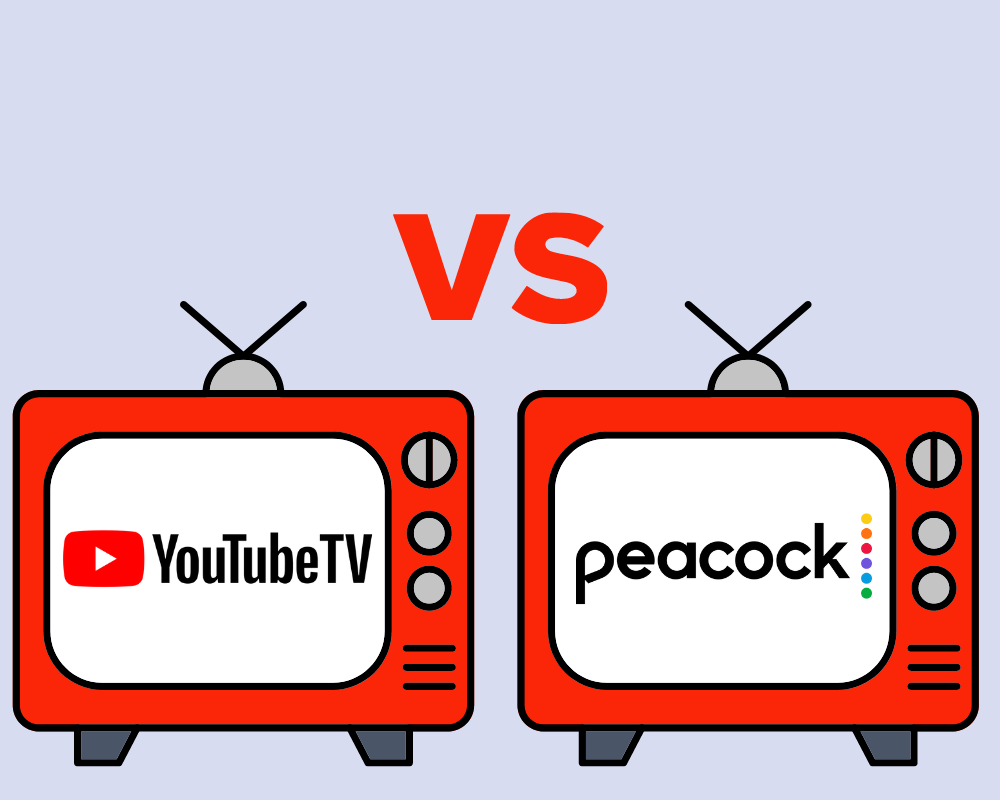 There are so many streaming services out there nowadays, and YouTube TV and Peacock are two of the top names to choose from. Both of these services boast huge amounts of content, with a mixture of live and on-demand programming, along with other appealing features.
But which option is best for you? This guide will help you find out. Below, we'll compare YouTube TV vs Peacock, assessing each service's pricing, channels, on-demand content, and other important features.
How do YouTube TV and Peacock TV compare?
| | YouTube TV | Peacock | |
| --- | --- | --- | --- |
| Free Trial | From 5 days | None | |
| Simultaneous Streams | 3 | 3 | |
| On-Demand Content | Thousands of hours | 80,000+ hours | |
| Live Channels | 100+ | 50+ | |
| Local Channels | Depends on location | NBC only | |
| Sport Channels | 15+ add-ons | 3 | |
What are the pricing and plans of YouTube TV vs. Peacock?
YouTube TV is by far the most expensive option of these two streaming services. It provides you with access to over 100 channels, along with extra features like unlimited DVR storage and the possibility to make six accounts per household. There are extra fees if you want to access certain additional channels and networks, like Showtime and Starz.
85+ broadcast, cable, and regional sports networks
Peacock is significantly cheaper than YouTube TV. It gives you access to all of the platform's on-demand content and live channels, including live sports like the Premier League. However, the Premium plan has ads, so you'll have to pay a bit more for Premium Plus if you want to watch without ads.
Live and on-demand titles
Exclusive content like The Office
Exclusive content like The Office
Live and on-demand titles
How do YouTube TV's channels and Peacock's channels compare?
In terms of live channels, YouTube TV has a much larger range of options. It boasts over 100 different channels in total, with a big focus on sports channels, as well as major news networks and entertainment channels. Some examples of live channels on YouTube TV include Fox, ESPN, CNN, AMC, Comedy Central, and TLC.
Peacock, meanwhile, has a small selection of just over 50 channels, at this time. You can watch live local news and some sports on Peacock, but a lot of the channels simply show content from NBCUniversal's archives and other networks. Popular channels on this streaming service include NBC News Now, Food52, SNL Vault, True Crime, and WWE Network.
How do the local channels compare?
YouTube TV is very impressive with its local channels. It allows subscribers to access local ABC, NBC, CBS, and Fox broadcasts, as well as regional sports, depending on your location.
On Peacock, subscribers can stream their local NBC affiliate channel, which may air news, sports, and more.
How do the sports channels compare?
When it comes to sports, YouTube TV once again has the edge. It offers a huge range of sports channels, including four different ESPN channels, The Big Ten Network, CBS and NBC Spots, the SEC Network, and others.
Peacock doesn't have ESPN or most other sports channels. However, it does have the NBC Sports on Peacock channel, which airs live Premier League soccer and some other sporting events.
Which has the better on-demand library?
While YouTube TV excels in its live channels, its on-demand library leaves something to be desired. YouTube TV mainly prioritizes its live content, so users will have to navigate some tricky menus to access the on-demand section.
Once you get there, you can find hundreds of hours of on-demand video from the platform's channels, along with a very small selection of YouTube Originals.
Peacock is primarily an on-demand platform, with more than 80,000 hours of movies, TV shows, documentaries, and more. The service has a great selection of classic comedy shows like The Office and Girls5eva, as well as Western dramas like Yellowstone.
Do both services have a free trial?
At this time, only YouTube TV offers free trials. However, it's a bit complicated as its duration can vary greatly depending on when you sign up. Many of the trials offered last for 5 days, but we have seen trials for 7 days and sometimes more.
Currently, YouTube is offering a deal that lets you preview YouTube TV for 20 minutes without signing up for a free trial. That means you don't need to enter payment details for this promotion.
YouTube also seems to have different limited-time trial promotions throughout the year. For instance, during the first week of August 2023, they offered a 21-day YouTube TV trial promotion. Check here to see if there are any current special promotions that you can catch. Please note that eligibility will differ depending on your location.
How do the other features compare?
When it comes to comparing streaming services like YouTube TV and Peacock, there are many factors to take into account. In this section, we'll compare these streaming services in areas like device compatibility and simultaneous streams.
How do the cloud DVR options compare?
In terms of DVR, YouTube TV gives users unlimited cloud storage space to record as much content as they like. Your recordings last for nine whole months before being deleted, and each user (up to six) for the account can have their own separate storage area, which is ideal for busy people. Peacock does not have any DVR capabilities.
How do the simultaneous streaming options compare?
In terms of simultaneous streaming, YouTube TV and Peacock are tied. You can watch both of these services on up to three separate devices at the same time, which is useful for families or small groups of roommates who want to share the same account but watch different kinds of content.
How do the supported devices compare?
In terms of devices, YouTube TV and Peacock work on many of the same gadgets, including leading brands of Smart TVs, Android and iOS mobile devices, desktop browsers, and streaming players like Apple TV and Roku. They both work on the latest game consoles from Xbox and PlayStation, too, but there may be some minor compatibility differences on specific devices.
Our verdict: YouTube TV is better than Peacock.
Overall, we have to give the edge to YouTube TV. It's got far more channels than Peacock, as well as some great features, such as the unlimited cloud DVR, allowing you to save and record all of your favorite shows or live events to watch again and again. It's an amazing platform for sports fans, too, with almost all of the major sporting channels included.
At the same time, if you're looking for a streaming service on a budget, Peacock is a great option. It's packed full of content, with tens of thousands of hours of shows and movies to enjoy, and it has lots of great original shows that you can't find anywhere else. It's a super choice for people who love on-demand streaming and aren't too interested in live channels and sports.
Khadija Bilal • Author
Khadija Bilal is an accomplished writer with over a decade of experience under her belt. Having developed a versatile writing style that allows her to tackle a wide range of topics, Khadija has several publications to her name. Khadija's expertise includes in-depth guides and how-to articles.
Lisa Holden • Editor
Lisa Holden is an editor and creative based in Houston, TX. Lisa holds a BA in African-American Studies from Temple University and has spent her career working in news publications and magazines, even founding a magazine herself. When she's not editing or working on one of her many creative endeavors (whenever that is), she enjoys traveling to new places and biking on sunny days.