Streaming Services
fubo
YouTube TV
Comparison
YouTube TV vs. Fubo in 2023
By Staff, Deja Harris• Edited by Lisa Holden • Updated Nov 16, 2023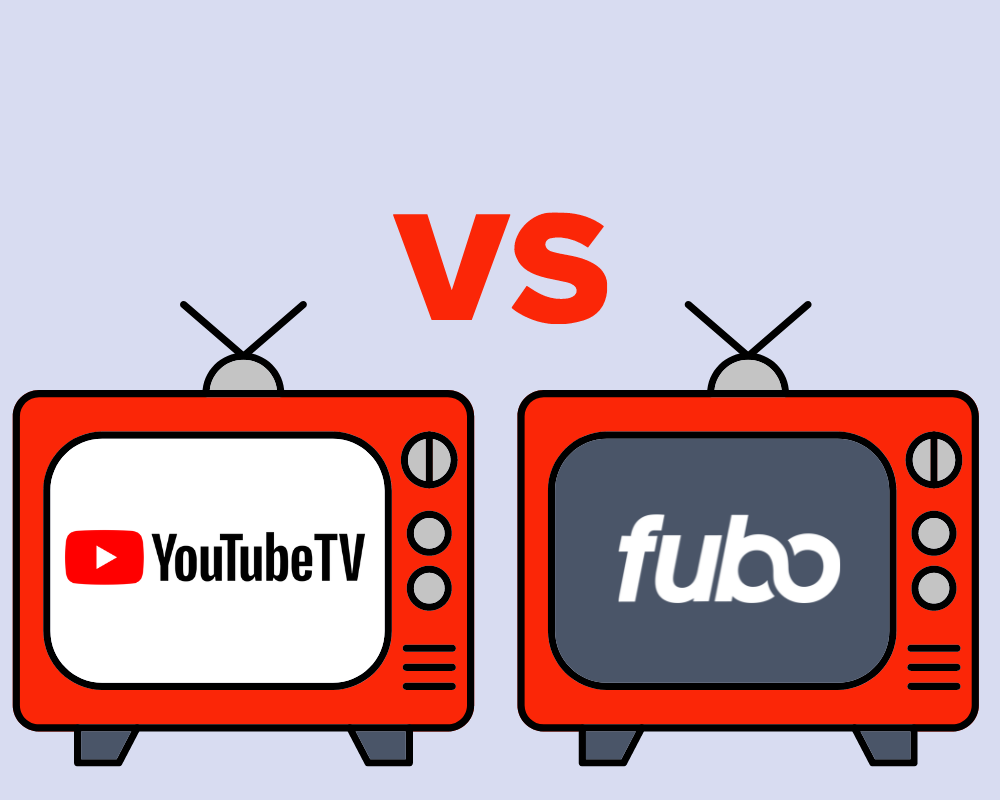 If you're looking for a new way to watch live TV, then YouTube TV and Fubo are two options worth considering. Both services try their best to create a more diverse streaming platform that caters to a variety of entertainment preferences. But what are the differences between YouTube TV and Fubo in 2023?
In this article, we'll do a side-by-side comparison of each streaming platforms' plans, channels, supported devices, features, and more. This will help you make up your mind about which service is right for you.
What is YouTube TV?
Google's streaming service, YouTube TV, was intended to totally replace your current cable TV subscription. Subscribers would also have access to on-demand video and cloud-based DVR.
Given that this service is from Google, YouTube TV does a great job of remembering the series you frequently watch and prominently displays both live and on-demand new episodes of those shows. Aside from access to some 4K content for premium subscribers, YouTube TV also allows offline downloads.
What is Fubo?
While many people are familiar with popular live TV streaming services like YouTube TV, many might not be aware that for a comparable price, they can also get Fubo.
Fubo offers a selection of the best cable channels and sports networks for those who want to cut the cord permanently. Fubo also offers some of the best on-demand movies.
Initially focusing on soccer when it first debuted in 2015, Fubo has since grown into one of the top cable TV alternatives in the country. With up to 250+ channels, including the leading broadcast and cable networks, as well as compatibility with 4K streaming for some content, Fubo is a viable option, especially for sports fans.
What are the differences between YouTube TV and Fubo?
We'll compare YouTube TV and Fubo in terms of popularity, price, supported devices, DVR capabilities, simultaneous streams, and channel lineup.
YouTube TV is more popular.
YouTube TV has more subscribers than Fubo. The two services have been neck-and-neck in the race to sign up new users, but YouTube TV still has more than twice as many as Fubo.
The two services are amongst the most popular over-the-top (OTT) TV options on the market today, with both boasting millions of subscribers across their respective brands. However, as of the last quarter of 2021, YouTube TV had 4 million subscribers compared to Fubo's 1.1 million subscribers.
Fubo is still growing and will continue to grow over the next few years, but it doesn't have as many users as YouTube TV does today.
YouTube TV is cheaper.
YouTube TV might seem like the cheaper option. Its base plan is slightly cheaper than Fubo's.
Despite the higher price, Fubo offers more content and features than YouTube TV. With that base plan, you get over 170 channels, 1000 hours of DVR storage, and ten simultaneous streams. For YouTube TV, its entry-level plan only has 100+ channels and up to three simultaneous streams.
What are YouTube TV's plans and prices?
85+ broadcast, cable, and regional sports networks
What are Fubo's plans and prices?
Both YouTube TV and Fubo have extensive device support.
YouTube TV and Fubo are available everywhere so you can use the service on your TV or even your computer. It's also available on game consoles like PlayStation and Xbox.
What is YouTube TV's device support?
Smart TVs - Samsung TV, Vizio TV, HiSense, LG TV, Google TV,
Media streaming devices - Android TV, Amazon Fire TV, Apple TV, Roku,
Smartphones and tablets - iOS, Android,
Game consoles - Playstation, Xbox,
Desktops and laptops - Edge, Firefox, Safari, Chrome,
And more.
What is Fubo's device support?
Smart TVs - Samsung TV, Vizio TV, HiSense, LG TV,
Media streaming devices - Android TV, Amazon Fire TV, Apple TV, Roku,
Smartphones and tablets - iOS, Android,
Game consoles - Xbox
Desktops and laptops - Edge, Firefox, Safari, Chrome,
And more.
YouTube TV has more DVR storage.
Another advantage that YouTube TV has over Fubo is unlimited DVR. With Fubo, you get 1000 hours of storage, while on YouTube TV, you get unlimited storage. You don't ever have to manage your DVR if you have unlimited storage, which gives many users peace of mind.
To be fair, 1000 hours of DVR storage from Fubo is still huge. Fubo even has a three-day Lookback that allows you to watch most content aired on a specific channel over the last three days.
Fubo allows more simultaneous streams.
For the base plans, Fubo allows more simultaneous streams (of up to 10 devices) than YouTube TV, which only allows three simultaneous streams. In fact, Fubo also used to allow only three screens for simultaneous streaming, but they moved it up to ten following the price increase in April 2022.
YouTube TV allows you to upgrade to unlimited simultaneous streams for an additional cost per month in its YouTube 4K Plus add-on package.
Fubo has more channels.
The most significant difference between the two is that Fubo offers a much wider channel selection than YouTube TV. This makes Fubo the better option if you want features and channels similar to a cable provider.
Fubo has over 170 channels in its base package, with at least 40 of those being sports-centric. The service also offers numerous regional sports networks that aren't accessible on YouTube TV.
YouTube TV only has about 100+ channels in its base package. However, you won't have to subscribe to any upgrade bundle for channels like NBA TV, MLB Network, and ACC Network.
Why choose YouTube TV?
If you're a user who prefers recording a lot of movies and TV shows and then playing them back on your own schedule, you would absolutely love YouTube TV. It has unlimited DVR storage and you can keep them all for as long as you want.
If you're a sports fan, you may want to choose YouTube TV over Fubo because it has TNT.
Sure, Fubo allows you to watch in 4K and gives you access to more simultaneous streams. However, you wouldn't want to miss out on the NBA, NCAA College Basketball, and some MLB and NHL games. YouTube TV also offers Cartoon Network, CNN, TBS, and truTV, which can be nonnegotiable for some users.
Why choose Fubo?
Fubo is a sports-centric service, so it's naturally one of the best choices for sports fans. They also have many regional sports channels that YouTube TV doesn't offer.
Aside from its excellent sports channel lineup, Fubo also has a high-speed interface, especially on Apple TV. Fubo even has a Multiview feature on Apple TV that lets you watch up to four channels simultaneously on the same screen—an absolute game changer for sports fans.
The other thing that Fubo has over YouTube TV is that it offers tons of content available for 4K streaming, even for its base plan. It's still a huge plus, especially for sports channels. YouTube TV offers some 4K streaming abilities, but you'll have to pay an additional price monthly.
Here's our conclusion.
Choosing between YouTube TV vs. Fubo largely depends on what you prioritize as a user. YouTube TV is a fantastic option for those who want unlimited DVR. It also has some of the best channels that Fubo doesn't offer, even in their channel upgrade bundles.
But if you're a sports fan who wants access to more sports channels, then Fubo is obviously the better choice. You also don't have to pay an additional cost to stream in 4K, which is a game-changing feature to have when watching sports channels.
Sam Cook • Author
Sam Cook is a full-time content strategist by day, a part-time freelance content writer since 2015. In another life, he was a high school English teacher for nearly a decade. Based in sunny New Orleans, he writes long-form educational content on technology, including Insurtech, Fintech, HRtech, and content streaming.
Lisa Holden • Editor
Lisa Holden is an editor and creative based in Houston, TX. Lisa holds a BA in African-American Studies from Temple University and has spent her career working in news publications and magazines, even founding a magazine herself. When she's not editing or working on one of her many creative endeavors (whenever that is), she enjoys traveling to new places and biking on sunny days.