Streaming Services
Amazon Prime Video
Review
Amazon Prime Video Review 2023
By Staff• Edited by Lisa Holden • Updated Jun 05, 2023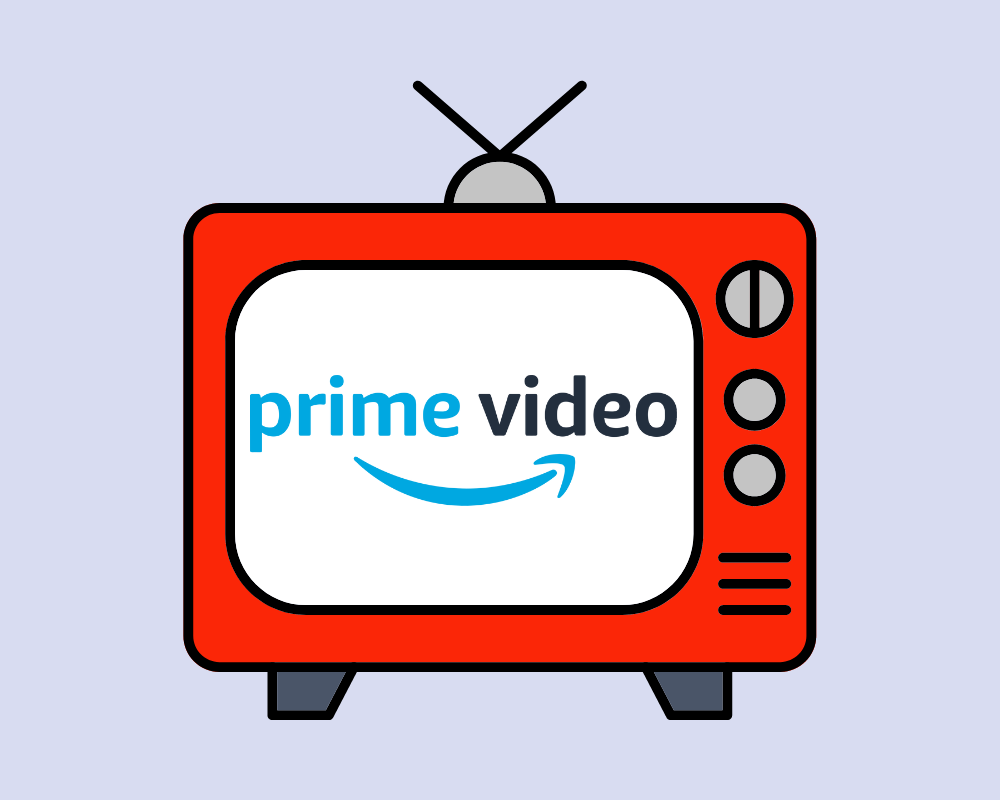 Amazon took the streaming service world by storm by doubling down in recent years on its own VOD service, Amazon Prime Video.
In the past couple of years, the streaming service has secured broadcasting rights to Thursday Night Football for the 2022 and 2023 seasons in the US, adaptation rights to popular series' like The Lord of the Rings, and a multi-year deal with Universal Pictures to get its content in Prime's on-demand library, including theatrical releases available on Prime Video 4 months after the release on Peacock.
But that's not the only reason people love Prime Video. With a Prime subscription, you also get Amazon perks like free 2-day delivery, discounts at Whole Foods, Prime-exclusive coupons for Amazon purchases, and more. Many end up getting it for those perks alone, with Prime Video being a nice extra treat.
It's probably why as of September 2022, Prime Video has over 200 million subscribers, making it one of the largest streaming services on the market (second only to Netflix, with a reported 223 million subscribers).
What Content Does Amazon Prime Video Have?
Amazon Prime Video is primarily an on-demand streaming service that offers a wide variety of movies, TV shows, and original content. You'll find everything from blockbusters from major studios and networks, a great selection of classic films, popular shows, some indie films and even niched-down genres like anime.
In addition to its extensive selection of on-demand content, Amazon Prime Video has been branching into live TV programming in recent years. It now offers a number of live channels and sports events, such as NFL games, tennis tournaments, and the English Premier League. However, these options are still relatively limited compared to other live TV services, and the main strength of Prime Video remains its on-demand library.
One of the key features of Amazon Prime Video is its original content, which has been increasing in quality and recognition in recent years. Some of its most popular original shows include The Marvelous Mrs. Maisel, Fleabag, The Man in the High Castle, and The Boys, which have received critical acclaim and even cult followings.
Amazon Prime Video Interface And Usability
When it comes to interface, Amazon's Prime Video isn't our favorite. Although it's relatively easy to navigate, it can be somewhat cluttered and overwhelming at times.
There's a lot going on at the same time, and it can get annoying having to get excited when you see a title you want to watch, and then realize it'll cost you. Some titles can be rented for a few extra dollars, while others you'll need to subscribe to another streaming service like AMC+ to watch.
However, once you become familiar with the layout and features, you should be able to navigate Prime Video with ease.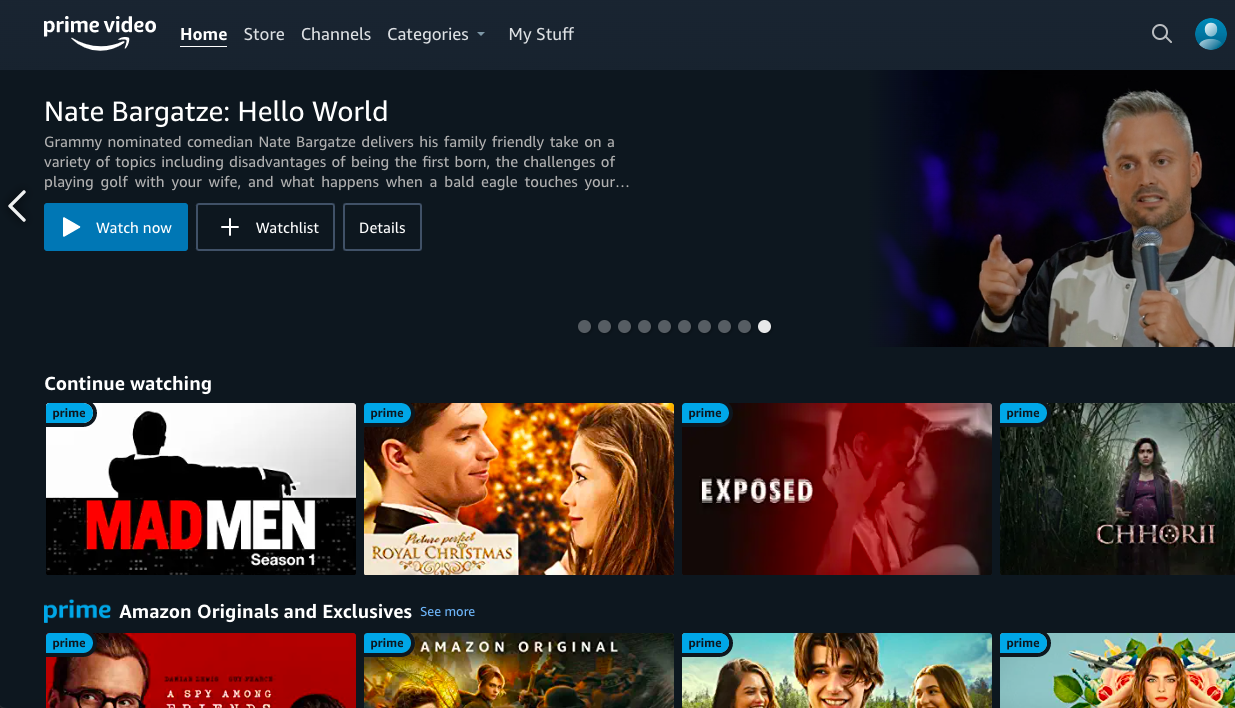 When you first log in, you'll end up on a home screen that highlights new releases, popular titles, and personalized recommendations based on their viewing history.
In the Store tab, you'll find all the movies and shows available to rent on Prime Video. You'll find plenty of blockbuster movies and recent theatrical releases like Elvis, Top Gun: Maverick, and Don't Worry, Darling, family favorites like the Harry Potter films and Black Panther: Wakanda Forever, and even classics like Titanic and The Truman Show.
In the Channels tab, you can browse channels and other subscriptions available to add to your Prime Video subscription for an extra cost, along with the most popular shows and movies they carry in their on-demand libraries. For example, you could add Shudder to your Prime Video plan for an extra $5.99/month and get access to titles like Halloween, Insidious 2, and The Babadook.
In Categories, you can browse Prime Video's entire library and filter by genre or other categories like "Award Winning" or "Limited Time Only on Prime".
In the My Stuff tab, you can access your watchlist, and any purchases or rentals you've made.
Amazon Prime Video Compared To Other Services
The only streaming service more popular than Prime Video is Netflix, which used to be costlier than Prime Video before recently launching its ad-supported streaming model.
Netflix is a powerhouse and keeps pumping out new content every month, but the con is that for $1/month more than Prime Video, you're only able to watch on one device at a time. Prime Video gives you 3 simultaneous streams with any plan, while Netflix will charge you their highest fee if you want more than 2 views at once.
Hulu's on-demand library is extensive and filled with popular and award-winning Hulu Originals, but if you want it ad-free, it's slightly pricier than other VOD competitors. The bonus with Hulu is that you can upgrade your subscription to include a great selection of live TV channels if you're looking for more of a cable TV replacement.
Disney+ falls kind of in the middle when it comes to pricing, with an ad-supported plan slightly more expensive than the rest and an ad-free plan that's slightly cheaper. But Disney+ is the clear winner if you're looking for family-friendly movies and shows.
| | Amazon Prime Video | Netflix | Hulu | Disney+ |
| --- | --- | --- | --- | --- |
| Monthly Price | Starts at $8.99 | Starts at $6.99 (ad-supported), $9.99 (ad-free) | Starts at $7.99 (ad-supported), $12.99 (ad-free) | Starts at $7.99 (ad-supported), $10.99 (ad-free) |
| Free Trial | 30 days | None | 30 days | None |
| On Demand Movies and Shows | Yes | Yes | Yes | Yes |
| Original Content | Yes | Yes | Yes | Yes |
| Live TV Channels | Additional fees vary per channel, single add-ons | None | Can subscribe to Hulu + Live TV starting at $69.99/month | None |
| Number of Streams | 3 | 1-4 | 2 | 4 |
| Ads | Can vary depending on if it's third-party content | Depends on plan | Depends on plan | Depends on plan |
Who Is Prime Video Not The Best For?
Although Prime Video is a well-rounded service, there are still drawbacks associated with it. Here are some of the users who Prime Video may not be the best fit for.
Viewers looking for a live TV alternative to cable. You can add some live channels onto your Prime Video subscription, but for the most part, Prime Video is primarily a place for on-demand content. If you're looking for a mix of both, we'd recommend checking out Hulu + Live TV.
Many things you'll want to watch require an additional fee. It can get pretty annoying when you start watching a season of a show you enjoy, then realize only the first two seasons are included in your subscription, and you'll have to pay to rent the rest. The same goes for many films on Prime Video. Other streaming services like Netflix and Hulu don't have this type of look-but-can't-touch element.
Final Thoughts
Overall, Prime Video is a great choice if you're looking for a place to watch blockbuster films, plenty of popular TV shows and Prime originals, and Thursday Night Football. If you're a frequent Amazon shopper, a Prime subscription will also get you tons of deals and promotions, as well as free 2-day shipping on many orders.
However, if you're looking for a live TV alternative to cable or a streaming service with an easier interface to navigate, we'd recommend checking out this list.
Tara Khudairi • Author
Tara Khudairi is a freelance content writer and copywriter based in Toronto. Since 2014, she has contributed to brands and blogs alike to tackle popular topics relating to technology, personal finance, entertainment, travel and lifestyle. Whether it's the latest streaming service or cryptocurrency, she's passionate about making the complex simple. When she's not busy typing away, you'll find Tara watching Netflix's latest true crime doc or a classic 90's horror flick.
Lisa Holden • Editor
Lisa Holden is an editor and creative based in Houston, TX. Lisa holds a BA in African-American Studies from Temple University and has spent her career working in news publications and magazines, even founding a magazine herself. When she's not editing or working on one of her many creative endeavors (whenever that is), she enjoys traveling to new places and biking on sunny days.