Streaming Services
Netflix
Apple TV+
Comparison
Apple TV+ vs. Netflix in 2023
By Staff• Edited by Lisa Holden • Updated Aug 01, 2023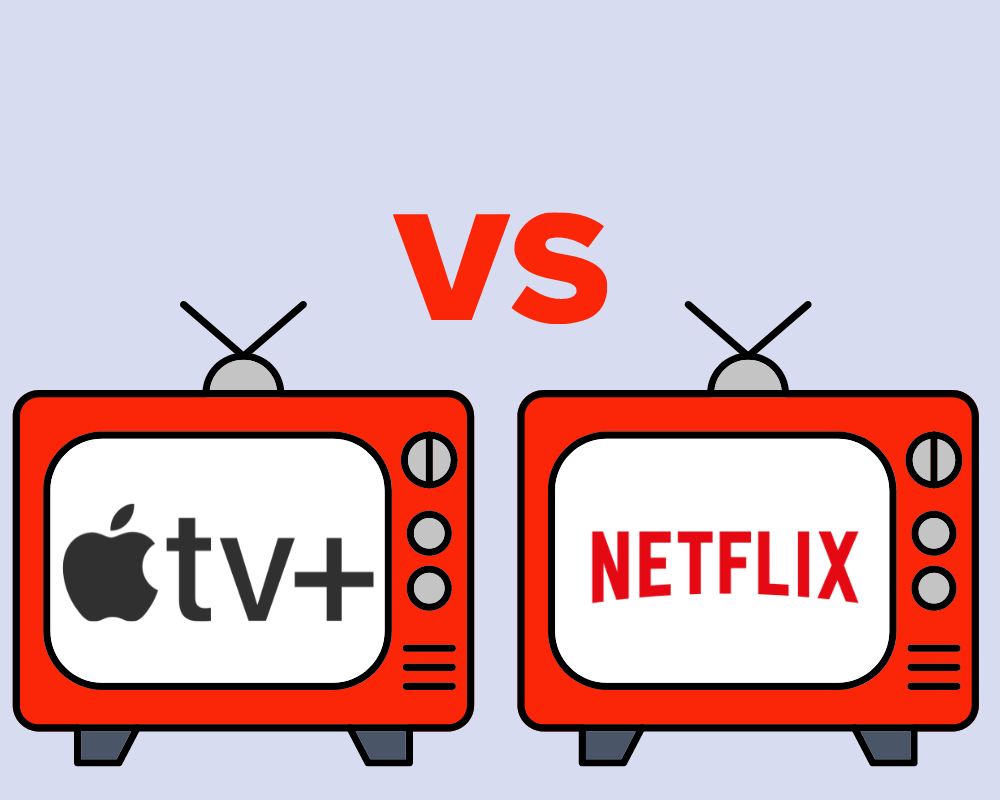 When it comes to streaming services, Netflix has been one of the top dogs for many years, but other options, like Apple TV+, are starting to build up their own loyal followings. And if you're thinking about signing up to a new service, you might hesitate between these two options.
Well, Netflix has a much larger library and wider device compatibility, but Apple TV+ has some of the best-rated shows of any service. So, which platform should you choose? Read on to find out how these two services compare in our detailed Apple TV+ vs Netflix guide.
Apple TV+ And Netflix Compared
| | Apple TV+ | Netflix |
| --- | --- | --- |
| Base Price | $6.99/month | $6.99/month |
| Free Trial | 7 days | No |
| Simultaneous Streams | 6 | Up to 4 |
| On-Demand Content | 100s of hours | 40,000+ hours |
| Live Channels | 0 | 0 |
| Local Channels | 0 | 0 |
| Sport Channels | 0 | 0 |
Pricing And Plans
One of the main areas in which Netflix and Apple TV+ differ is in terms of their pricing. Apple TV+ is significantly cheaper. It only has one pricing plan that gives you full access to the entire streaming library. There aren't any ads with Apple TV+, nor are there any hidden fees or optional add-ons for subscribers to pay for.
Netflix, meanwhile, has multiple pricing plans. The Standard with Ads plan, the cheapest plan, is the same cost as Apple TV+ and features advertisements in between shows and films. There are also Standard and Premium plans.
Hit movies, TV shows, and more.
Hit movies, TV shows, and more.
Hit movies, TV shows, and more.
2 screens at the same time
Hit movies, TV shows, and more.
4 screens at the same time
Channels Compared: Apple TV+ vs. Netflix
If you like the idea of watching live TV channels, you may have to choose a different service. Neither Apple TV+ nor Netflix have any kind of live content, apart from a small selection of live sports on Apple TV+, as these platforms are primarily oriented around on-demand content.
Local channels compared
There are no local channels on either Apple TV+ or Netflix.
Sports channels compared
Apple TV+ and Netflix don't have any sports channels, either. However, it is possible to watch some live sports on Apple TV+. This service shows Friday Night Baseball games, as well as select MLS soccer games, too.
Which Has The Better On-Demand Library?
You won't find any live channels on Apple TV+ or Netflix, but you will find plenty of on-demand content. Both of these platforms have on-demand libraries with some excellent shows, although one is significantly larger than the other.
At Apple TV+, the focus is on quality over quantity. In fact, one study even showed that the shows and movies on this service have the highest average ratings when compared to other major streaming platforms, like Netflix. Shows like Ted Lasso, Severance, and The Morning Show are some of Apple TV+'s big TV hits, and the service also has some super films like CODA and On The Rocks.
Netflix is also the home of plenty of big original hits, like Stranger Things and Wednesday. The service has also proven to be a great place to watch shows from around the world, like South Korea's Squid Game, Japan's Alice in Borderland, and Spain's Money Heist. Netflix has also produced some big budget movies like Glass Onion and The Power of the Dog.
When we compare the two, Netflix has a much bigger library than Apple TV+, giving users many more things to watch. Although, in our experience, there's a lot of content on Netflix that won't interest most people and isn't necessarily worth watching, while Apple TV+'s content is more consistently impressive.
Do Both Services Have A Free Trial?
Free trials can be really helpful when you want to test out a service before deciding if it's right for you. Netflix used to offer 30-day trials, but that's not the case anymore. Now, there isn't any kind of free trial offer for Netflix newbies. However, Apple TV+ does have a 7-day free trial.
Other Features Compared
Leading streaming services also offer various other features to their users, and Netflix and Apple TV+ are no different. Here's how these two services compare in terms of things like DVR support and simultaneous streaming.
Cloud DVR
Since Apple TV+ and Netflix are both on-demand platforms, without any live channels, neither of these services has any kind of DVR function.
Simultaneous streams
If you want to stream on multiple devices at the same time, Apple TV+ will allow this on up to six separate devices. This is one of the most generous allowances of simultaneous streaming from any major streaming provider, and it's ideal for large families.
Over on Netflix, the number of simultaneous streams you get will depend on how much you're willing to pay. Standard subscribers only get to watch on two devices at a time, while Premium users get up to four.
Supported devices
When it comes to device compatibility, Netflix has the edge. Both Apple TV+ and Netflix are available on lots of devices, like smart TVs and Roku boxes, but Netflix has a much wider range of options. For now, Apple TV+ doesn't work on any Android devices, which severely limits its accessibility, especially for people who like to watch shows on their phones or tablets.
Our Verdict: Netflix Is Better Than Apple TV+
Out of these two options, we have to give the edge to Netflix. It may no longer have a monopoly over the streaming world, but Netflix is still a huge force with tons of content to watch, lots of new original shows and movies on the horizon, and excellent device compatibility.
You can use Netflix as your one and only streaming service and still have lots to watch each day. This isn't the case with Apple TV+, due to its small library. However, as a budget-friendly option with some truly super content, Apple TV+ is still worth considering.
Khadija Bilal • Author
Khadija Bilal is an accomplished writer with over a decade of experience under her belt. Having developed a versatile writing style that allows her to tackle a wide range of topics, Khadija has several publications to her name. Khadija's expertise includes in-depth guides and how-to articles.
Lisa Holden • Editor
Lisa Holden is an editor and creative based in Houston, TX. Lisa holds a BA in African-American Studies from Temple University and has spent her career working in news publications and magazines, even founding a magazine herself. When she's not editing or working on one of her many creative endeavors (whenever that is), she enjoys traveling to new places and biking on sunny days.