Streaming Services
Crunchyroll
Review
Crunchyroll Review 2024
By Staff, Deja Harris• Edited by Lisa Holden • Updated Dec 06, 2023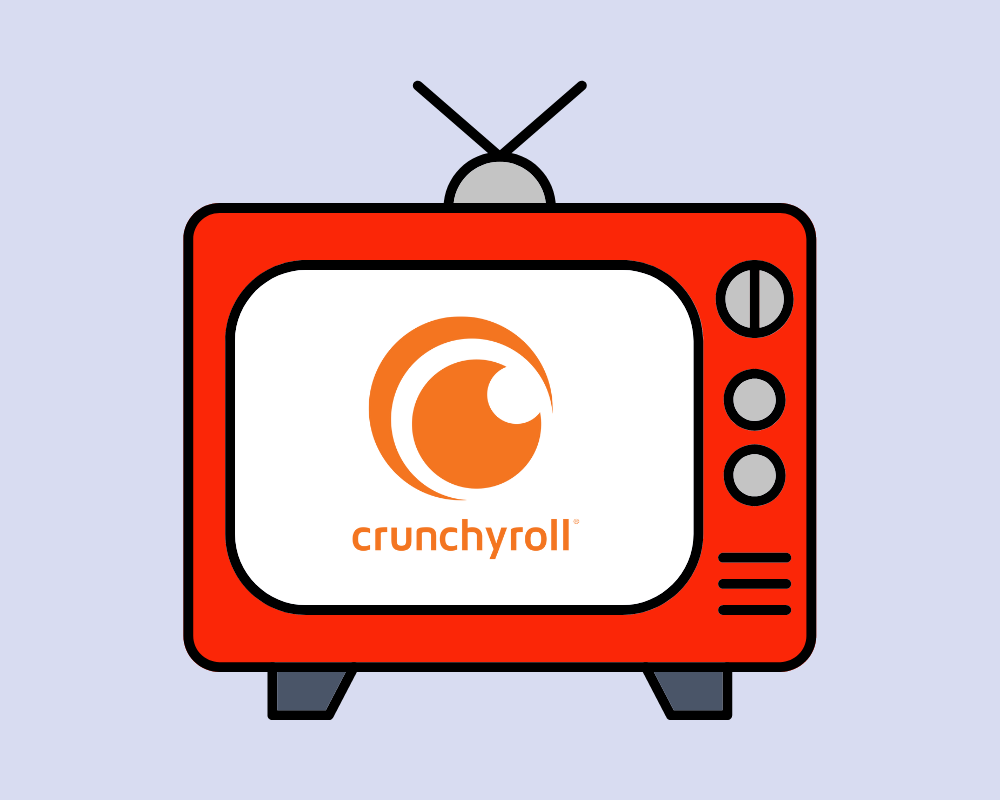 Most anime fans outside of Japan know about Crunchyroll. Started by a group of Berkeley grads in 2006 as a video-sharing site, it focused on East Asian content with fan-subtitled videos and plenty of copyright infringements. But a round of venture capital 2 years later compelled Crunchyroll to go legit and secure legal distribution deals. A decade of acquisitions and mergers followed until it was finally acquired by Sony for $1.175 billion. Was it worth it? In this article, we'll dive into a review of the streaming platform, Crunchyroll.
Crunchyroll focuses on Japanese anime, so if that's not your thing, consider Max or Hulu + Live TV.
What type of content does Crunchyroll have?
Crunchyroll's core on-demand streaming service is focused on Japanese anime. However, there's much more to the service, including live-action movies, manga, and video games.
Find Japanese anime on Crunchyroll
With over 1,000 titles, Crunchyroll boasts the world's largest anime library of movies and TV series.
While its "Simulcast Season**"** is a bit of a misnomer, as shows don't stream simultaneously when airing, they're usually available within an hour of broadcasting in Japan. But with time zone differences, that just means you can't watch Chainsaw Man at 4 a.m. Some top shows on Crunchyroll are:
Bluelock
Bungo Stray Dogs
My Hero Academia
One Piece
Psycho-Pass
Spy x Family
You can peruse the complete Crunchyroll library without an account.
Find live-action shows on Crunchyroll
Crunchyroll also has a few live-action TV shows and movies, but they're buried among the anime so you'll need to know what you're looking for. Titles include:
009-1: The End of the Beginning
As the Gods Will
Death Note
Shin Godzilla
Tokyo Ghoul
Does Crunchyroll have live TV?
No.
Find Japanese manga on Crunchyroll
Crunchyroll has a library of 50+ manga translated into English. The books can be read in a web browser or the Crunchyroll Manga app for iOS and Android.
Find video games on Crunchyroll
Crunchyroll Games localizes anime-based mobile and PC games for the English market. However, 6 of the 11 games listed are "vaulted", meaning they're no longer supported or available to download. Vaulted games include Naruto X Boruto Ninja Tribes and Attack on Titan Tactics, while active games include My Hero Academia: The Strongest Hero and the upcoming Street Fighter: Duel.
How is Crunchyroll's interface and usability?
Crunchyroll doesn't have the best interface in the industry, but it's far from the worst. It differs depending on the device, and the iOS and Android mobile apps clearly get the most development. But we still experienced buffering on mobile, though not as much as on streaming devices.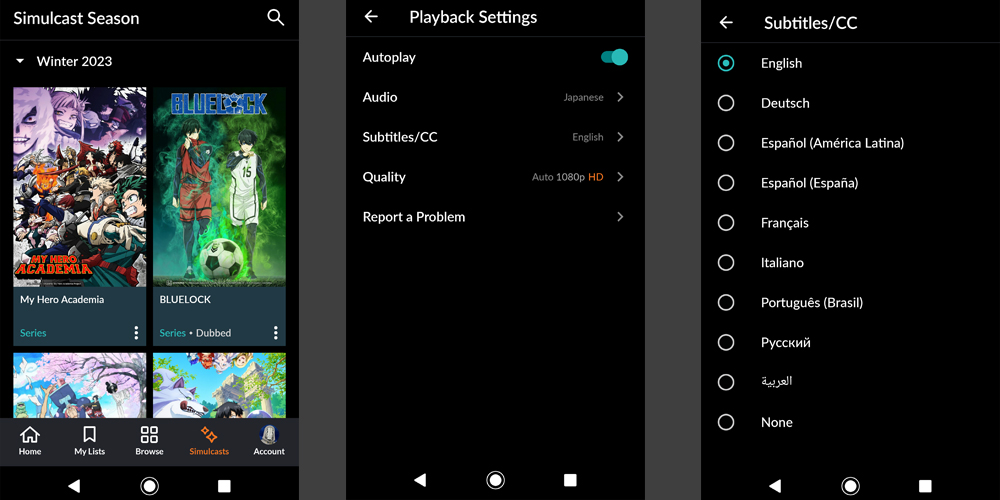 How to navigate Crunchyroll
Navigation differs slightly depending on the device. In addition to "Home", mobile apps have 3 other main content tabs: "My Lists", "Browse," and "Simulcasts". In browsers, the main Browse menu has 5 categories:
Popular
New
Alphabetical
Simulcast Season
Release Calendar
You can also browse 15 genres, including action, comedy, and drama, as well as Seinen, Shojo, and Shonen. However, there are no sections for movies or live-action shows.
Like most streaming services, you can add your favorites to your watchlist. But Crunchyroll does one better and also lets you create custom "Crunchylists", so you can save and organize shows any way you like.
What are Crunchyroll's language settings?
Shows on Crunchyroll are either subbed, dubbed, or subbed and dubbed. The language options available are noted under the thumbnail for each show in the main navigation pages, saving you clicks and time.
English is the most common subtitle language, but Crunchyroll announced its Foreign Language Dubbing Initiative back in 2017. Site navigation, subtitles, and dubs are now available in up to 15 languages, including:
Arabic
Chinese
English
French
German
Italian
Korean
Portuguese
Russian
Spanish
Language availability varies depending on the show and there is no option to browse or search by language (like there is in Funimation), which is bound to frustrate non-English speakers. Also, some devices — like the Fire Stick 4K Max — don't let you choose the dubbed language, which you can do using a browser, iOS and Android.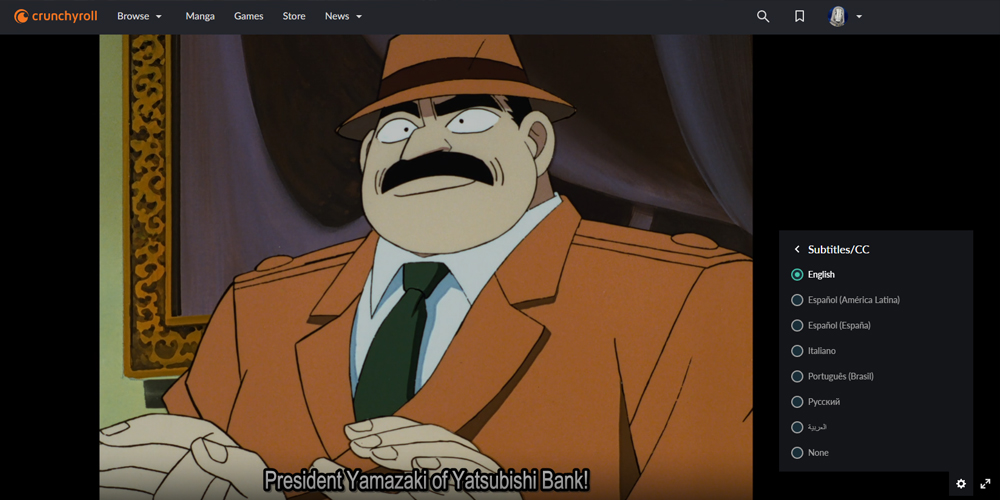 Crunchyroll has 3 plans to choose from
The entry-level Fan plan gives ad-free access to the whole library and lets you stream on 1 device. Mega Fan enables offline viewing and includes 4 streams, while Ultimate Fan bumps it up 6 streams and includes benefits for the Crunchyroll Store.
New episodes one hour after they air in Japan
New episodes one hour after they air in Japan
How does Crunchyroll compare to other services?
With 10 million paid subscribers (and 120 million users in total), Crunchyroll is the most popular anime streaming service out there. It's the only dedicated anime streamer with original content, but it's also the most expensive.
Funimation is a popular anime streamer, but it merged with Crunchyroll in 2022. The separate services still exist (for now), but all Funimation content ends up on Crunchyroll, so there's little point in starting a new Funimation subscription.
If you're looking for older shows from the '70s, ,'80s or '90s, RetroCrush is your best bet, and people with young kids should take a look at HIDIVE first. For more, take a look at our 5 Best Crunchyroll Alternatives.
| | Crunchyroll | Funimation | RetroCrush | HIDIVE |
| --- | --- | --- | --- | --- |
| Free Trial | 14 days | 14 days | 14 days | 7 days |
| On-Demand Movies and Shows | 1,200+ | 600+ | 140+ | 500+ |
| Original Content | 20+ shows | None | None | None |
| Live TV Channels | None | None | 2 linear channels | None |
| Number of Streams | Up to 6 | Up to 5 | Unlimited | Up to 2 |
| Ads | None | None | None | None |
Is Crunchyroll good for families?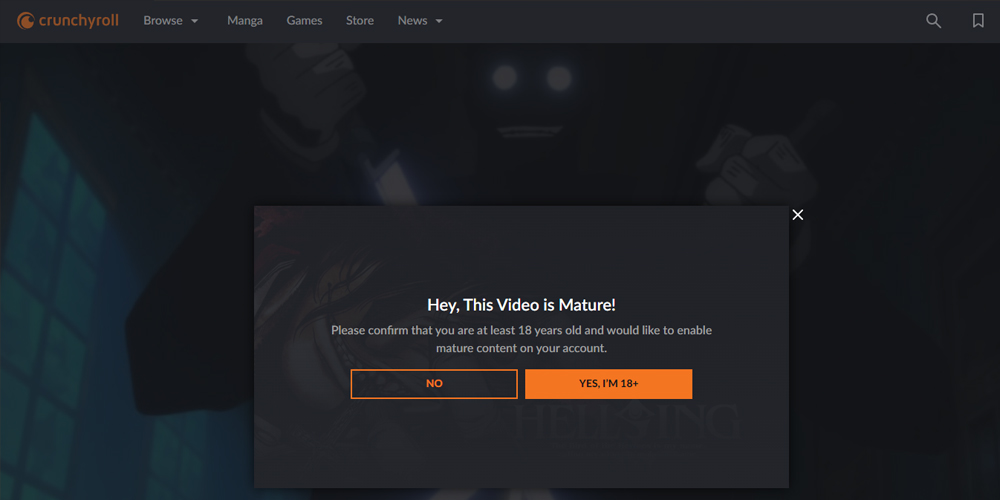 Crunchyroll is designed for individual users old enough to make their own viewing decisions.
Unlike Netflix, Disney+ or Hulu — or almost any streaming service — Crunchyroll only allows one profile. So, even though you can watch up to 4 streams (with the Ultimate Fan plan) and create custom watchlists, your viewing history and recommendations will all be mashed together.
There is only one age restriction setting and it toggles "Mature Video Content" on and off. However, an ultraviolent show like Chainsaw Man is not considered mature, while the super gory Hellsing is. But to bypass the restriction, and watch shows like Hellsing and the highly sexual Golden Boy, you just need to click on a pop-up warning.
It's one reason streaming services have profiles, and their absence indicates that Crunchyroll is intended for teens and older. Families with young children looking for anime may want to check out HIDIVE as it's the only anime-focused streamer with parental controls and multiple profiles. Another option is to start with the anime libraries in Netflix or Hulu.
But anime fans old enough to sign up on their own won't find a better option out there.
What are our final thoughts?
As a streaming service with a nearly singular focus, Crunchyroll is best for diehard anime fans looking for the newest releases and the internet's biggest library of Japanese animation. It's also best suited for older teens and up who don't need someone monitoring what they watch.
Douglas Wright • Author
Douglas Wright is a freelance writer based in Japan. A former web designer and technical writer, he left beautiful Vancouver for bustling Tokyo, where he spent a decade recruiting for software and high-tech firms. No longer commuting through the world's busiest train station, he writes fiction and a wide range of formats for clients around the world. When he gets AFK, he's either outdoors with his two boys, streaming a show with his wife, or reading a book over a French-pressed, hand-ground coffee.
Lisa Holden • Editor
Lisa Holden is an editor and creative based in Houston, TX. Lisa holds a BA in African-American Studies from Temple University and has spent her career working in news publications and magazines, even founding a magazine herself. When she's not editing or working on one of her many creative endeavors (whenever that is), she enjoys traveling to new places and biking on sunny days.