Streaming Services
DirecTV Stream
YouTube TV
Comparison
DirecTV Stream vs. YouTube TV in 2023
By Staff• Edited by Lisa Holden • Updated Jun 14, 2023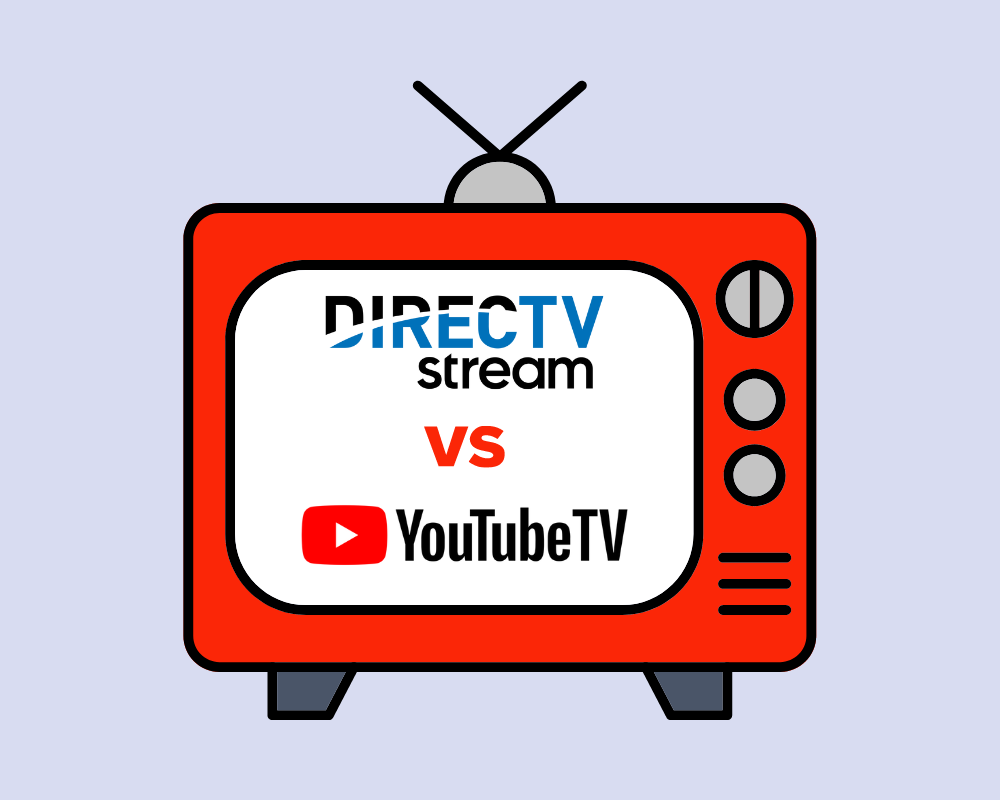 If you want a streaming service that's a complete cable TV replacement, you're probably weighing DirecTV Stream vs YouTube TV. And if you're not, you should be. They're 2 of the most robust live TV streaming services on the market today.
There are cheaper options out there, like Sling TV and Philo, or more sports-oriented streamers like Fubo and Vidgo. But other than Hulu + Live TV, DirecTV Stream and YouTube TV have the most cable-like offerings.
A Quick Overview Of Both Streaming Services
DirecTV has been delivering TV shows, movies, and sports over satellite since 1994. And 2 years ago it launched its streaming TV counterpart, now called DirecTV Stream. With 4 plans varying considerably in price, it's the most expensive streaming service out there. However, it offers the most regional sports networks (RSNs) in the industry, all major broadcast networks, and many industry-leading features. It also includes premium channels like Starz and HBO in its higher-tier plans.
Taking a different approach, YouTube TV has a single English-language plan. A few channel bundles are available, but most channels are added à la carte. The base plan includes all the major broadcast networks and many free-to-air and cable channels, such as Disney Channel, ESPN, and Paramount Network.
Here's a snapshot of both services in terms of price, content, and features.
| | DirecTV Stream | YouTube TV |
| --- | --- | --- |
| Monthly Pricing | Entertainment: $74.99 | |
| Choice: $99.99 | | |
| Ultimate: $109.99 | | |
| Premier: $154.99 | Base: $72.99 | |
| Spanish: $34.99 | | |
| Free Trial Length | 5 days | 14 days |
| Number of Channels | Entertainment: 75+ | |
| Choice: 105+ | | |
| Ultimate: 140+ | | |
| Premier: 150+ | 100+ | |
| DVR Capacity | Unlimited (9 months) | Unlimited (9 months) |
| Device Support | Web, Android, iOS, Apple TV, Chromecast, Fire TV, Roku, Smart TVs, DIRECTV STREAM Device | Web, Android, iOS, Apple TV, Chromecast, Fire TV, Roku, TiVo Stream, Smart TVs, Xbox, PlayStation, Google Nest Hub |
| Simultaneous Streams | 20 at home, 3 on the go | 3 (anywhere) |
YouTube TV Costs Less Than DirecTV Stream
YouTube TV's single English-language plan is $2/month cheaper than DirecTV Stream's entry-level tier. This may not seem like a lot, but it translates into almost $25 of savings per year.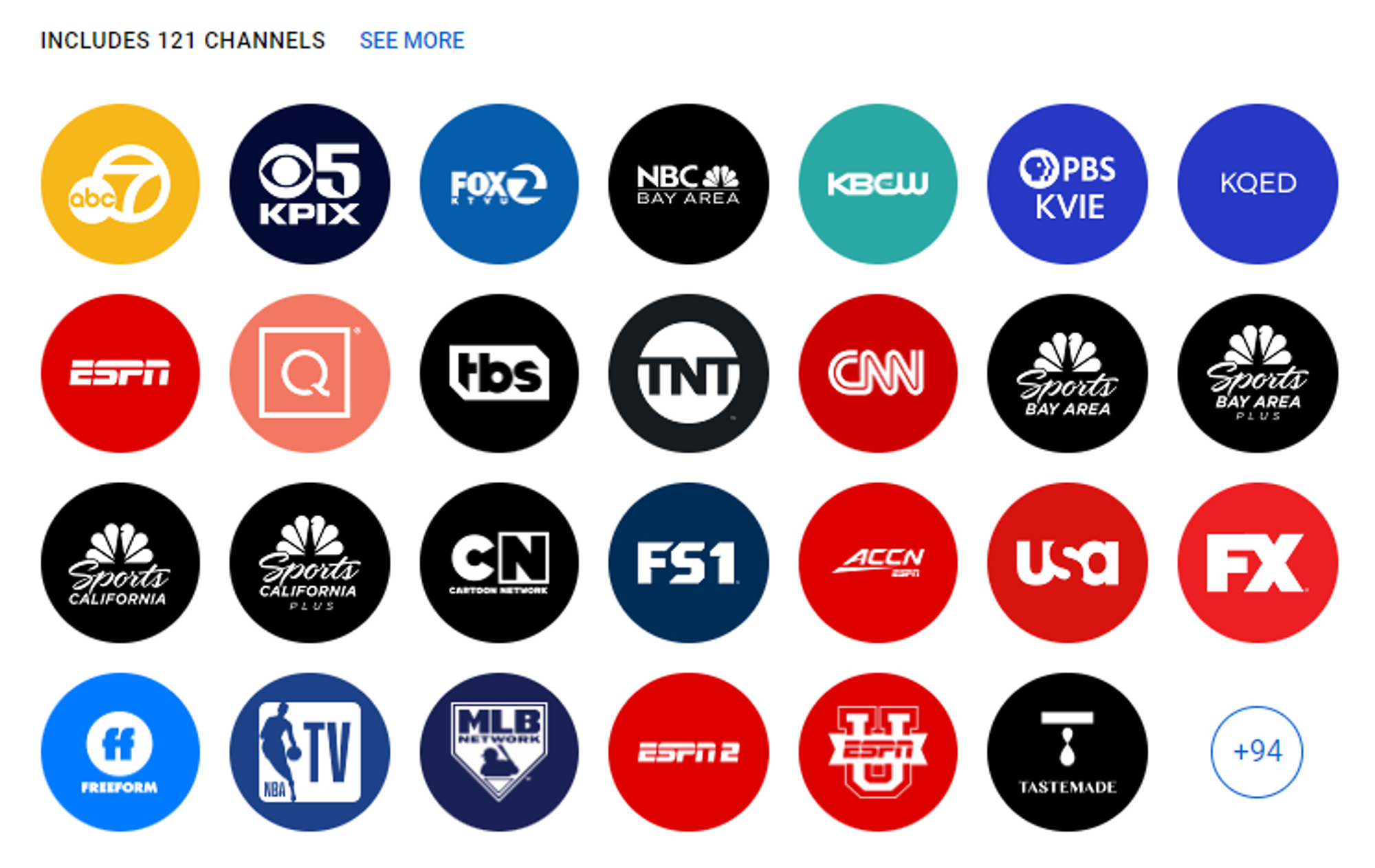 The cheaper live TV services – Sling TV, Philo and Vidgo– require sacrificing some or all of the Big 4 broadcast TV networks and other popular channels.
YouTube TV also introduced a second plan for people looking solely for Spanish-language programming. The Spanish Plan costs $34.99/month and includes 30+ channels.
85+ broadcast, cable, and regional sports networks
DirecTV Stream's 75-channel Entertainment plan costs more than YouTube TV and has 20 fewer channels. Although, the on-demand library is much larger than YouTube TV.
The Choice plan includes 105+ channels. This is where DirecTV Stream starts to show value for sports fans, as all of the RSNs become available.
The Ultimate plan offers 140+ channels, and includes channels like CBS Sports Network, Starz Encore, and FXM. While for $154.99/month, the top-tier Premier plan has 150+ channels, including premium content like HBO Max, Cinemax, and Showtime.
Stream on unlimited devices at home
Regional sports networks included
Stream on unlimited devices at home
Regional sports networks included
Stream on unlimited devices at home
Regional sports networks included
Stream on unlimited devices at home
YouTube TV Has A Longer Free Trial Than DirecTV Stream
Free trials in the streaming world ebb and flow, so it's always best to double check each service's website. With that said, YouTube TV's free trial is currently 14 days, which is one of the best in the industry. It's usually only 7 days, but that's still longer than DirecTV Stream's 5-day free trial.

DirecTV Stream got rid of its free trial earlier this year, but now it's back. It's currently 5 days, but you can cancel your subscription for any reason within 14 days of purchase and get a full refund. You can also get the following premium channels free for 3 months when signing up for DirecTV Stream:
Nearly all free trials require you to enter your payment information. Cancelling during your free trial cuts off access immediately to YouTube TV, but you can keep watching DirecTV Stream until the end of the trial period.
DirecTV Stream Has More Channels Than YouTube TV
DirecTV Stream has more channels than YouTube TV – and more RSNs than any other streaming service – but it's going to cost you. It's not until the Choice plan, which costs $25/month more than YouTube TV, that you get more channels.
At its highest tier, the Premier plan has 150+ base channels, but many markets get far more than that. It also has popular channels you can't get on YouTube TV, like A&E, History Channel and Tennis Channel.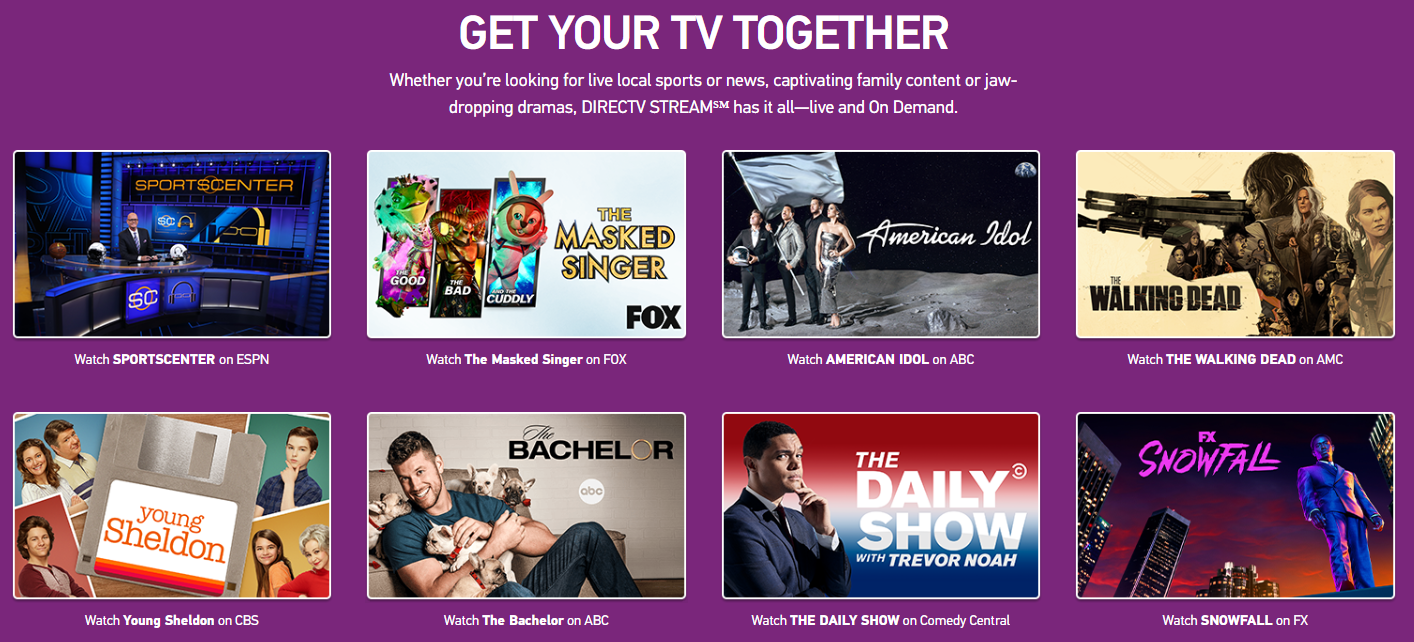 What is (and isn't) on DirecTV Stream
Lower-priced streaming services cut corners on local channels, but DirecTV Stream has the all the major broadcast networks:
ABC
CBS
FOX
NBC
The CW
PBS
TBS
TNT
Popular Spanish-language broadcaster Telemundo is only available as an add-on. UniMás is included with the Choice plan and above, while Univision is included with all plans.
There are 2 Spanish-language add-on packages, as well as add-on bundles for Brazilian, Korean and Vietnamese programming.
DirecTV Stream is the only streaming service with Bally Sports, YES Network and Spectrum SportsNet. It also has MSG and select markets for AT&T SportsNet and NBC Sports.
The key omission that sports fans need to be aware of is NFL Network. It's not even available as an add-on.
What is (and isn't) on YouTube TV
YouTube TV has all the same broadcast networks as DirecTV Stream, including PBS. However, YouTube TV's Base Plan includes Telemundo – as well as UniMás and Univision – without the need for an add-on or the Spanish Plan.
While YouTube TV has NFL Network and DirecTV Stream does not, the opposite is true for NHL Network. It's included with DirecTV Stream's Ultimate and Premier plans, but you can't get NHL Network on YouTube TV.
To recap the key content differences, these are a few popular channels that are only available on one of these services:
A&E – DirecTV Stream
Bally Sports – DirecTV Stream
NFL Network – YouTube TV
NHL Network – DirecTV Stream
DirecTV Stream Has A Better On-Demand Library Than YouTube TV
DirecTV Stream's Entertainment plan has 40,000+ on-demand titles, while the Premier plan increases that to over 65,000 titles. And it's all easily navigable from the main menu's On Demand tab.
YouTube TV doesn't have a dedicated on-demand library, so finding its on-demand content requires a lot of clicking or searching. Even the rudimentary browse section can lead to "upcoming" movies instead of video-on-demand.

Both Have Unlimited DVR, But Only YouTube TV Has Downloadable Content
While some services, like Hulu + Live TV, charge extra for unlimited DVR, it's a standard feature with both DirecTV Stream and YouTube TV. Also, both services keep your recordings for 9 months.
Only YouTube TV lets you download content to watch offline, but it requires the 4K Plus add-on for an extra $19.99/month. That bumps your total cost up to $84.98/month, but it's still 5 bucks cheaper than DirecTV Stream's Choice plan.
YouTube TV Supports More Devices Than DirecTV Stream
Except for one proprietary device, you can watch YouTube TV on everything that DirecTV Stream supports and more.
YouTube TV supports PlayStation and Xbox, Google Nest Hub, and a larger selection of smart TVs than DirecTV Stream.
DirecTV Stream Is Better For Home Theaters Than YouTube TV
The one device not supported by YouTube TV is the DirecTV Stream Device. For an extra $5/month, the dedicated streaming device delivers content in Ultra HD 4K, HDR10, and Dolby Atmos 5.1 surround sound. It also gives you access to thousands of apps and enables voice remote.
YouTube TV's 4K Plus add-on also supports HDR, but it doesn't currently support Dolby Atmos.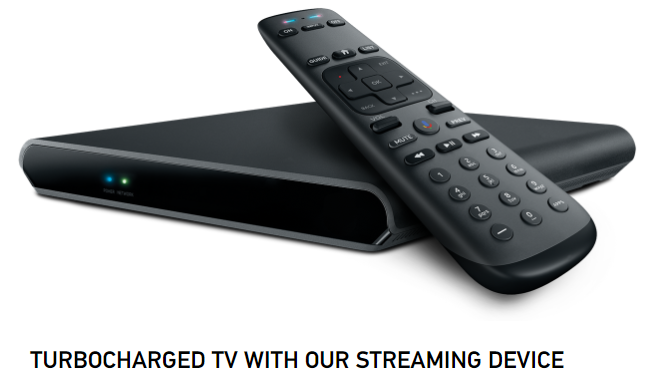 YouTube TV Offers More Simultaneous Streams Than DirecTV Stream
Without add-ons, DirecTV Stream beats YouTube TV 20 streams to 3. Whether anyone needs more than 20 streams is questionable, but YouTube TV's 4K Plus add-on boosts you up to unlimited streams.
And The Winner Is…
Unless you're looking for Bally Sports or other RSNs only available on DirecTV Stream, YouTube TV is the better choice. It costs less, supports more devices, and has all the major broadcast networks. And nearly every premium channel you can think of is available as an add-on.
Douglas Wright • Author
Douglas Wright is a freelance writer based in Japan. A former web designer and technical writer, he left beautiful Vancouver for bustling Tokyo, where he spent a decade recruiting for software and high-tech firms. No longer commuting through the world's busiest train station, he writes fiction and a wide range of formats for clients around the world. When he gets AFK, he's either outdoors with his two boys, streaming a show with his wife, or reading a book over a French-pressed, hand-ground coffee.
Lisa Holden • Editor
Lisa Holden is an editor and creative based in Houston, TX. Lisa holds a BA in African-American Studies from Temple University and has spent her career working in news publications and magazines, even founding a magazine herself. When she's not editing or working on one of her many creative endeavors (whenever that is), she enjoys traveling to new places and biking on sunny days.