Streaming Services
Frndly TV
Channels
Frndly TV Channel List from A to Z
By Staff• Edited by Lisa Holden • Updated Jul 27, 2023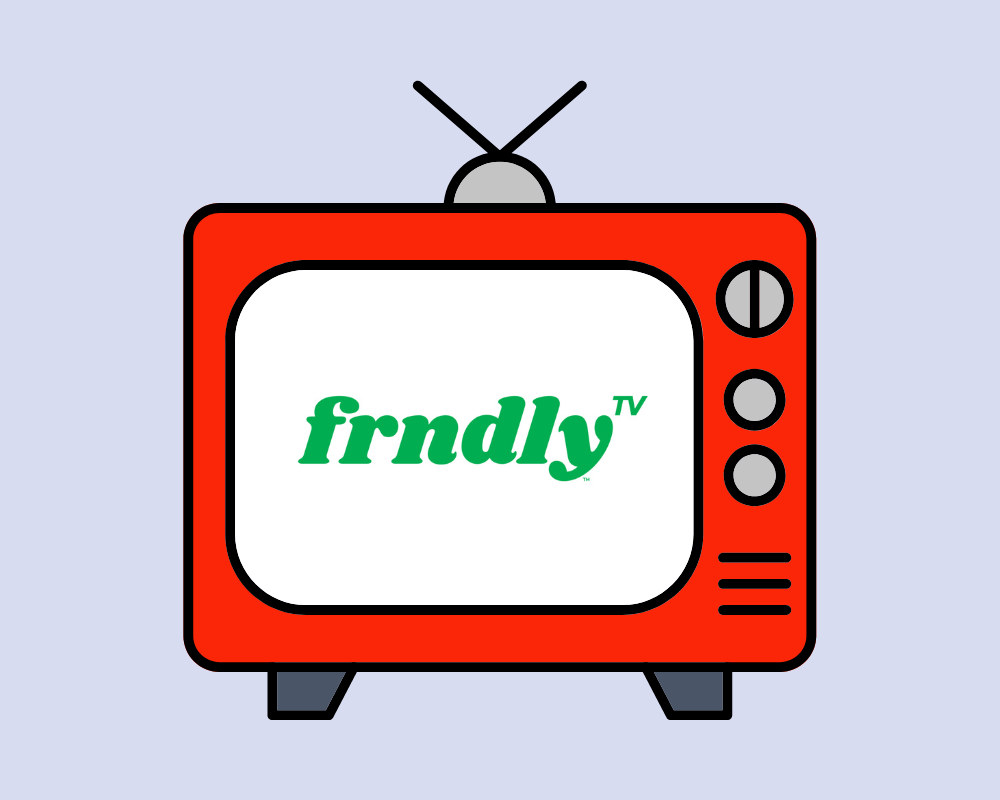 Frndly TV has one of the lowest subscription prices out of all the best streaming platforms for under $10 in the market. For as low as $6.99 per month, you get access to a library of over 40 channels, including Hallmark, A&E, and more.
If you're looking for a good value streaming service, Frndly TV is worth checking out. It's one of the most popular streaming options for cord-cutters, with a long list of features that make it an excellent cable replacement at an affordable price.
Live TV that makes you feel good
Frndly TV's Plans And Packages
You can choose from Frndly TV's three subscription plans: Basic, Classic, and Premium. All Frndly TV's plans have the same channel list. However, they vary in terms of video quality, simultaneous streams, and cloud DVR features.
Frndly Basic
The Basic package that costs $6.99 per month is a great way to get started with Frndly. It includes all of the channels on Frndly's lineup, and you can watch them with SD video quality. This package is a great option if you will be the sole user of the service since it only lets you watch on a single screen at a time.
The downside to this plan is that it does not have a DVR feature. If you're looking for more flexibility and the ability to record shows, then Free Basic might not be enough. You'll need either Classic or Premium for this option.
Frndly Classic
If you want to save all your favorite shows for later viewing and don't mind paying $2 more each month, then Frndly Classic might be right for you! The best thing about Frndly Classic is the Digital Video Recording (DVR) feature that lets you record anything from their TV guide. All channels are available in HD quality, and you're allowed to watch on up to 2 screens at once.
You won't ever run out of DVR storage because Frndly TV has an unlimited cap. You can access your recorded shows and movies on the "My Recordings" tab five minutes after the live broadcast. There are also no restrictions on fast-forwarding recordings, which you can keep for up to three months.
Frndly Premium
If you want more features than what's included in the Classic plan, you will have to upgrade to Premium. This will cost $10.99 per month and includes both HD video quality and four-screen viewing. It also has unlimited DVR recording capabilities, where you can keep your recorded TV shows for up to 9 months.
All Frndly TV plans are not subject to a long-term commitment, and you can cancel anytime. And if you wish to cancel the subscription while you're still on your one-week trial period, there will be no charges on your account. But if you've already made up your mind and want to subscribe for a whole year, Frndly TV provides customers with a more than 15% discount.
Complete Frndly TV Channel List From A To Z
Frndly TV offers 40+ feel-good channels as well as on-demand shows and movies. All three of their packages include every channel Frndly TV offers. Here's a complete list of Frndly's channel lineup from A to Z:
A&E
byu TV
BabyFirst TV
Catchy Comedy
Circle
Cowboy Way Channel
Crime+Investigation
Curiosity Stream
Decades
Dove Channel (on demand)
Dove Family Movies
Dove Kids
Family Movie Classics
fetv
fyi
Game Show Network
Great American Family
Great American Living
GetTV
GRIT
H&I
Hallmark Channel
Hallmark Movies & Mysteries
Hallmark Drama
Heartland TV
History Channel
ion
ion Mystery
INSP
Lifetime
LMN
Local Now
MeTV
Military History
Movies!
Outdoor Channel
PixL
Recipe.TV
Sportsman Channel
startTV
Story Television
QVC
UPtv
Vice
World Fishing Network
The Weather Channel
What are the recently-added channels on Frndly TV?
Most recently, Frndly TV added Movies! and Hallmark Movies Now to their channel lineup. The Movies! Channel is available on all subscription plans, while Hallmark Movies Now is available as an add-on for $5.99 per month.
Does Frndly TV have local channels?
No, Frndly TV currently does not offer local channels. However, they have the Local Now Channel in their lineup, showing local news, weather, entertainment, and travel.
Frndly TV makes a great choice if you have a limited budget. It has a good channel lineup and great features, such as unlimited DVR storage and simultaneous streaming on multiple devices. If you want to try out a new streaming service without breaking the bank, give Frndly TV a try.
Sam Cook • Author
Sam Cook is a full-time content strategist by day, a part-time freelance content writer since 2015. In another life, he was a high school English teacher for nearly a decade. Based in sunny New Orleans, he writes long-form educational content on technology, including Insurtech, Fintech, HRtech, and content streaming.
Lisa Holden • Editor
Lisa Holden is an editor and creative based in Houston, TX. Lisa holds a BA in African-American Studies from Temple University and has spent her career working in news publications and magazines, even founding a magazine herself. When she's not editing or working on one of her many creative endeavors (whenever that is), she enjoys traveling to new places and biking on sunny days.