Streaming Services
fubo
Review
Fubo Review 2023
By Staff, Deja Harris• Edited by Lisa Holden • Updated Oct 27, 2023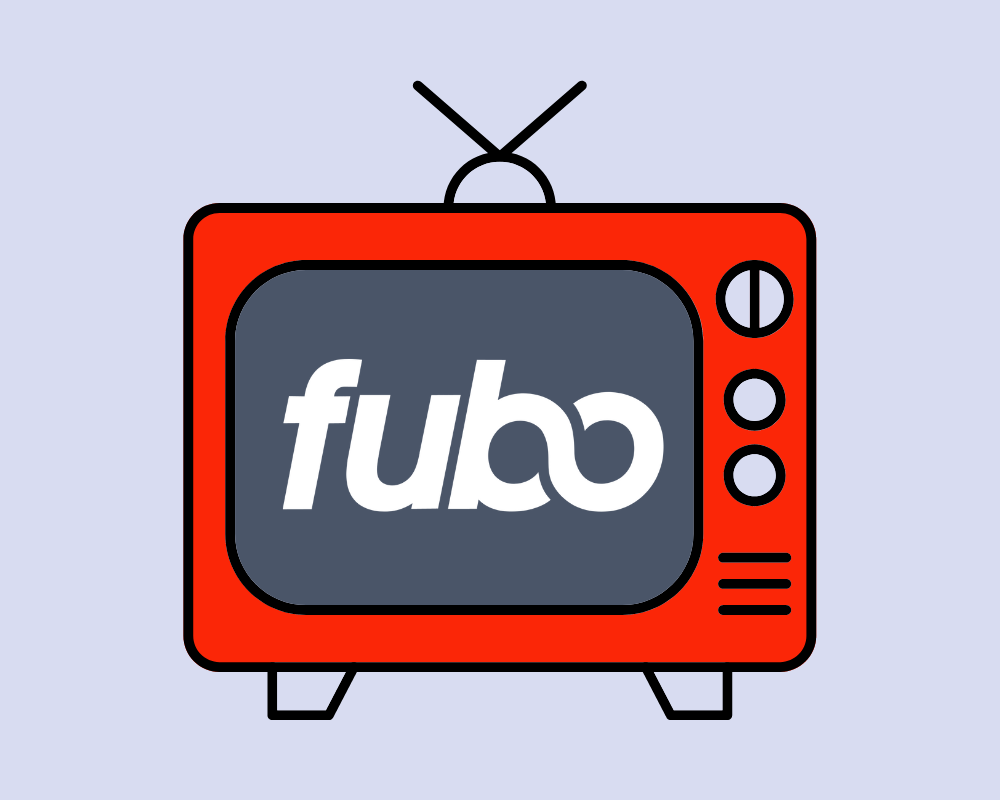 The streaming service Fubo launched in 2015 with the purpose of catering to cord-cutting soccer fans looking for a way to watch live matches.
Since then, it has grown exponentially, expanding to include live programming of most sports, and becoming a top choice for sports fans in the US.
But with an extensive lineup of channels that go beyond just sports content, as well as the ability to create multiple user profiles and stream on multiple screens at once, Fubo is an overall great choice for the entire family.
What content does Fubo have?
Fubo is primarily a live-streaming television service, but it also offers some on-demand content. Viewers can access a variety of live TV channels, including sports, news, and entertainment programming, as well as on-demand movies and TV shows.
With any subscription tier, you'll get access to a variety of news networks, including CNN, MSNBC, Fox News, popular entertainment cable networks like AMC, FX, and USA Network, and plenty of children's programming, such as Disney channels and Nick Jr.
For the most part, Fubo specializes in sports programming and is particularly popular among sports fans. The service offers access to a wide range of live sports, including NFL, NBA, MLB, NHL, Premier League, and more. In addition to live games, Fubo also provides plenty of access to sports news and analysis, as well as pre-game and post-game coverage.
While Fubo does not have original content in the traditional sense, the service does offer some exclusive programming, such as Fubo Sports Network, which provides original sports programming and live events. Additionally, Fubo has partnerships with some sports leagues and teams, allowing for unique access and content not available on other platforms.
Fubo still doesn't have the rights to Turner Networks.
In early January 2023, there were rumors circulating that Fubo had reached an agreement with Turner to start carrying TBS and TNT (the streaming service hasn't carried these networks since 2020 when the two parties failed to reach an agreement).
However, Fubo executives have since confirmed that they still have no plan to bring those channels to their lineup.
How are Fubo's interface and usability?
From our personal experience, we've found that Fubo has a well-designed, user-friendly interface that is easy to navigate.
The home screen displays your most recently watched channels and provides quick access to live and on-demand content. You can scroll through the grid to find the channel or content you want to watch, or you can use the search bar to find something specific.
From the home screen, you can access different sections of the app by using the menu bar at the top of the screen. The menu bar includes options for Sports, Shows, Movies, Guide, and Recordings.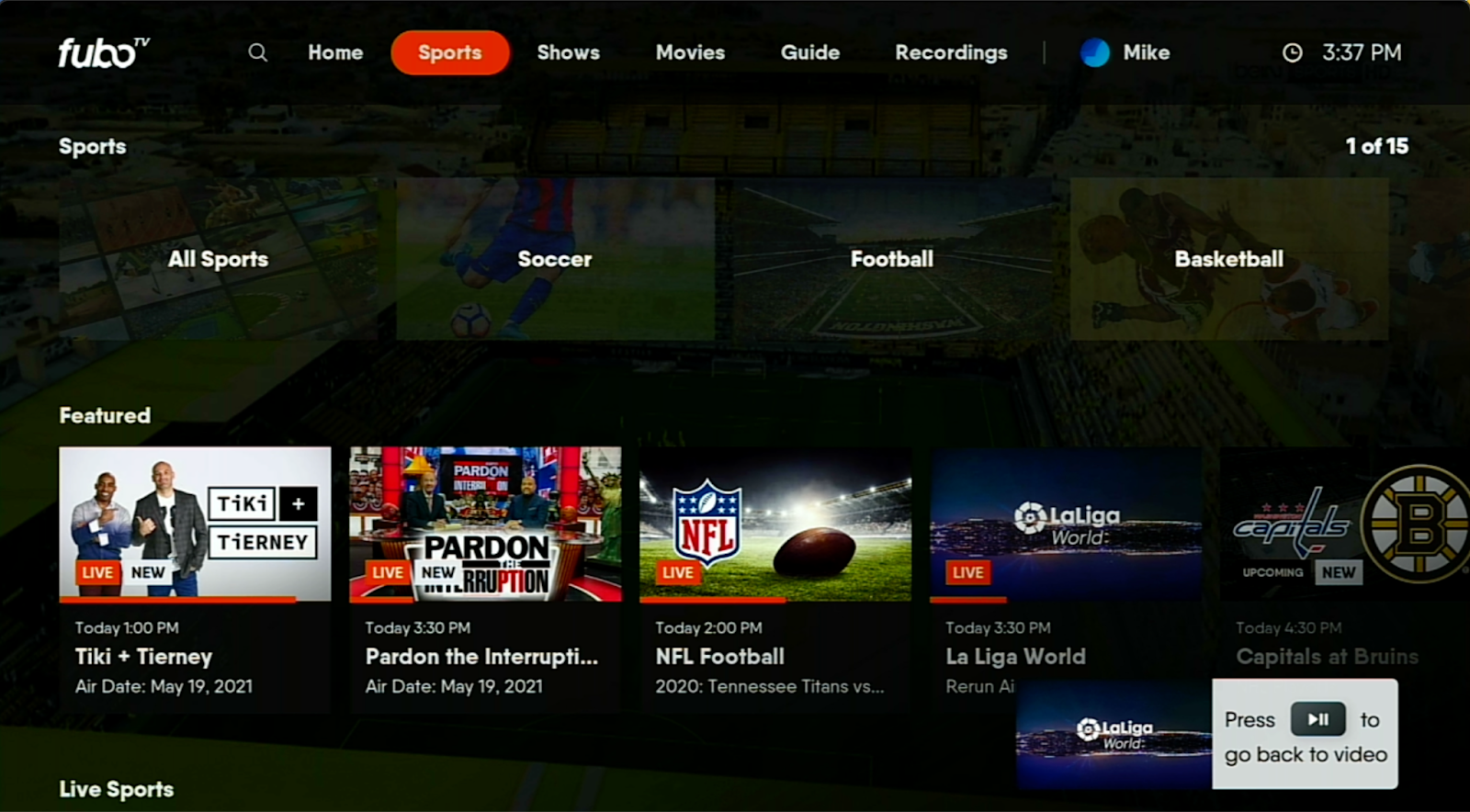 The Sports section provides quick access to live and on-demand sports content, with options to browse by league, team, or sport.
In the Shows and Movies sections, you'll find recommended on-demand content based on your viewing patterns, and popular shows and movies currently in the Fubo on-demand library. You can also easily filter through content based on genre.
The Guide section displays a traditional TV guide, allowing you to see what's currently playing on all the channels included in your subscription and what's coming up. You can choose to record upcoming episodes directly from the guide by selecting the program and clicking on "Record Series".
The Recordings section allows you to access your recordings, view your scheduled recordings, and continue watching on-demand movies and TV shows that you've already started.
How does Fubo compare to other services?
Fubo is a great option for sports lovers, but there may be better options depending on your budget and viewing preferences.
If you're looking for something more budget-friendly, you can opt for Sling TV, which lets you customize your plan to include the channels you need. Alternatively, ESPN+ is a much cheaper option and offers you all ESPN channels as well as their on-demand library, which includes plenty of original programming like 30 for 30, NFL PrimeTime, Peyton's Places, and more.
If your main concern is to get the most amount of local and regional sports networks, you won't find a better candidate than DirecTV Stream. However, you'll need the Choice plan to get RSNs, which is quite pricey.
| | Fubo | Sling TV | DirecTV Stream | ESPN+ |
| --- | --- | --- | --- | --- |
| Free Trial | 7 days | None | 5 days | None |
| On-Demand Movies and Shows | Yes | Yes | Yes | Yes |
| Original Content | No, except for Fubo Sports Network and select partnerships for sporting events. | No | No | Yes |
| Live TV Channels | Starts at 170+ channels | Starts at 32+ channels | Starts at 75+ channels | ESPN channels only |
| Number of Streams | Up to 10 | 1-3 | 3 out-of-home, unlimited within home network | 3 |
| Ads | Yes for live TV, no for on-demand | Yes for live TV, no for on-demand | Yes for live TV, no for on-demand | Yes for live TV, no for on-demand |
Watch live sports on Fubo.
When it comes to watching live sports, you'll be pleased with the number of sports-focused channels and events available to watch with any Fubo subscription.
You can watch NFL games and college football, Premier League matches, NBA and NCAA basketball games, MLB, PGA Tour, Grand Slam tennis tournaments, UFC, Formula 1 Grand Prix events, Olympic sports, WWE… the list goes on.
Who is Fubo not the best for?
Price-conscious viewers. Fubo is pricier than many other streaming platforms, so if you're looking for something more budget-friendly, you're better off with something more stripped-down and customizable like Sling TV.
Those looking for extensive local or regional sports coverage. Some local or regional sports channels might be missing on Fubo—if you're okay with paying a slightly higher monthly subscription fee for more RSNs, consider DirecTV Stream.
Here are our final thoughts.
Fubo isn't just great for sports lovers, it's great for everyone. Having an extensive lineup of channels and being packed with features, Fubo is a strong competitor in the streaming service game. It isn't the cheapest option, but you can always take advantage of its 7-day free trial and see if it's right for you before committing to the monthly fee. Happy watching!
More Reading:
Fubo Plans and Pricing 2023 - Everything You Need To Know
Best Fubo Alternatives in 2023
The Complete List of Streaming Services in 2023 - 200+ Services
Tara Khudairi • Author
Tara Khudairi is a freelance content writer and copywriter based in Toronto. Since 2014, she has contributed to brands and blogs alike to tackle popular topics relating to technology, personal finance, entertainment, travel and lifestyle. Whether it's the latest streaming service or cryptocurrency, she's passionate about making the complex simple. When she's not busy typing away, you'll find Tara watching Netflix's latest true crime doc or a classic 90's horror flick.
Lisa Holden • Editor
Lisa Holden is an editor and creative based in Houston, TX. Lisa holds a BA in African-American Studies from Temple University and has spent her career working in news publications and magazines, even founding a magazine herself. When she's not editing or working on one of her many creative endeavors (whenever that is), she enjoys traveling to new places and biking on sunny days.