Streaming Services
Hulu
fubo
Comparison
Fubo vs. Hulu + Live TV in 2023
By Staff• Edited by Lisa Holden • Updated Jul 28, 2023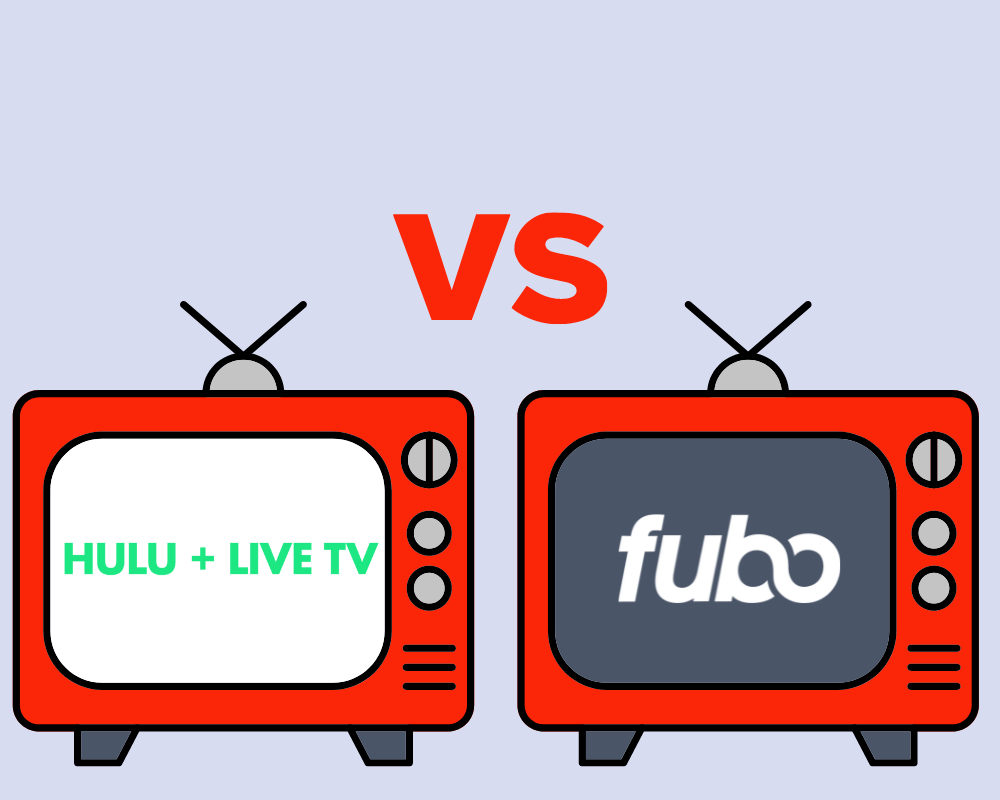 With cable prices rising and more streaming services available than ever before, it's no surprise that many people are choosing to cut the cord and sign up for a service like Fubo or Hulu + Live TV.
Both of these services have a lot to offer, including dozens of live channels and a great range of content for viewers to enjoy. But which one is best when it comes to Fubo vs Hulu? In this guide, we'll pit these services against each other to see which one comes out on top.
An Overview Of Fubo
Let's begin with a brief overview of each service, starting with Fubo. Fubo is a live streaming service which began in 2015. Since then, Fubo has grown into one of the world's leading internet TV services, boasting dozens of channels and some very impressive features in terms of DVR space and simultaneous streams.
Fubo has a reputation for being a great streaming service for sports fans, and it certainly lives up to that reputation, offering access to various sports channels like ESPN. However, it also includes many more channels, featuring everything from kids' cartoons to local news, reality shows, dramas, comedies, and more.
An Overview Of Hulu + Live TV
Hulu + Live TV is a newer addition to the streaming scene than Fubo. It launched in late 2017, and it has also become one of the top streaming services around, with many people drawn to this service due to its impressive number of channels and huge array of on-demand content, offering the best of both worlds between an on-demand platform and cable alternative.
As the name implies, Hulu + Live TV includes both Hulu's on-demand platform and a wide range of live channels, so you can pick and choose what you want to watch based on your mood and preferences, from live events and sports to the latest on-demand series. Hulu + Live TV also comes bundled with ESPN+ and Disney+, giving you even more sports and on-demand content.
Fubo vs Hulu + Live TV: Pricing
One of the most important factors for many people when it comes to picking a streaming service is pricing. A lot of people want to find the best value deals and not pay over the odds for a streaming platform, so how do Hulu + Live TV and Fubo stack up in the pricing department?
Well, let's start with Fubo. Fubo has three main packages: Pro, Elite, and Premier. Pro gives you over 100 channels and other key features, like 1,000 hours of DVR space, while Elite and Premier come with even more channels. You can also customize your plan with various add-ons.
Hulu + Live TV also has two main plans to offer. There's the standard Hulu + Live TV with Disney+ and ESPN+ plan, or there's the same plan with no ads on any of the Hulu content. Like Fubo, Hulu + Live TV also offers various add-ons like Max, Starz, Showtime, and Cinemax.
Award winning Hulu originals
Thousands of shows and movies
Award winning Hulu originals
Thousands of shows and movies
In terms of pricing, it's tough to pick a winner, as both Fubo and Hulu + Live TV are very similar, and the best value option for you will depend on which content you want the most.
Fubo vs Hulu + Live TV: Channels
Next, let's look at the channels provided with each service. Both Fubo and Hulu + Live TV are cable alternatives for cord cutters, and they both offer dozens of live TV channels for users to enjoy, showing a wide range of entertainment, sports, and news.
Fubo stands out for its sports coverage. It comes with ESPN as standard and other sports channels like Sportsnet, NFL Network, and beIN Sports. It also features major news networks like CBS, CNBS, and Fox, as well as lots of entertainment channels like FX, SyFy, MTV, Disney Channel, and AMC.
Hulu + Live TV, meanwhile, comes with over 85 live channels in total, including entertainment channels like BET, Bravo, Comedy Central, and Lifetime, as well as kids' channels like Cartoon Network and Disney Channel. You'll also find sports channels like ESPN on this service, as well as national and local news from the likes of Fox, ABC, CBS, and NBC.
In terms of channels, Fubo has the edge. The Pro level Fubo plan has 150+ channels while the Elite and Premier plans boast over 230 channels, which is far more than Hulu + Live TV. Plus, Fubo is a better option for sports fans.
Fubo vs Hulu + Live TV: On-Demand Content
One area in which Fubo and Hulu + Live TV is in terms of on-demand content. Both of these services do offer some level of on-demand entertainment, but one is much better than the other.
Fubo allows subscribers to watch any aired content on replay for the 72 hours after its air date, and some of its channels have on-demand services for shows and movies. It also offers CuriosityStream for on-demand documentaries, but that's all.
Hulu + Live TV, on the other hand, has a comprehensive on-demand library. It comes with full Hulu access, giving you access to thousands of hours of content and shows like The Handmaid's Tale. Plus, you get full access to Disney+ with all of its movies and shows, too.
Fubo vs Hulu + Live TV: Device Compatibility
In terms of devices, Fubo and Hulu + Live TV are actually very similar and more or less run on the same devices. You can watch both of these services on:
Living room devices - Roku, Apply TV, Chromecast, and Amazon Fire TV
Smart TVs - Smart TV models from various brands
Mobile - Android and iOS phones and tablets
Browsers - Internet browsers like Chrome, Firefox, Edge, and Safari
Even though the two services are very similar in device compatibility, there are a few notable differences. For example, Fubo works on Android TV devices, while Hulu + Live TV does not, and Hulu runs on the Nintendo Switch, while Fubo does not.
Fubo vs Hulu + Live TV: Features
Finally, let's take a look at the key features of each service, like cloud DVR storage and simultaneous streams.
Fubo provides a whopping 1,000 hours of DVR storage space, which is a huge amount to store shows and movies to watch again later on. Hulu + Live TV only gives you 50 hours of cloud DVR space, but you can pay extra to upgrade it.
For simultaneous streams, Fubo offers a total of ten simultaneous streams on your home network. Hulu + Live TV offers two simultaneous streams by default, but you can upgrade to "Unlimited Streams" on your home network for an extra fee.
Fubo vs Hulu + Live TV: Overall
So, which service is between Fubo and Hulu + Live TV? Well, the truth of the matter is that it depends. Both of these services are very popular, and rightly so, as they have a lot of advantages, such as fair pricing, good compatibility, and lots of content.
Fubo is the better choice for sports and live TV fans, with its huge number of channels and sporting access, plus its massive DVR space. Meanwhile, Hulu + Live TV is better for people who want a mix of live and on-demand programming.
Khadija Bilal • Author
Khadija Bilal is an accomplished writer with over a decade of experience under her belt. Having developed a versatile writing style that allows her to tackle a wide range of topics, Khadija has several publications to her name. Khadija's expertise includes in-depth guides and how-to articles.
Lisa Holden • Editor
Lisa Holden is an editor and creative based in Houston, TX. Lisa holds a BA in African-American Studies from Temple University and has spent her career working in news publications and magazines, even founding a magazine herself. When she's not editing or working on one of her many creative endeavors (whenever that is), she enjoys traveling to new places and biking on sunny days.