Streaming Services
Max
Netflix
Comparison
Max vs. Netflix in 2023
By Staff• Edited by Lisa Holden • Updated Aug 01, 2023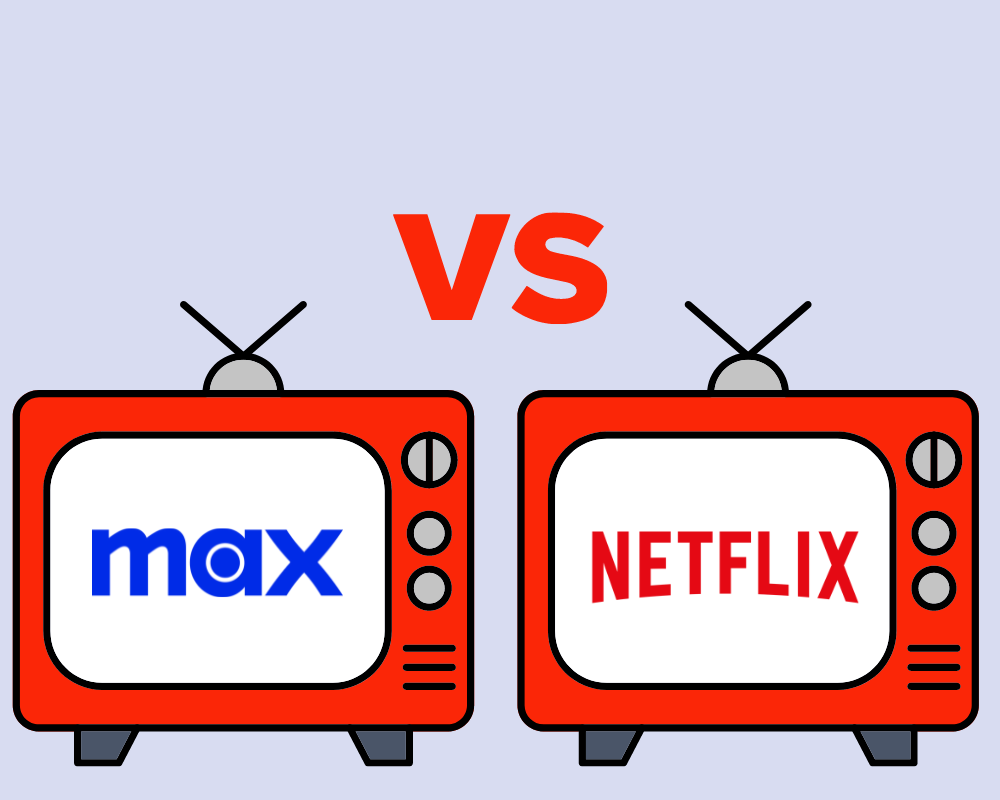 Max vs Netflix 2023: Which Service Is Better For You?
Max and Netflix are two giants in the world of on-demand streaming services. Of course, it comes as no surprise that Netflix is the more popular choice—the #1 streaming service in the world had a whopping 231 million subscribers by the end of Q4 2022. However, could Netflix's reign soon be coming to an end?
Formerly known as HBO Max, Max launched in 2020, and its subscriber amount has been steadily increasing quarter over quarter since. By Q4 2022, the streaming service had about 81 million subscribers, which is quite impressive. A lot of this success can be attributed to hit series' like Game of Thrones, Euphoria, and House of the Dragon.
So which is better for you? In this article, we put the two streaming services against each other in the categories of price, content libraries, and important features. Let's dive straight in!
Max And Netflix Compared?
| | Max | Netflix |
| --- | --- | --- |
| Base Price | Ad-supported: $9.99/month | |
| Ad-free: $15.99/month Ultimate Ad-free: $19.99/month | Standard with Ads: $9.99/month | |
| Standard: $15.49/month | | |
| Premium: $19.99/month | | |
| Free Trial | None | None |
| Simultaneous Streams | 2 with Ad-supported and Ad-free, 4 with Ultimate Ad-free | 1 with Basic, 2 with Standard, 4 with Premium |
| On-Demand Content | 35,000+ hours | 17,000+ titles |
| Live Channels | None | None |
| Local Channels | None | None |
| Sports Channels | None | None |
Pricing And Plans
When it comes to pricing, Max and Netflix are within the same ballpark. One gives where the other lacks, so the better option would depend on your needs and preferences.
Max offers 3 different subscription plans: Ad-Supported, Ad-Free, and Ultimate Ad-Free. With the Ad-Supported and Ad-Free plans, you can stream on two devices simultaneously and get Full HD 1080p. The Ultimate Ad-Free plan lets you stream on up to four devices at once, with 4K UHD and Dolby Atmos on select titles. Plus, you can download 30 titles with the Ad-Free plan and up to 100 titles with the Ultimate Ad-Free plan to watch offline.
Netflix operates a bit differently with its plans. The Basic plan allows you to watch and download titles on up to 1 device at a time, and supports HD viewing. The Standard plan allows you to watch and download titles on up to 2 devices at a time, and supports Full HD viewing. The Premium plan allows you to watch and download titles on up to 4 devices at a time, and supports Ultra HD viewing.
Hit movies, TV shows, and more.
Hit movies, TV shows, and more.
Hit movies, TV shows, and more.
2 screens at the same time
Hit movies, TV shows, and more.
4 screens at the same time
Which Has The Better On-Demand Library?
This is a tough one. Both Netflix and Max have incredible on-demand libraries, filled with their own award-winning original programming, popular series, and blockbuster films, and classic flicks.
Max dominates in the fantasy category. They carry the entire Lord of the Rings trilogy, Godzilla, Fantastic Beasts: The Secrets of Dumbledore, and more. They also have episodes of hit fantasy series' like Game of Thrones, Westworld, House of the Dragon, and His Dark Materials, just to name a few. So if you're looking to get lost in another world, Max may be the better choice for you.
But fantasy isn't all Max has to offer—hit shows like Euphoria, The Sex Lives of College Girls, The White Lotus, Sex and the City, and more are available on the streaming service.
And, through their recent merger with Discovery+, Max has more than doubled their content with favorites from Discovery TV brands, including HGTV, the Food Network, TLC, Magnolia Network, and more.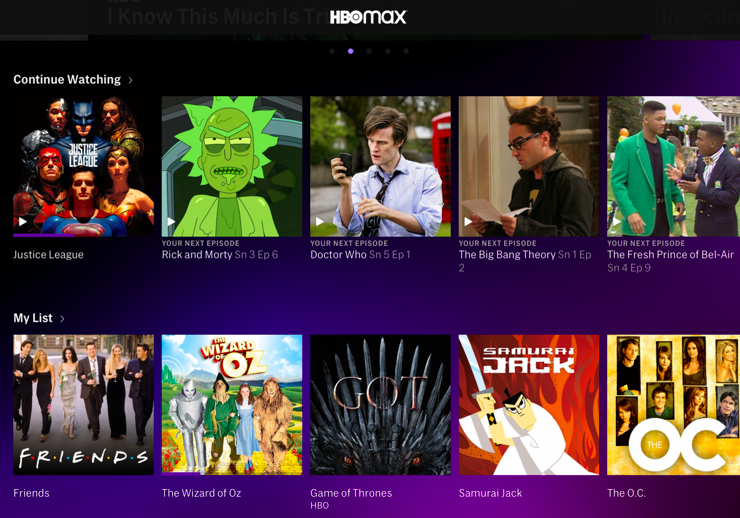 Netflix, on the other hand, is a total powerhouse when it comes to pumping out new original programming. Other streaming services simply can't keep up. From hit shows like Squid Game, Stranger Things, and the new Addams Family spin-off Wednesday, to blockbuster films like Red Notice, Don't Look Up and Bird Box. There are over 17,000+ titles across various genres, so no matter who's watching, there will always be something on the menu.

Do Both Services Have A Free Trial?
Neither Max nor Netflix offer a free trial at this time.
Max may offer more options through other streaming services, though. For example, when you sign up for the DirecTV Stream Premier package, you get 2 months of Max free with your subscription.
Other Features Compared
There are a few other important features to consider when deciding between Max and Netflix.
Cloud DVR
Neither Max nor Netflix offer DVR, since neither streaming service offers live streaming, meaning there's no reason you would need to record content.
Max's ad-free plan lets you download 30 titles onto your device at a time for offline viewing, and their ultimate ad-free plan allows for up to 100. Netflix's ad-free plan lets you download 100 titles onto your device at a time for offline viewing. This amount is a total for the entire plan—not per viewer.
So if you have 4 people watching on Max, and each person downloads 25 titles onto their devices, you've reached the maximum.
Simultaneous streams
Max offers 2 simultaneous streams with both its ad-supported and ad-free packages, and 4 simultaneous streams with its ultimate ad-free package. Netflix has a similar offering, allowing you to stream on 2 devices at a time with its basic and standard plans. You can pay a bit more to get 4 streams at a time with Netflix's Premium plan.
Supported devices
You can pretty much watch both Netflix and Max on almost any device you could conjure up. Check out Netflix's full supported device list here and Max's here.
Our Verdict: Max Is Better Than Netflix
Overall, this was a tough match-up. Both Netflix and Max are strong competitors in the VOD streaming space.
As it stands today, Max takes the win because it simply has way more content than Netflix, due in large part to its recent merger. Since prices, simultaneous streams, and supported devices are almost identical between the two, it makes the most sense to go where the most content is.
With some award-winning originals and a ton of exclusive popular content in its library, as well as being the reigning champion in the fantasy genre, Max is the best option for those looking for both quality and variety.
Tara Khudairi • Author
Tara Khudairi is a freelance content writer and copywriter based in Toronto. Since 2014, she has contributed to brands and blogs alike to tackle popular topics relating to technology, personal finance, entertainment, travel and lifestyle. Whether it's the latest streaming service or cryptocurrency, she's passionate about making the complex simple. When she's not busy typing away, you'll find Tara watching Netflix's latest true crime doc or a classic 90's horror flick.
Lisa Holden • Editor
Lisa Holden is an editor and creative based in Houston, TX. Lisa holds a BA in African-American Studies from Temple University and has spent her career working in news publications and magazines, even founding a magazine herself. When she's not editing or working on one of her many creative endeavors (whenever that is), she enjoys traveling to new places and biking on sunny days.