Streaming Services
YouTube TV
Sling
fubo
Hulu
Review
Hulu + Live TV Review 2023
By Staff, Deja Harris• Edited by Desiree Wu • Updated Nov 16, 2023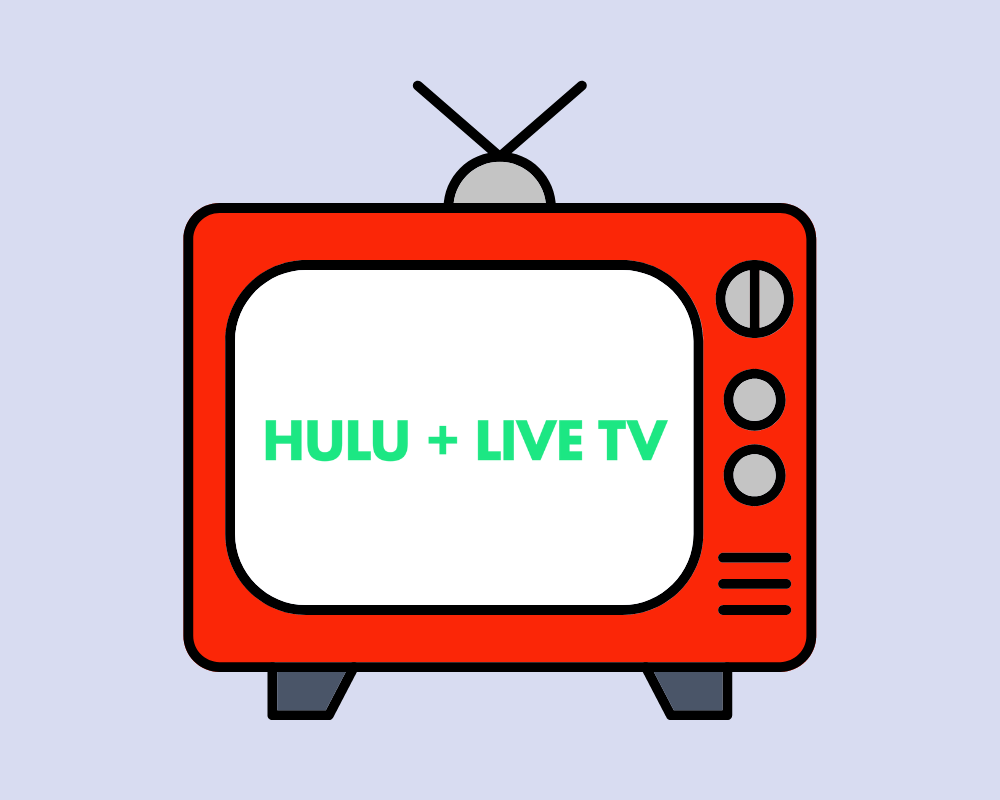 Hulu + Live TV is one of the most popular cable alternatives out there today. With more than 4.1 million subscribers according to Disney, its parent company, its reach is only behind YouTube TV, which has 5 million subscribers as of mid-2022.
But is Hulu + Live TV worth it in 2023? We sure think so! In this Hulu + Live TV review, we'll dig into its channels, on-demand content, features, and all the other details you need to decide if Hulu + Live TV is right for you and your family. Let's get into it.
What content does Hulu + Live TV have?
Just like a traditional cable or satellite TV package, Hulu + Live TV has live TV channels. In total, it has 90+ channels. Some of its top channels include ESPN, Fox News, HGTV, CNN, Fox Sports, and tons of others. You also have the option to get some premium channels like Showtime for an extra fee.
That's not all, though. Hulu + Live TV also comes with an ad-supported Hulu on-demand package. This means that you'll get full access to the entire lineup of Hulu shows, including Hulu Originals such as The Handmaid's Tale, Little Fires Everywhere, The Dropout, and many more. You'll get thousands of titles and tens of thousands of episodes at no extra charge.
Award winning Hulu originals
Thousands of shows and movies
Award winning Hulu originals
Thousands of shows and movies
How is Hulu + Live TV's interface and usability?
The Hulu + Live TV interface varies a bit depending on your platform. It supports tons of different devices like iOS, Android, smart TVs, Amazon Fire TV, Roku, Apple TV, and Chromecast with Google TV. And, a bit confusingly, it's actually rolled into the base Hulu app – there's no separate "Hulu With Live TV" app. If you have Hulu + Live TV, your live TV channels will simply be integrated into your overall streaming view, as you can see below: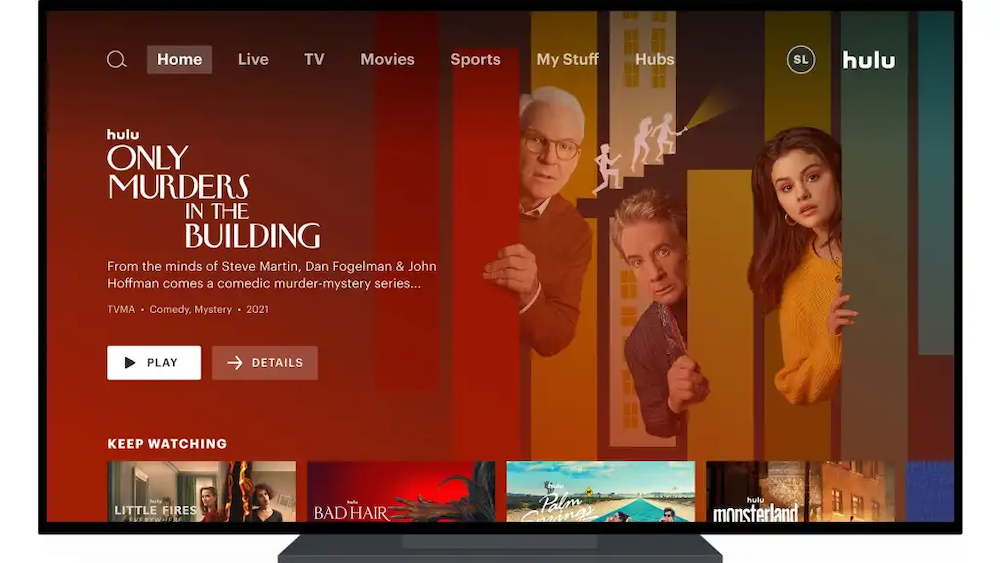 When you click the "Live" button, you'll be taken to a pretty familiar "TV Guide" view of the channels included in your subscription. You can browse all the channels in your subscription, go back to recently-viewed channels, and even set favorites for easier access. It's nothing mind-blowing, but the user experience is smooth and solid on pretty much every device.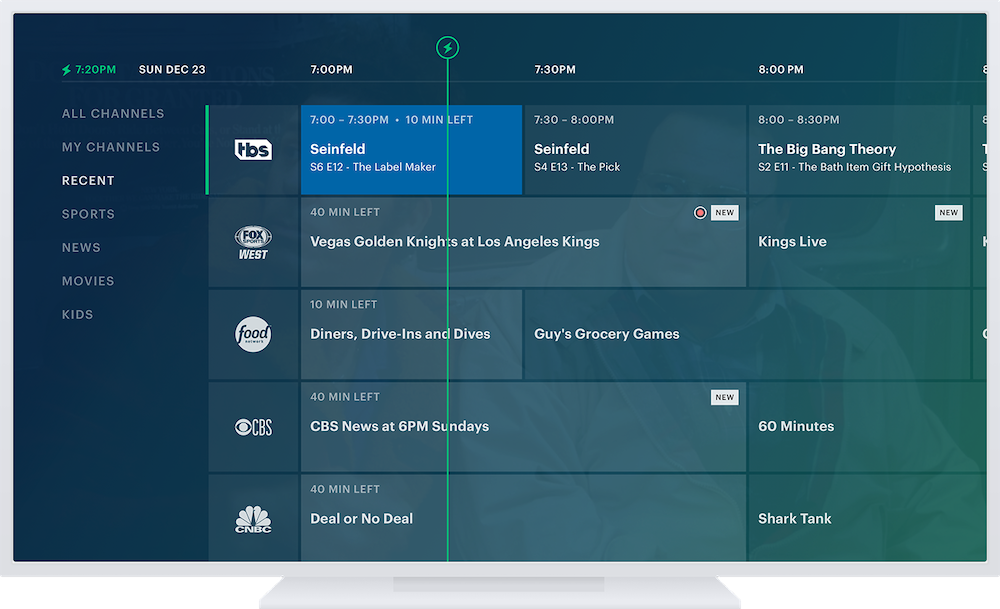 Overall, we've got no complaints about the Hulu + Live TV user experience. Its apps are smooth and stable. Streaming image quality is good, too, though this will obviously vary depending on the bandwidth and stability of your internet connection.
How does Hulu + Live TV compare to other services?
Hulu + Live TV is a great cable alternative, but it's far from the only game in town. A few of its top competitors are YouTube TV, Sling TV, and fuboTV. Let's take a look at a quick breakdown of how Hulu + Live TV stacks up to the competition:
| | Hulu + Live TV | YouTube TV | Sling TV | fuboTV |
| --- | --- | --- | --- | --- |
| Free Trial | No | Yes | No | Yes |
| On-Demand Movies and Shows | Yes | Yes | Yes | Yes |
| Channels | 90+ | 100+ | 45+ | 250+ |
| Number of Streams | 2-unlimited | 3 | 1-4 | 3-unlimited |
Let's look into the Hulu, Disney+, and ESPN+ bundle.
As of late August 2022, all Hulu + Live TV subscriptions include a Hulu on-demand subscription – but also a Disney+ and ESPN+ subscription, too. This makes Hulu + Live TV a particularly great choice for families.
You'll get full access to Disney+, with franchises like Marvel, Star Wars, Pixar, and tons of originals like The Mandalorian. ESPN+ is also a nice addition. This sports streaming service is the exclusive home for the UFC. ESPN+ also has coverage for golf, tennis, 75+ out-of-market NHL games, some MLS (Major League Soccer) matches, and much more.
Along with Hulu, you won't be short on content to watch for a while, whether you love TV, Star Wars, sports, or anything else. The only caveat is that your Disney+ and ESPN+ bundle will be ad-supported. If you really don't like watching ads, this may be a bit of a bummer.
What live sports are on Hulu + Live TV?
If you're a big sports fan, Hulu + Live TV won't disappoint. It has tons of great sports channels including Fox, CBS, NBC, ABC, ESPN, ESPN2, Fox Sports 1 and 2, Big 10 Network, ACC Network, NFL Network, and SEC Network. It's a particularly good choice for football and college sports fans.
However, it is lacking RSNs (Regional Sports Networks) like Bally Sports, Altitude Sports, and so on. This means that Hulu + Live TV may not be the best choice if you like the NBA, MLB Basketball, or NHL hockey. You'll only be able to watch nationally-televised games in these leagues.
What add-on features and channels does Hulu + Live TV have?
Hulu + Live TV comes with 90+ channels and a pretty standard complement of features, like simultaneous streaming on two devices at once. But it does have some add-on channels and features that you can use to customize your TV experience:
Premium channels – You can add HBO Max, Cinemax, SHOWTIME, or STARZ directly to your subscription.
Entertainment add-on – As the name suggests, the Entertainment add-on adds 16+ lifestyle and entertainment channels. Highlights include TeenNick, MTV2, History Channel, and Cooking Channel.
Español add-on – If you're a Spanish speaker, you can pick up the Español add-on for a small extra cost per month. It has 8 channels including Discovery en Español, ESPN Deportes, NBC Universo, and Fox Deportes.
Sports add-on – Big sports fan? You can get six more sports networks with the $9.99/month Sports add-on, including Fanduel Racing, Fanduel TV, MAVTV, NFL RedZone, Sportsman Channel, and Outdoor Channel.
Unlimited screens – You can add unlimited screens on your home WiFi network, and stream on up to three devices outside your home network. This is great for large families and households that watch a lot of TV.
Hulu + Live TV offers a solid product at a reasonable price.
If you're looking for an alternative to a traditional cable subscription, Hulu + Live TV is a good option. It has a solid mix of news, sports, local, and entertainment channels, as well as some fantastic add-ons and good features.
The fact that you also get Hulu on-demand content as well as Disney+ and ESPN+ makes it an even better value proposition. And thanks to its solid platform support, it's easy to watch the TV you love on pretty much any device with Hulu + Live TV.
But don't just take our word for it. If you'd like to try Hulu + Live TV for yourself, just click here to sign up. You can cancel at any time without any fees or penalties, so you can sign up, try it out, and see if this cable alternative is right for you and your family.
Eric Liston • Author
Eric Liston is a content writer based in Columbus, Ohio. Since 2015, he's been writing about technology, cord-cutting, and helping everyday people save money. He also has expertise writing about medicine, dentistry, insurance, and a variety of other industries. No matter what he's writing, his focus is always on simplifying complex concepts and making them approachable for everyone. When he's not slamming away on his keyboard at his home office, you'll find Eric reading sci-fi novels, improving his disc golf game (he just hit his first 400-foot drive) and playing video games on his gaming PC.
Desiree Wu • Editor
Desiree is a content editor and a full-time Honours Business Administration student at Ivey Business School at Western University. Desiree is based in London, Ontario.