Streaming Services
Paramount+
Peacock
Comparison
Paramount+ vs. Peacock in 2023
By Staff, Deja Harris• Edited by Lisa Holden • Updated Nov 16, 2023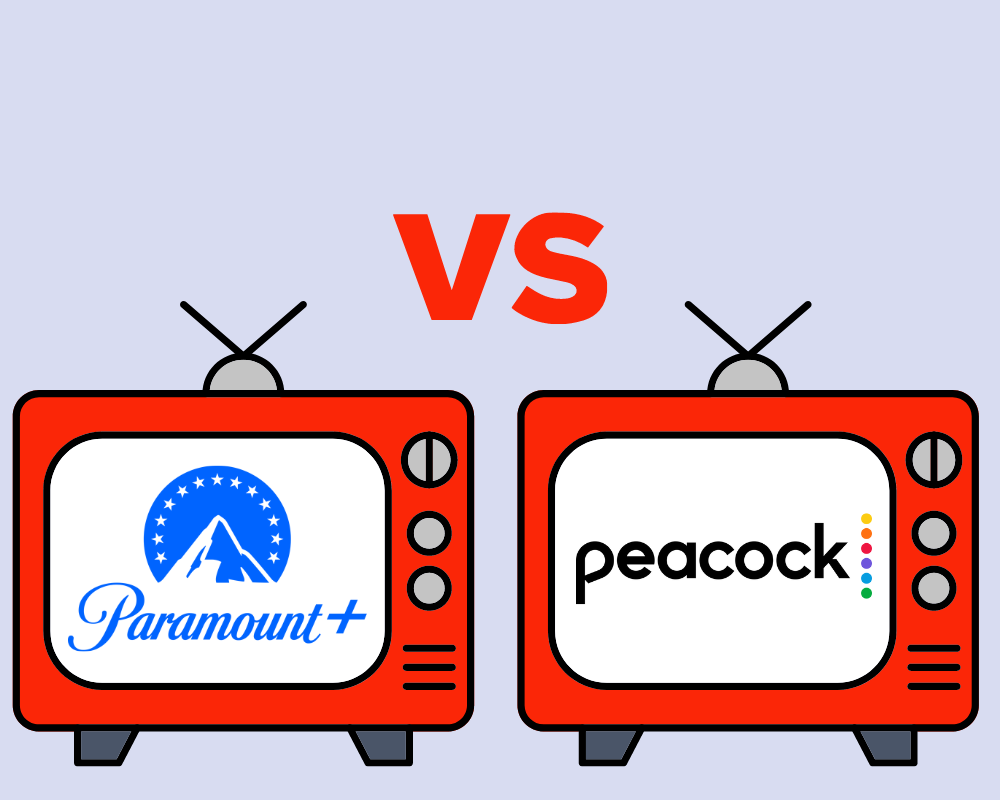 Paramount+ and Peacock are two of the top on-demand streaming services out there. They've got lots in common, such as thousands of hours of movies and shows, budget-friendly prices, and an interesting selection of channels.
But which of these two streaming services is right for you? In this side-by-side guide, we'll put Paramount+ up against Peacock to see which platform comes out on top in key areas like on-demand content, channels, price, and features.
How do Paramount+ and Peacock compare?
| | Paramount+ | Peacock |
| --- | --- | --- |
| Free Trial | 7 days | None |
| Simultaneous Streams | 3 | 3 |
| On-Demand Content | 30,000+ hours | 80,000+ hours |
| Live Channels | 20+ | 50+ |
| Local Channels | CBS only | NBC only |
How do Paramount+'s and Peacock's pricing and plans compare?
Paramount+ is one of the most affordable on-demand streaming services around right now. However, this entry-level plan comes with ad support, so you'll have to watch ads in between episodes and films. You can pay extra to remove the ads.
A mountain of entertainment
Live and on-demand titles
Peacock is actually slightly cheaper than Paramount+. Just like with Paramount+, this base plan comes with ads, but you can pay extra to remove them. Currently, these two platforms have the same price for their commercial-less plans.
Live and on-demand titles
Exclusive content like The Office
Exclusive content like The Office
Live and on-demand titles
How do Paramount+'s and Peacock's channels compare?
Both Paramount+ and Peacock are mainly built around on-demand content, but they do have some live channels, too. Paramount+, for example, has a collection of unique channels that air around the clock and show various programs and content from the Paramount library, like past seasons of Star Trek and Survivor. You also get live local CBS news and some sports with Paramount+.
For Peacock users, the channel selection is even bigger. There are tens of unique channels available for Peacock subscribers, including the likes of Peacock Reality, the SNL Vault, Hell's Kitchen, TODAY All Day, and the WWE Network. Peacock also provides some local content via your local NBC affiliate.
How do the local channels compare?
If you like to keep up-to-date with local news and events, you can access local CBS channels on Paramount+, but there are not any other local channels included with this service at the moment.
Peacock viewers, meanwhile, also only get access to one local channel in the form of their local NBC affiliate. Again, this lets you watch local news and sports, but the availability will vary from region to region.
How do the sports channels compare?
You won't find the likes of Fox Sports or ESPN on Paramount+, but you can enjoy CBS Sports HQ, which has non-stop sports-related content. You can also watch local sports via your CBS affiliate, as well as select sporting events like PGA golf and SEC football.
Over on Peacock, there's also a distinct lack of sporting channels, but the service does have exclusive access to Premier League soccer matches and also has the Olympic Channel, as well as local sporting events, depending on your location.
Which has the better on-demand library?
Paramount+ boasts tens of thousands of hours of on-demand content, and since it has all of the Paramount library to pull from, there are a lot of impressive shows in this service's library. From competitive reality TV like Survivor to the latest iteration of Star Trek, Star Trek: Strange New Worlds, this service has something for everyone.
Peacock also has a huge amount of content, The service offers something to please everyone from comedy fans to drama lovers, with some of its biggest hits including The Real Housewives, Friday Night Lights, Law and Order, We Are Lady Parts, and The Calling. There are also lots of family movies, action movies, and other films on Peacock.
Do both services have a free trial?
No. At the moment, Paramount+ is offering 7-day or one-week trial of its services. This allows you to test out the platform and see what they have to offer before deciding if you want to continue subscribing to it. It's easy to cancel your trial if you're not satisfied.\
Peacock, however, is not offering any kind of free trial at this time.
How do the other features compare?
As well as looking at the content and channels on each service, we also have to pay attention to key features like DVR storage and simultaneous streaming. So, how do Paramount+ and Peacock fare in these areas? Keep reading to find out.
How is the cloud DVR availability?
Right now, both Paramount+ and Peacock do not have any kind of DVR storage. This is mainly because both of these platforms are primarily oriented towards on-demand content, but it's still a downside for people who like to record live shows to watch later on.
What are the simultaneous streaming options?
Paramount+ and Peacock are also tied when it comes to simultaneous streams. Both of these services allow users to watch on three different devices with the same account, so you can share your password with the whole family and let everyone watch what they want at the same time.
How are the device support options?
Even in the device department, both Peacock and Paramount+ are very similar. They both work on almost all major devices, from living room devices like smart TVs, Apple TV, and Roku boxes to video game consoles like the Xbox and PlayStation. They also work on mobile devices with both Android and iOS.
Here's our verdict: Peacock is better than Paramount+.
Overall, Peacock and Paramount+ are very similar in terms of price and key features, so the best choice for you will mainly depend on which service has the best content. For that reason, we think that Peacock has the edge, as it has more content and more channels.
Paramount+ is still a great service in its own right, with some excellent shows and a lot of great reality TV and drama, in particular. It just doesn't have quite as big of a library as Peacock at the moment, but that could change in the future.
Khadija Bilal • Author
Khadija Bilal is an accomplished writer with over a decade of experience under her belt. Having developed a versatile writing style that allows her to tackle a wide range of topics, Khadija has several publications to her name. Khadija's expertise includes in-depth guides and how-to articles.
Lisa Holden • Editor
Lisa Holden is an editor and creative based in Houston, TX. Lisa holds a BA in African-American Studies from Temple University and has spent her career working in news publications and magazines, even founding a magazine herself. When she's not editing or working on one of her many creative endeavors (whenever that is), she enjoys traveling to new places and biking on sunny days.