Streaming Services
Shudder
Apple TV+
Comparison
Shudder vs. Apple TV+ 2023: Which Service Is Better for You?
By Staff• Edited by Lisa Holden • Updated Jun 06, 2023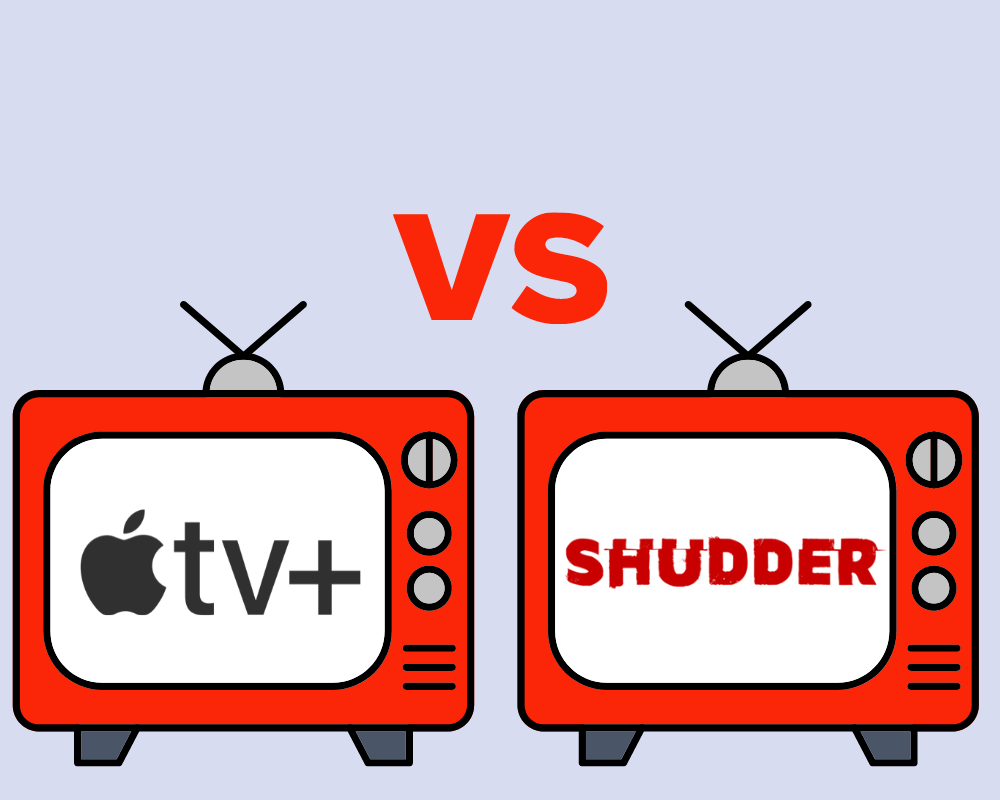 Shudder and Apple TV+ are both primarily on-demand streaming services, but they both have very different content libraries.
If you're a horror fan, Shudder was made for you. Shudder specializes in horror, thriller, and suspense movies and shows—from zombie flicks to slashers, you'll find all the spooky content you need to stay entertained. It offers a wide range of classic and contemporary horror movies, as well as original content like exclusive series and documentaries. In a nutshell, it's perfect for horror enthusiasts who want to immerse themselves in the genre.
On the other hand, Apple TV+ is a streaming service that offers a mix of popular and often award-winning original movies, TV shows, and documentaries. The service has a smaller library of content than most of its competitors, but focused instead on delivering quality over quantity.
Shudder And Apple TV+ Compared
| | Shudder | Apple TV+ |
| --- | --- | --- |
| Base Price | $5.99/month | $6.99/month |
| Free Trial | 7 days | 7 days |
| Simultaneous Streams | 1 | 6 |
| On-Demand Content | 400+ titles | 110+ titles |
| Live Channels | None | Showtime, Starz, HBO, Cinemax, and more (for an additional fee) |
| Local Channels | None | None |
| Sports Channels | None | None |
Pricing And Plans
When it comes to pricing, Shudder is the cheaper option. Its one and only plan includes access to all of Shudder's content, including its library of scary movies, TV shows, and original content.
Horror. Thriller. Supernatural.
Apple TV+ is only slightly more expensive, but its library is much more diverse, with original content across various genres. The streaming service offers one plan that gives you access to all of Apple TV+'s original content, including TV shows, movies, and documentaries.
Unlike Shudder, Apple TV+ gives you the choice to add premium channels like Showtime, Starz, HBO, Cinemax, and more for an additional fee. These channels can be added on an a-la-carte basis, so you only pay for the ones you want.
Which Has The Better On-Demand Library?
Shudder and Apple TV+ carry two very different on-demand libraries, so which one is better will depend on your personal preferences.
Shudder specializes in horror, thriller, and suspense content, offering a range of classic and newer horror movies, TV shows, and original content. Shudder's library contains over 400 titles, and its focus on horror makes it a must-have for horror fans.
Some classics you'll find on Shudder include Halloween, The Texas Chainsaw Massacre, and Night of the Living Dead. A few top TV shows you won't want to miss are Creepshow, The Last Drive-In with Joe Bob Briggs, and Cursed Films.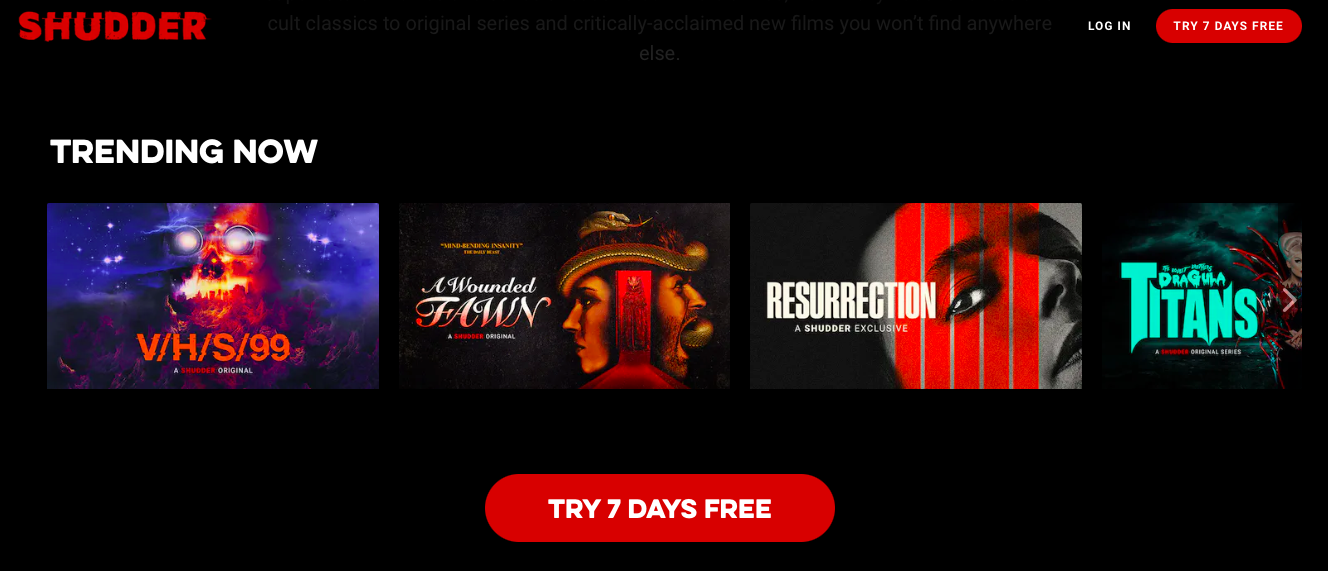 In contrast, Apple TV+ offers original content exclusively—a growing selection of high quality, award-winning, and star-studded movies, TV shows, and documentaries.
Some of the most popular original shows on Apple TV+ include The Morning Show, Ted Lasso, and For All Mankind. The service also offers a handful of movies like the psychological crime thriller Sharper, the highly-anticipated Emancipation which follows the tale of a former slave as he fights for his life in 1860s Louisiana after President Lincoln declared an end to slavery, and the animated family film Luck.

Do Both Services Have A Free Trial?
Both Shudder and Apple TV+ offer a 7-day free trial.
Apple also offers 3 months of Apple TV+ with the purchase of an Apple device. If you buy a new iPod Touch, iPad, iPhone, Apple TV or Mac computer, you may be eligible for a free 3-month subscription, so long as you redeem the offer within 90 days of purchase.
Other Features Compared
There are plenty of other features that may come into play when making a decision on a streaming service. Below, we've covered a few additional things you may want to consider when choosing between Shudder and Apple TV+.
Offline viewing
You can download shows and movies on Apple TV+ so you can watch it on the go. The process for downloading shows and other content is straightforward and available on your iPhone, Mac or iPad.
Shudder lets you download select titles for offline viewing, but unfortunately, the number of titles available for this feature is limited. If a title is available to be downloaded, you'll see a downward arrow next to it.
Another way to be able to download Shudder content offline is to get the Shudder add-on for Amazon Prime Video and watch using either the Amazon Fire Tablet or the Amazon Prime Video app.
Simultaneous streams
You can only stream on one device at a time with a Shudder subscription, which is below par when you consider the industry standard for streaming services (typically 3).
Apple TV+ on the other hand lets you stream on up to six devices at once, which is an incredibly generous simultaneous streaming policy. So if you've got a big family, Apple TV+ was designed with you in mind.
Supported devices
When it comes to device support, Apple TV+ offers slightly more options than Shudder.
To make sure you can stream with ease, check out Flixed's complete Shudder and Apple TV+ supported devices lists.
Our Verdict: Apple TV+ Is Better Than Shudder
Whether Apple TV+ or Shudder is a better choice for you is completely subjective. But with the average viewer in mind, we would have to say that Apple TV+ is a better streaming service overall.
With better features—4K and Dolby Atmos, the ability to stream on up to 6 devices at once, and easy offline viewing, to name a few—and more variety in terms of content, it's the better choice for those not looking for horror-focused content.
If you're looking for a well-rounded streaming service that doesn't only offer its own original content, consider checking out Hulu or Netflix.
And if you are a horror buff, Shudder is hard to pass on. Despite its lower streaming quality and lack of special features, its focus on carrying the best scary films and TV series, its bigger on-demand library and its consistent release schedule make it worth a shot.
Tara Khudairi • Author
Tara Khudairi is a freelance content writer and copywriter based in Toronto. Since 2014, she has contributed to brands and blogs alike to tackle popular topics relating to technology, personal finance, entertainment, travel and lifestyle. Whether it's the latest streaming service or cryptocurrency, she's passionate about making the complex simple. When she's not busy typing away, you'll find Tara watching Netflix's latest true crime doc or a classic 90's horror flick.
Lisa Holden • Editor
Lisa Holden is an editor and creative based in Houston, TX. Lisa holds a BA in African-American Studies from Temple University and has spent her career working in news publications and magazines, even founding a magazine herself. When she's not editing or working on one of her many creative endeavors (whenever that is), she enjoys traveling to new places and biking on sunny days.