How to watch local NBC and FOX affiliates on Sling TV
By Eric Liston • Published Jul 22, 2022
Updated Jul 22, 2022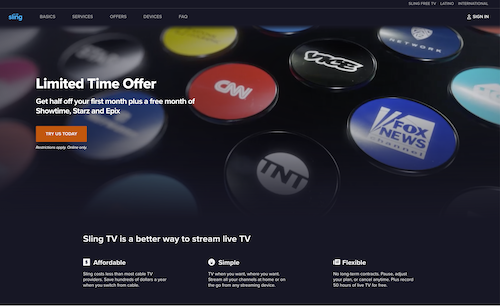 Want to watch local NBC and Fox affiliates on Sling TV? Wondering what other local channels you may be able to get? You're in the right place. In this quick guide, we'll discuss everything you need to know about local channels availability, how to watch NBC and FOX affiliates on Sling TV, and much more. Let's dive in.
What local channels does Sling TV have?
Sling TV doesn't carry many local channels, because they're quite expensive. Because they don't offer most local channels, Sling TV is able to keep its prices much lower than the competition.
Because of this, though Sling TV has a pretty slim lineup of local channels. Their Sling Blue package has FOX and NBC affiliates available in some metro areas, such as Chicago and Dallas/Fort Worth, among others.
However, that's about it. That means Sling TV is missing lots of local channels that cord-cutters may want to watch. Some of the channels that it doesn't have include:
CBS

ABC

The CW

Cozi TV

MyTV

PBS

PBS Kids

ION
Where are NBC and FOX affiliates available on Sling TV?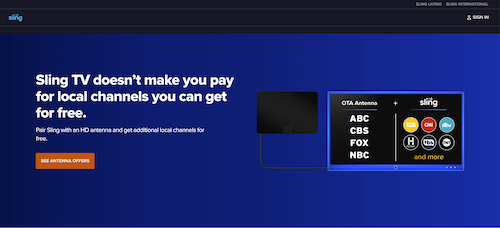 Are you wondering if you can watch your local NBC and FOX affiliates on Sling TV? Here's a full list of the locations where Sling Blue carries NBC and FOX affiliate stations:
NBC affiliate stations
Chicago (WMAQ)

Boston (WBTS)

Dallas/Fort Worth (KXAS)

Miami/Fort Lauderdale (WTVJ)

Hartford/New Haven (WVIT)

Los Angeles (KNBC)

New York (WNBC)

Philadelphia (WCAU)

San Francisco/Oakland/San Jose (KNTV)

Washington, DC (WRC)

San Diego (KNSD)
FOX affiliate stations
Atlanta (WAGA)

Austin (KTBC)

Chicago (WFLD)

Dallas/Fort Worth (KDFW)

Detroit (WJBK)

Gainesville (WOGX)

Houston (KRIV)

Los Angeles (KTTV)

Milwaukee (WITI)

Minneapolis/St. Paul (KMSP)

New York (WNYW)

Orlando/Daytona/Melbourne (WOFL)

Philadelphia (WTXF)

Phoenix (KSAZ)

San Francisco/Oakland/San Jose (KTVU)

Seattle (KCPQ)

Tampa/St. Petersburg (WTVT)

Washington, DC (WTTG)
No. Sling TV only carries FOX and NBC in select areas with Sling Blue. CBS is not available on Sling TV. However, you can watch CBS if you have a digital antenna. Check out the final section at the bottom of this page for more information, and to see how you can watch CBS and other top local networks for free with a digital antenna.
Does Sling TV have RSNs (Regional Sports Networks) for sports?
No. It does have some channels like Big Ten Network, ACC Network, and Longhorn Network, but these aren't any RSNs (Regional Sports Networks) on Sling TV. Over the last few years, Sling TV has dropped all of RSNs from its channel lineup, including Bally Sports channels, NBC Sports channels, and lots of others. This means that Sling TV may not be right for you if you want to watch local sports teams on cable.
If you can't get your local RSN, you'll miss out on lots of regular season games from the MLB, NBA, and NHL. DirecTV Stream may be a good option for you, if this is the case. It's more expensive, but has all of the major RSNs that sports fans may want.
Can't get local channels with Sling TV? Get an antenna!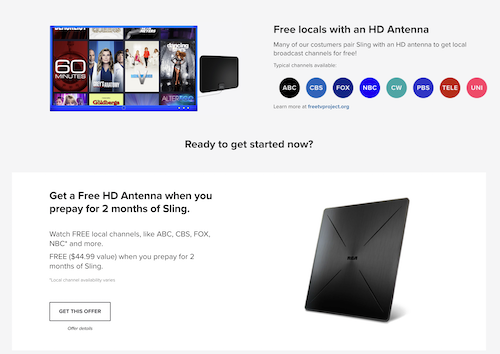 If you want to get FOX, CBS, NBC, and ABC in your area with Sling TV, your best option is to buy a digital antenna. If you buy a digital antenna and connect it to your TV, you can watch these local broadcast channels – and more – for free.
TV antennas are really cheap, and are usually available for under $50. And once you buy one and set it up, you'll get broadcast TV networks for free – forever! If you're wondering what channels you can pick up in your area, we recommend checking out Antennaweb. Just enter your zip code, and you can see the local broadcast networks available in your area right away. This includes NBC and FOX affiliates, as well as CBS, ABC, The CW, and tons of other broadcast networks.
Sling TV even has some special deals where you can get a free digital antenna or AirTV device when you sign up. AirTV is a special device that integrates local broadcast channels into your Sling TV subscription, and lets you watch local channels seamlessly. Click here to learn more about these special offers and sign up today.
Eric Liston
Eric Liston is a content writer based in Columbus, Ohio. Since 2015, he's been writing about technology, cord-cutting, and helping everyday people save money. He also has expertise writing about medicine, dentistry, insurance, and a variety of other industries. No matter what he's writing, his focus is always on simplifying complex concepts and making them approachable for everyone. When he's not slamming away on his keyboard at his home office, you'll find Eric reading sci-fi novels, improving his disc golf game (he just hit his first 400-foot drive) and playing video games on his gaming PC.