Streaming Services
Peacock
Apple TV+
Hulu
Paramount+
Review
Paramount+ Review 2023
By Staff, Deja Harris• Edited by Lisa Holden • Updated Nov 16, 2023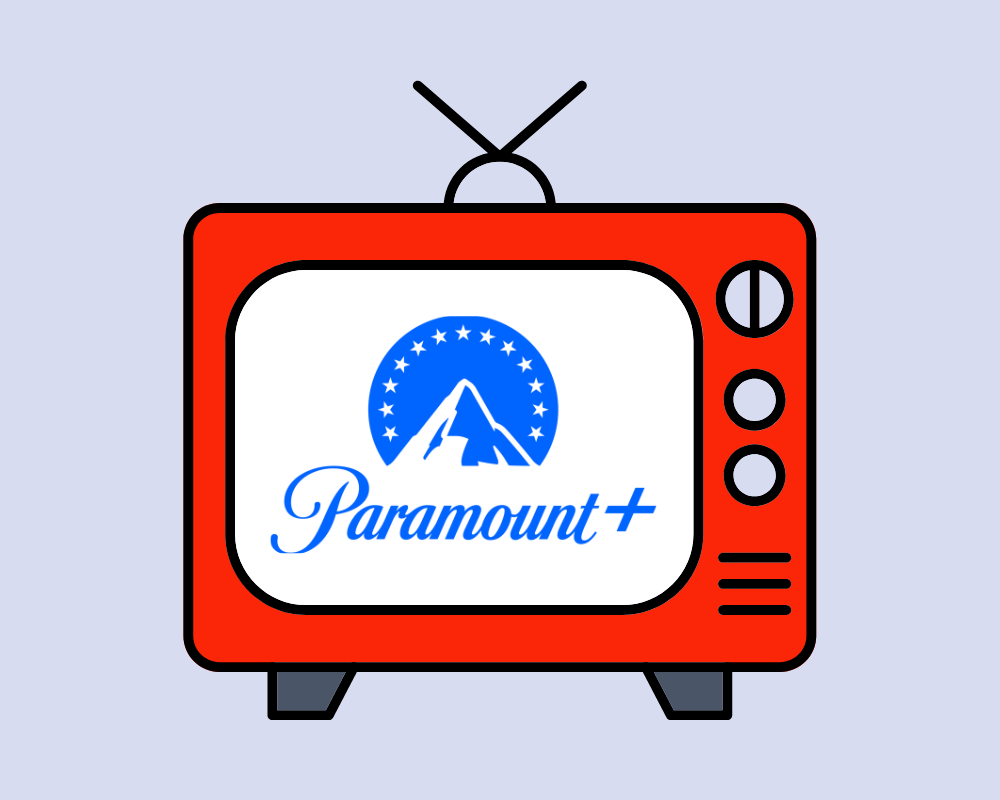 The streaming service formerly known as CBS All Access was rebranded as Paramount+ after the cable TV network reunited with Paramount's owner Viacom for the second time. Paramount+ delivers a solid blend of classic TV shows, original series and movies, and live sports. Upgrading to the ad-free plan also includes your local CBS affiliate, but you won't find any other live TV channels. With one of the most affordable streaming subscriptions out there, our Paramount+ review helps decide whether it's right for you.
What content does Paramount+ have?
In addition to original programming and movies from Paramount Pictures, Paramount+ has 6 content hubs:
CBS
Nickelodeon
MTV
BET
Comedy Central
Smithsonian Channel
What TV shows are on Paramount+?
Paramount+ has around 30,000 TV episodes. From I Love Lucy, Gunsmoke, and the original Star Trek to Happy Days, Cheers, and Beverly Hills 90210, its Classics section spans generations. New Paramount+ original series include:
1923
The Game
Mayor of Kingstown
Picard
Tulsa King
One big show missing from Paramount+ is the Paramount hit series Yellowstone. You'll need a streaming service with the Paramount Network to watch the current season of Yellowstone and Peacock to watch the first 4 seasons.
What movies are on Paramount+?
With the entire Paramount Pictures library available, Paramount+ has around 2,500 movies on the platform but access to many more. It also licenses 3rd-party films, which include exclusives like Devotion, and produces original movies such as At Midnight and Teen Wolf: The Movie.
What sports are on Paramount+?
Both plans include live NFL football games broadcast on CBS and live matches for top soccer leagues like Serie A and the UEFA Champions League. Completed games go into the on-demand library shortly afterward. There are also sports documentaries, movies (including every Rocky movie), and sports-related shows ranging from Inside the NFL to Basketball Wives to NFL Slime Time.
What news options are on Paramount+?
Newshounds can dig through past episodes of 60 Minutes and Face the Nation, as well as all current-season episodes of CBS Evening News. There's also a hub with a live CBS News stream and CBS Live Local News channels.
What live TV options are on Paramount+?
Upgrading to the Premium plan gets you your local CBS affiliate station. But aside from live sports and events, that's the extent of live TV on Paramount+.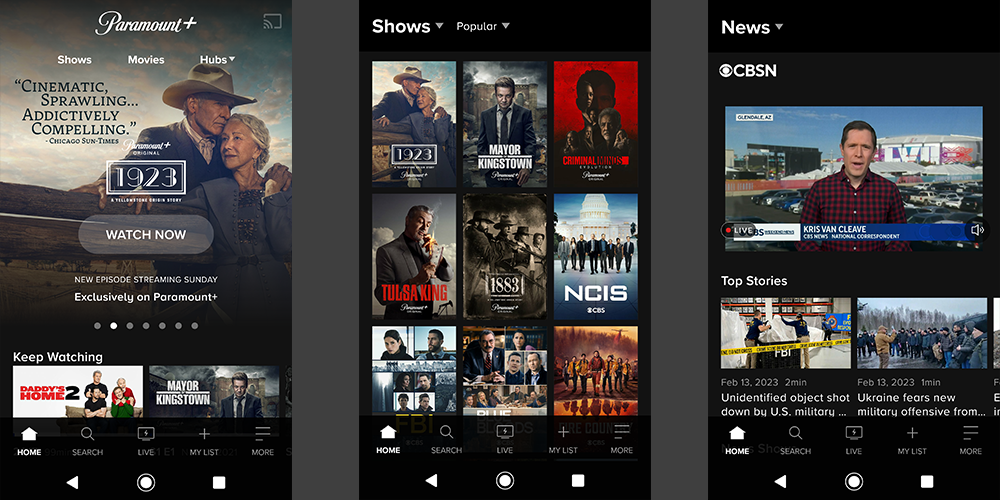 What is Paramount+'s interface and usability?
Like most streaming services, the menus in Paramount+ vary slightly between devices, but top-level navigation is divided into Shows, Movies, Live TV, Sports, and News. There's also a main tab for Showtime, which can be added for a modest price per month, and a My List tab for your saved and followed movies, shows, and sports.
The first tile row of the Home screen is Keep Watching, which lets you get right back into your most recent shows. This is how it should be, although some streaming services seem to think otherwise. My List is next, followed by Originals, Now Featuring, and Brands, which has tiles for the 6 TV content hubs. Below that are recommendations and curated lists, which is a good place for them.
The layout is clean, simple, and responsive. We noticed very little lag and no buffering while navigating and watching.
How does Paramount+ compare to other services?
Paramount+ currently has 2 plans: Essential and Premium, the latter being around twice the price of the former. Premium removes the ads (except on live TV and a few shows), streams your local CBS station live and lets you download shows to watch offline.
A mountain of entertainment
Live and on-demand titles
Along with Peacock, Paramount+ is one of the few remaining streaming services with a plans as low as they are (Check out Paramount+ vs Peacock for a detailed comparison). However, with Showtime being integrated into Paramount+ later this year, the price of Paramount+ is something to keep an eye on.
Dr. Death
Poker Face
The Traitors_ | _- 1923
Mayor of Kingstown
The Good Fight
Wolf Pack_ | _- For All Mankind
The Morning Show
Slow Horses
Truth Be Told_ | _- The Bear
The Handmaid's Tale
Only Murders in the Building
Reservation Dogs_ | | Live TV Channels | NBC | CBS | None | None | | Number of Streams | 3 | 3 | 6 | 2 | | Ads | Yes | Yes | No | Yes | | | | | | |
Is Paramount+ good for families?
Paramount+ has a wide-ranging library of movies, TV shows, sports, and documentaries fit for all age levels. It's one of the lowest-priced paid streaming services available. That means it won't break the bank when paired with other on-demand streaming services or even a live TV service, such as YouTube TV, that could use a boost to its on-demand library.
What are the number of profiles available on Paramount+?
Parental controls are managed by the primary account holder (ie: the main profile). When creating profiles, there is a toggle for a Kids Mode with 2 rating categories:
Older Kids: TV-Y, TV-Y7, TV-Y7-FV, TV-G, G, TV-PG, PG
Younger Kids: TV-Y only
A 4-digit PIN is required to exist Kids mode and switch to an adult profile.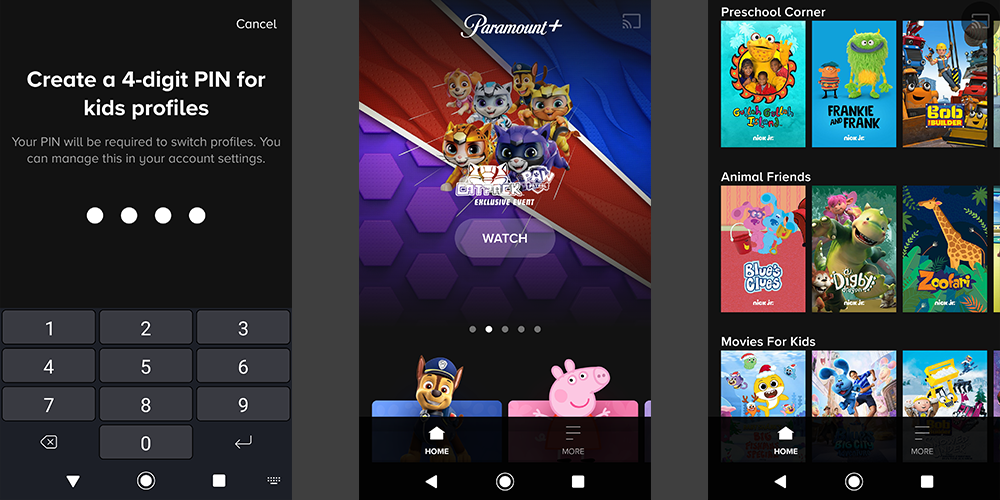 Who is Paramount+ best for?
Paramount+ is a solid option for soccer fans and a great choice for families, especially those who like the CBS lineup of TV shows. There's also a lot for movie lovers to enjoy, but you'll find mostly mainstream Hollywood movies (in a range of genres) rather than indies or foreign films. And if you're looking for more options to add to your streaming library — without paying a dime — check out the 35 Best Free Streaming Services before you make your final decision.
Douglas Wright • Author
Douglas Wright is a freelance writer based in Japan. A former web designer and technical writer, he left beautiful Vancouver for bustling Tokyo, where he spent a decade recruiting for software and high-tech firms. No longer commuting through the world's busiest train station, he writes fiction and a wide range of formats for clients around the world. When he gets AFK, he's either outdoors with his two boys, streaming a show with his wife, or reading a book over a French-pressed, hand-ground coffee.
Lisa Holden • Editor
Lisa Holden is an editor and creative based in Houston, TX. Lisa holds a BA in African-American Studies from Temple University and has spent her career working in news publications and magazines, even founding a magazine herself. When she's not editing or working on one of her many creative endeavors (whenever that is), she enjoys traveling to new places and biking on sunny days.