Streaming Services
Peacock
Channels
Peacock Channel List | What to Watch on Peacock
By Staff, Deja Harris• Edited by Lisa Holden • Updated Oct 03, 2023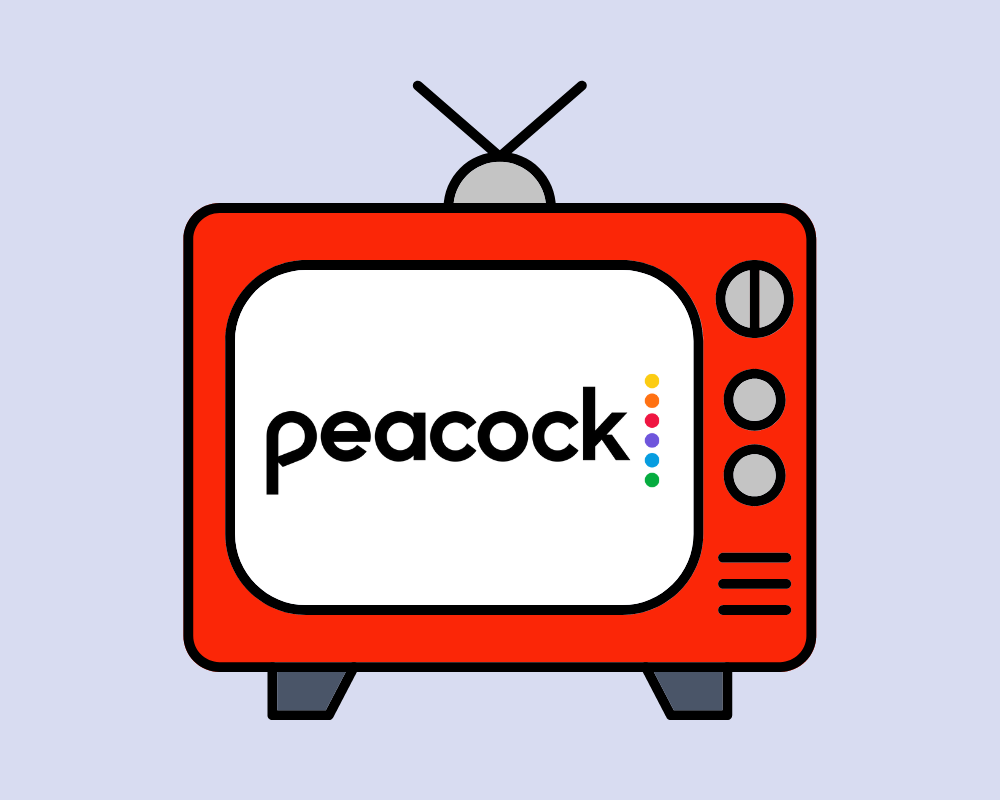 Peacock is gradually expanding its catalog with the addition of new tv shows, live sports, news programs, and movies. Some of this content is exclusive to Peacock and have received widespread critical acclaim.
With the steaming service's mixture of live Peacock channels and on-demand content from NBCUniversal studios and third-party content producers, it has become a budget-friendly alternative to traditional cable networks.
In the next section, we'll go over some of the channels that subscribers can watch on the Peacock streaming service. Once you have a general idea of some of the shows that can be watched on these channels, we'll list down six of the best new on-demand TV series to debut on Peacock this year.
What is included in the full peacock channel list?
Peacock now boasts over 50 channels where viewers can watch an endless array of sports, news, reality TV, comedy, drama, and true crime shows. The programming is a mixture of content from NBCUniversal's broadcast and cable archives, as well as content from third-party networks.
American Greed
Black-Led Drama
Black Cinema
Caso Cerrado
The Choice
Circle Country
CJ ENM
CNBC Ka-Ching
CNBC Make It
Comedy TV
Dateline 24/7
D&D Live
Days of our Lives
Disability on Screen
Drama TV
Fail Army
Fallon Tonight
Food52
Golfpass
Hallmark Channel
Hallmark Drama
Hallmark Movies & Mysteries
Hell's Kitchen
Hispanic Heritage
Horror & Supernatural
In It To Win It
Kiss Me Deadly
Laugh Here
Law & Order
Morning Joe
NatureVision TV
NBC LX Home
NBC NEWS NOW
NBC Sports on Peacock
NFL Channel
Olympic Channel
Out Of This World
Peacock Reality
People Are Awesome
Premier League
Rotten Tomatoes Movie Channel
Saved by the Bell
Seth Meyers Now
Sky News
SNL Vault
Squawkbox
Telemundo Series
The Office
The Pet Collective
The Rotten Tomatoes Channel
TODAY All Day
True Crime
Unsolved Mysteries
USGA
Watch This Week
Weather Spy
Witching Hour
WWE Network
80's Mixtape
The Peacock channels are designed to mimic traditional broadcast programming, making them similar to Xumo and Pluto TV.
If you're a die-hard fan of Saturday Night Live, then check out the SNL Vault. Stay up to date on the news cycle with the NBC NEWS NOW, Sky News, and TODAY All Day channels.
Lovers of sports should tune in to the NBC Sports on Peacock and Olympic channels, and for a shot of nostalgia, you can check out the 80's Mixtape channel.
What are Peacock's plans & pricing?
Peacock's plans and pricing can be found below.
Live and on-demand titles
Exclusive content like The Office
Exclusive content like The Office
Live and on-demand titles
More Reading:
45 Best Drama Movies On Peacock
The 50 Best Indie Dramas of All Time
Here are 6 great series to check out on Peacock!
Let's dive a bit into the world of Peacock to unveil six fantastic series that deserve a spot on your watchlist. From gripping dramas to hilarious comedies, Peacock has something for every viewer. Join us as we explore a few of the captivating shows that are sure to keep you entertained.
1. Bel-Air
Bel-Air is a reimagined version of the landmark sitcom The Fresh Prince of Bel-Air. Similar to the original tv show, the series chronicles Will Smith's transition from the streets of Philadelphia to the glamorous enclave of Bel-Air. The reboot lacks the original's comedic tone but makes up for it with great acting, glamorous surroundings, and a compelling storyline.
The storyline has gotten some interesting updates: cousin Hilary is now an Instagram influencer and Carlton has been transformed into a moody, modern-day Hamlet with a penchant for sports cars.
Since its premiere, t his Peacock original series has had tremendous success in the excitement surround this creative reimagining.
Genre: Drama
Actors: Jabari Banks, Cassandra Freeman, Jimmy Akingbola, Olly Sholotan, Coco Jones, Akira Akbar, Simone Joy Jones, Jordan L. Jones
Directors: Morgan Cooper, Carl Seaton, Nick Copus, Matthew A. Cherry
2. The Blacklist
The Blacklist, an NBC thriller, has just recently reached its finale after boasting a remarkable decade-long run of over 200 episodes. James Spader shines in his role as Raymond Reddington, a former US Naval Intelligence officer turned infamous fugitive who voluntarily surrenders to the FBI to aid in the capture of the world's most dangerous criminals, cataloged in his enigmatic "Blacklist".
The series masterfully weaves a web of intrigue, suspense, and unexpected alliances as Reddington's encyclopedic knowledge of criminal activities and enigmatic past keeps audiences enthralled through a roller-coaster ride of crime-solving, character development, and plot twists, solidifying its status as a beloved and unforgettable network television show.
Genre: Drama, Action, Thriller, Crime TV
Actors: James Spader, Megan Boone, Diego Klattenhoff, Amir Arison, Ryan Eggold, Harry Lennix, Mozhan Marnò, Hisham Tawfiq
Executive Producers: Jon Bokenkamp, John Davis, John Eisendrath, John Fox, Joe Carnahan, James Spader
3. Law & Order: Special Victims Unit
Law & Order: Special Victims Unit continues to captivate audiences with its compelling stories of the New York City Police Department's SVU. Anchored by the brilliant performances of Mariska Hargitay as Detective Olivia Benson and Christopher Meloni as Detective Elliot Stabler, the show delves into the sensitive and often harrowing cases of sexually based offenses and crimes against children.
With a steadfast commitment to justice, SVU's dedicated detectives work tirelessly to bring perpetrators to account while navigating complex legal and moral dilemmas. Law & Order: Special Victims Unit boasts an impressive 24 seasons, all of which can be found on Peacock.
Genre: Police procedural, Legal drama, Thriller, Mystery
Actors: Mariska Hargitay, Christopher Meloni, Ice-T, Richard Belzer, Dann Florek, Kelli Giddish, and Peter Scanavino, and more
Created By: Dick Wolf
4. The Real Housewives Ultimate Girls Trip Ex-Wives Club
Can't get enough of The Real Housewives franchise? Indulge yourself with Season 2 of The Real Housewives Ultimate Girls Trip Ex-Wives Club.
This was among the most highly anticipated Peacock TV shows to debut. Follow these glamorous, spoilt, and cosmetically enhanced ladies as they vacation, scheme, and fight their way through parties, mansions, and dinners. What does everyone have in common? They're all ex-wives and got juicy divorce settlements, of course!
Genre: Reality TV, Comedy
Actors: Taylor Armstrong, Brandi Glanville, Vicki Gunvalson, Tamra Judge, Eva Marcille, Dorinda Medley, Phaedra Parks, Jill Zarin
Executive Producers: Andy Cohen, Lisa Shannon, Dan Peirson, Darren Ward, John Paparazzo, Glenda Cox
5. Queer As Folk
Queer as Folk is got a reboot on Peacock! This new iteration takes place in New Orleans and follows Brodie (Devin Way) and his friends as they navigate their way through tragedies, romance, and personal growth.
Trigger warning: the season premiere features a mass shooting at a queer nightclub, and the characters are left to deal with their personal losses and traumas.
Most notably, Kim Cattrall has joined the cast as Brenda, a "martini-soaked, high-society Southern debutante" with less than glamorous roots.
The critical buzz for this show is starting to build up and fans of the original American and British series should check out the reboot.
Genre: Drama, Romance, LGBTQIA+ Movies
Actors: Devin Way, Fin Argus, Jesse James Keitel, Candace Grace, Johnny Sibilly, Ryan O'Connell, Kim Cattrall
Director: Stephen Dunn (1 episode)
6. The Thing About Pam
Based on real-life events, The Thing About Pam unfolds the story of Pam Hupp, a convicted murderer, and her role in the 2011 killing of Betsy Faria, with Renée Zellweger delivering a standout performance in the titular role.
Offering a blend of humor and darkness, The Thing About Pam is a compelling choice for fans of cinematic works such as Fargo and TV series like The Woman in the House Across the Street from the Girl in the Window.
Genre: Crime drama
Actors: Renée Zellweger, Josh Duhamel, Judy Greer, Gideon Adlon, Sean Bridgers, Suanne Spoke, Mac Brandt, Katy Mixon, Glenn Fleshler
Directors: Scott Winant, Logan Kibens, Adam Kane
Looking for more recommendations on what to watch on Peacock? Check out these additional recommendations: 10 Best R Movies On Peacock and 20 Best Drama Movies On Peacock
Sam Cook • Author
Sam Cook is a full-time content strategist by day, a part-time freelance content writer since 2015. In another life, he was a high school English teacher for nearly a decade. Based in sunny New Orleans, he writes long-form educational content on technology, including Insurtech, Fintech, HRtech, and content streaming.
Lisa Holden • Editor
Lisa Holden is an editor and creative based in Houston, TX. Lisa holds a BA in African-American Studies from Temple University and has spent her career working in news publications and magazines, even founding a magazine herself. When she's not editing or working on one of her many creative endeavors (whenever that is), she enjoys traveling to new places and biking on sunny days.