Streaming Services
Comparison
Vidgo vs. YouTube TV in 2023
By Staff• Edited by Lisa Holden • Updated Jun 05, 2023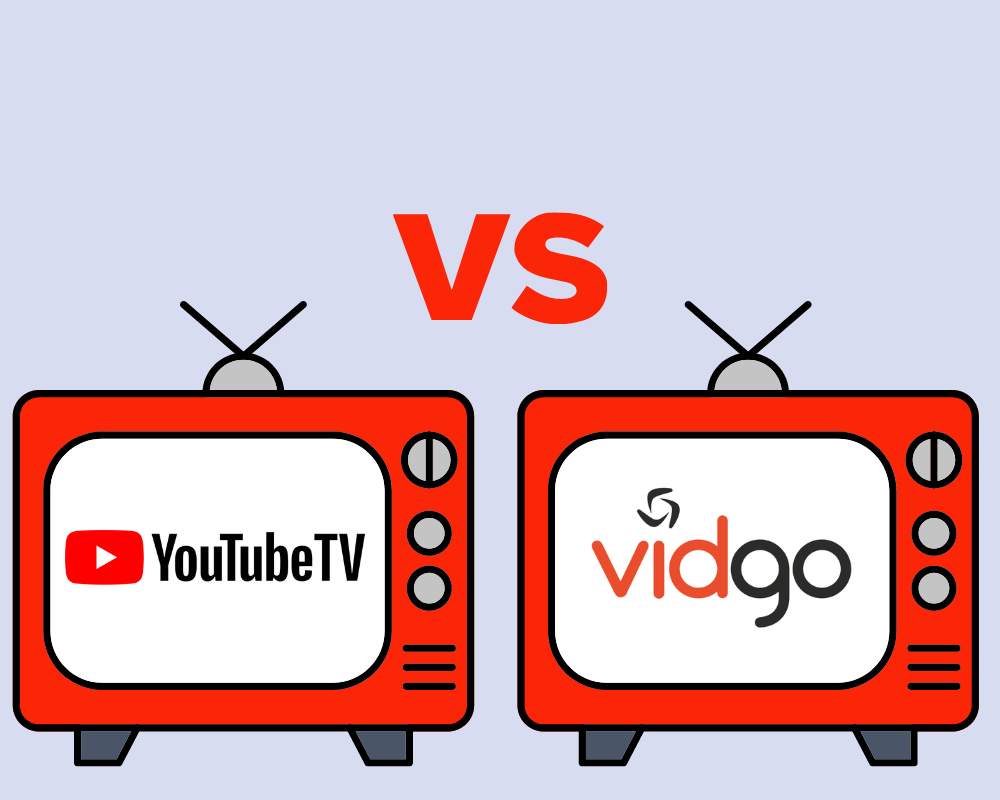 Vidgo and YouTube TV are fairly new additions to the live TV streaming market. However, it's clear that YouTube TV is a big market player, while Vidgo fights hard for each subscriber. But both platforms have plenty to offer to potential users, so how to choose a better option?
The answer is simple – check out our Vidgo vs YouTube TV comparison. It reveals all details and helps you choose the best streaming service for your needs!
Vidgo And YouTube TV Compared?
| Feature | Vidgo | YouTube TV |
| --- | --- | --- |
| Base Price | $69.99 | $72.99 |
| Free Trial | No | From 5 days / 20-minute preview |
| Simultaneous Streams | 3 | 3 |
| On-Demand Content | 10,000+ hours | 30,000+ hours |
| Live Channels | 110+ | 100+ |
| Local Channels | 2 | 6 |
| Sports Channels | 20+ | 12 + add-ons |
Pricing And Plans
YouTube TV has two base price plans. For $72.99 a month, you get a single subscription for English and Spanish content. The solely Spanish plan is $34.99 a month. Apart from the Base plan for English content, you can activate add-ons. There are 25 different packages focused on specialized content, and some even include popular VOD services like Max.
Vidgo doesn't have add-ons, but it comes with three English language packages: The basic Vidgo Plus plan at $69.99/mo, the English Premium Package at $84.99/mo, and the English and Spanish Ultimate Package at $99.99/mo. There's also a Spanish plan, the Vidgo Mas Package, at $39.99/mo.
Channels Compared: Vidgo vs YouTube TV
If we look at the sheer number of channels, Vidgo is the clear winner. Even the Plus package contains over 110 live channels. If you upgrade to the Premium package, you receive more than 150 live channels. That's incredibly impressive, especially since you can expect great content in each category. From the Disney Channel and Comedy Central to MTV and Hallmark, each viewer will find something that fits their preference.
YouTube TV has over 100 channels in the default package, with several dozens of extra networks available via add-ons. The selection includes news channels like CNN and BBC World News, kid-friendly content on Nickelodeon, educational shows on National Geographic, and other excellent channels. Take a look at the YouTube TV channel guide for detailed information.
Local channels compared
YouTube TV dominates this category since the service partners with all major national networks to offer their local TV channels. Whether you enjoy NBC, CBS, FOX, The CW, PBS, or ABC, YouTube TV will meet your expectations.
Vidgo only partners with ABC and FOX up to this point. The network availability might vary on the location. If you want to access other stations, consider getting a TV antenna.
Sports channels compared
Vidgo and YouTube TV both have excellent channel selections for sports fans. If you look at the Vidgo channel list, you'll notice five ESPN channels, Fox Sports 1 and FS2, NHL, MLB Network, Stadium, World Poker Tour, and even MotorTrend in the default Plus package. You also get seven different Pac-12 channels for ultimate sports coverage. More expensive Vidgo packages also offer additional sports options, such as TyC Sports.
YouTube TV isn't far behind in the sports department. CBS Sports, Big Ten Network, NBC Sports, and ESPN channels are all part of this service. NBA TV, MLB Network, and NFL Network ensure you don't miss any action from the most popular sports in the US. If you get a Sports add-on, it includes Fox Soccer Plus, beinSports, NFL Red Zone, and ten other channels.
Which Has The Better On-Demand Library?
Vidgo has a VOD library that includes over 10,000 hours of content in more than 14,000 titles. The Simpsons, Yellowstone, Baywatch, Venom, and Independence Day are among the most popular titles. You can access content made by HGTV, National Geographic, ABC, and other networks.
YouTube TV has thousands of hours of content, but its interface isn't that friendly for video-on-demand fans. You need to use the search box and see if the title is available. If it has a VOD label next to the name, you can play it at any time. Popular titles include New Amsterdam, Jane the Virgin, Happy Death Day, Bad Moms, etc.
Do Both Services Have A Free Trial?
YouTube TV offers a free trial, although its duration depends on the subscription plan and other factors. You can preview the content for 20 minutes without subscribing. The actual free trial for the English language base plan lasts five days, but you need to provide payment details first.
Vidgo doesn't have a free trial. However, the platform might offer special hours where you can access specific college sports games for free, but that's not much because you can't test the rest of the platform.
Other Features Compared
Additional features can contribute to the viewing experience, and here's what Vidgo and YouTube TV offer in that department!
Cloud DVR
YouTube TV dominates this category since it offers unlimited cloud DVR. Not only can you record as much content as you want, but the platform will store the recording for nine months.
Vidgo is slowly implementing DVR service on its platform. You get 20 hours of free DVR with Premium and Ultimate packages. This offer is also available with the Plus package, but only for the first 30 days. The good news is you can use the Timeshift feature to rewind the desired content you missed in the last several days.
Simultaneous streams
Vidgo offers identical simultaneous stream conditions for home and on-the-go networks. A single account allows connecting for up to three different profiles. It means you can watch any content on the platform from three different devices at the same time.
YouTube TV also puts the maximum simultaneous stream at three. If your check our YouTube TV simultaneous streams guide, you'll see that there's an option to upgrade to an unlimited number. However, this is only available if you stick to using your home network.
Supported devices
You can watch Vidgo by using a web player on Safari, chrome, and Firefox browsers. If you use Android or iOS devices, free apps are available in respective app stores. The support also extends to Roku and Android smart TVs, and streaming media players like Chromecast, Apple TV, and Amazon Fire.
YouTube TV takes device support to the next level. Apart from all the gadgets mentioned above and dedicated iOS and Android apps, this service also supports gaming consoles. That means you can use Xbox or PlayStation consoles to access the platform. If you use PlayStation 5 and its support for 4K resolution, you can enjoy your favorite content in the best possible video quality.
Our Verdict: Vidgo Is Better Than YouTube TV
Vidgo might have a smaller subscriber base, but it has a lot of potential. You can get a generous channel selection with the basic subscription, especially if you are a sports fan. And if you need something extra, you can pick the more expensive options.
YouTube TV has better local channel options and device support. It's an all-around streaming service with a generous on-demand library. Ultimately, both services are a decent choice. Consider the channels and features you prefer and pick accordingly!
Aneeca Younas • Author
Aneeca Younas is a graduated journalist with years of experience writing in different niches based in Oakland, CA. She is a huge movie fan that also enjoys watching sports. That's why she spends hours daily using various streaming services. Over the years, Aneeca profiled herself as an expert in cable-free and VOD platforms.
Lisa Holden • Editor
Lisa Holden is an editor and creative based in Houston, TX. Lisa holds a BA in African-American Studies from Temple University and has spent her career working in news publications and magazines, even founding a magazine herself. When she's not editing or working on one of her many creative endeavors (whenever that is), she enjoys traveling to new places and biking on sunny days.