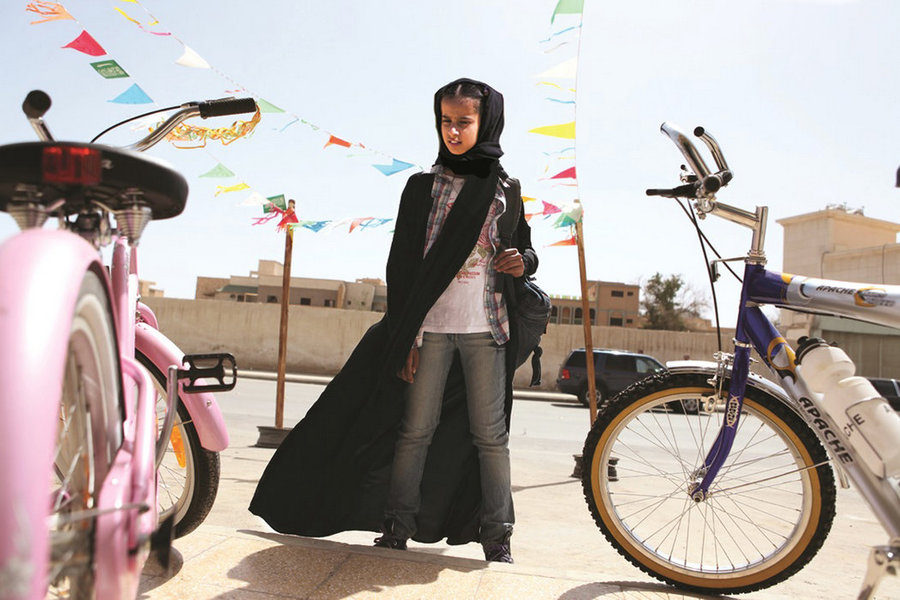 Wadjda is a smart, spirited 10-year-old girl who wants nothing more than to own her own bike, something that is frowned upon in the Saudi Arabian suburb where she lives. While it's not technically illegal for women to own bikes, it is thought of as something that is "dangerous to a girl's virtue," and it's worth noting that this is a society where women are also not allowed to drive their own cars. Wadjda devises numerous schemes to earn enough money to buy a bike (selling bracelets, making mixes of Western pop songs, delivering clandestine messages between men and women), before getting caught by the headmistress at her school. It is then that Wadjda hits on the ultimate money-making scheme: there is to be a Koran-reciting contest at her school with a hefty cash prize, and she's determined to win. There is a subplot involving a growing rift between Wadjda's parents; while there is clearly a lot of love between both parties, it becomes increasingly clear that her father may be leaving her mother for another woman who could potentially bear him a son (a common practice). This subplot is handled with respect and little judgement though, as it is simply the way things work in this culture. Yet, as Wadjda is coming-of-age and learning about the limitations placed on her as a girl, she is obviously negotiating ingenious ways of pushing back against those limitations. The film is subtle and humane in how it handles the slowly changing cultural and gender dynamics in a traditionally conservative, patriarchal society. It wouldn't work without a strong central performance from first-time actor Waad Mohammed though — she is never less than believable as a clever, determined and joyful 10-year-old, and her journey towards adulthood is both heartbreaking and inspiring.
This recommendation was handpicked by agoodmovietowatch editors
Mood:

Affectionate

,

Beautiful

,

Charming

,

F-Rated

,

Humane

,

Inspiring

,

Lovely

,

Relatable

,

Satisfying

,

Simple

,

Thought-provoking

,

Touching

,

Uplifting

,

Warm

,

Well-acted
Netflix availability is sourced through a third-party service.