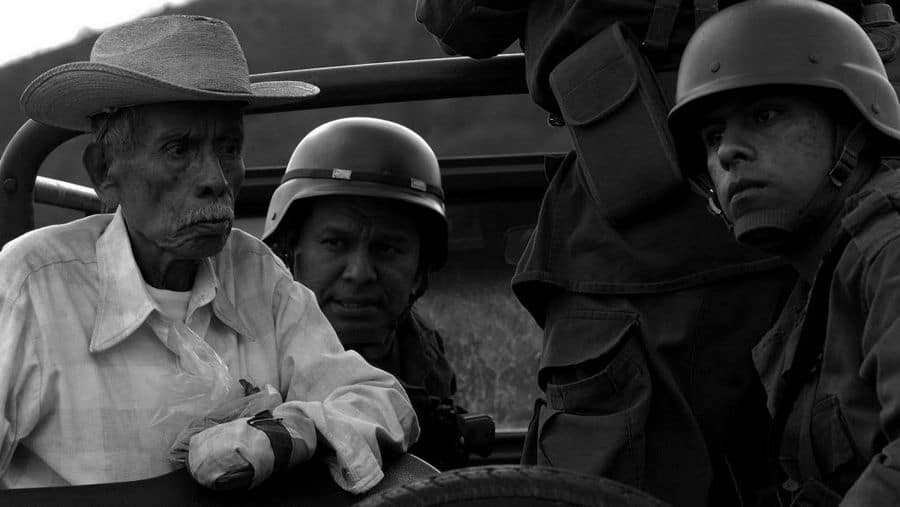 TRIGGER WARNING: THIS FILM IS NOT FOR THE FAINT OF HEART. CONTAINS VERY GRAPHIC SCENES. In fact, the movie opens with rape. While definitely not an easy watch, it is an incredible story and it should definitely be seen by more people.
Set in the 1970s during the peasant revolts, a group of locals in the rural areas organize a rebellion against the government. The movie starts with the government fighting this insurgency by sending soldiers to the village, where they rape, torture, beat, and kill the villagers. The soldiers unknowingly cut off the locals from their ammunition supply by occupying the fields in which the ammunition is secretly hidden. Don Plutarco, an old man and violinist (who is missing a hand), attempts to pass this checkpoint though, in order to "check on his corn crops." The soldiers agree, but only if he stays for a daily music lesson.
As Plutarco comes every day, he secretly smuggles the ammunition into his violin case, right under the guards' noses. The story is incredibly moving, showing the heart wrenching tragedies the peasants go through, as well as the way music moves the guards, despite what they think of the peasants. I'd highly recommend it, but only for those with strong stomachs.
This recommendation was handpicked by agoodmovietowatch editors
We have abandoned user comments and replaced them with reviews.

Read more