Back to all platforms
Spectrum TV Choice (for Spectrum internet users)
Your opinion
Have you tried Spectrum TV Choice (for Spectrum internet users)? Let others know what they can expect.
What's the best deal to subscribe to Spectrumtvchoice?
Great news! It looks like Spectrumtvchoice still offers a free trial of 7 days.
Pricing at Spectrumtvchoice starts at $24.99 per month.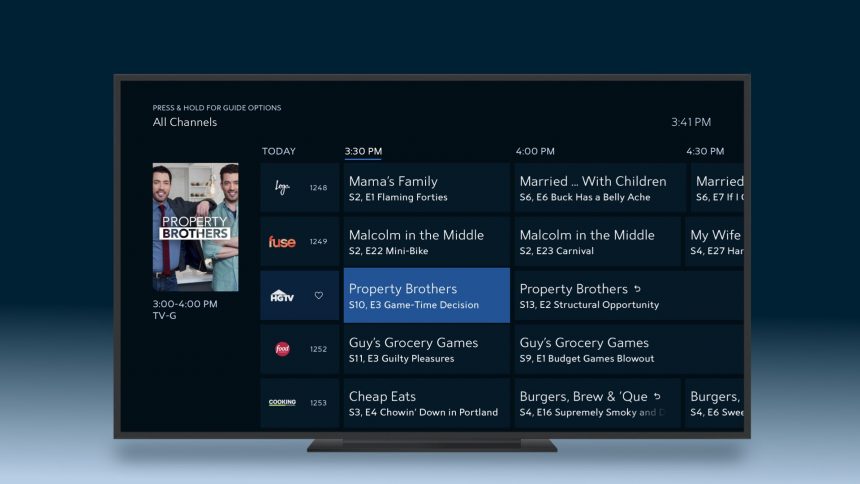 How many channels are there on Spectrum TV Choice (for Spectrum internet users)?
We have spotted 72 channels on Spectrum TV Choice (for Spectrum internet users).
Which channels are included in Spectrum TV Choice (for Spectrum internet users)?
The channels that we have spotted on Spectrum TV Choice (for Spectrum internet users) are:
For local channels, you should get in touch directely with Spectrumtvchoice who, using your postcode, will tell you what they can offer in your area.
Introduction
Spectrum TV Choice is an internet television service that is only available to Charter Spectrum internet customers. It costs $24.99 per month, the channels available to you will depend on your location, but usually you can choose 10 more channels to add to your plan. Please be careful that after 30 days, you might not be able to change the list of 10 channels you choose.
Designed as an alternative to cable subscriptions and on-demand streaming platforms, Spectrum TV Essentials offers a combination of major cable channels and on-demand content that can be streamed through smart TVs, digital media players, and mobile apps.  
Spectrum TV is accessible via Apple TV, Samsung Smart TV, Xbox One, Xbox Series X/S, and Chromecast, as well as via web browser (using Flash), desktop and mobile app including Android and iOS. As of December 2020, Spectrum TV is no longer available via Roku. 
Who is Spectrumtvchoice for?
You need to already be subscribed to Charter Spectrum internet services in order to access Spectrum TV Choice and other services under Spectrum TV umbrella. That includes broadcasts and on-demand content from over 60 major channels networks including Viacom, Discovery, A&E, AMC and Hallmark.
On the other hand, you won't be able to custom add  any extra channels, and you can't access other major TV broadcasters like ABC, CBS, CNN, FOX and NBC, nor the many ESPN and Fox Sports channels––the absence of which helps keep the cost of the service down.
Why get Spectrumtvchoice?
Low price: Priced at $24.99, Spectrum TV is good value for money compared to other internet TV services (like, for example, Youtube TV which starts at $64.99).
Non-live programming: If you love sitcoms, dramas and other pre-recorded programming and are not so interested in live broadcasts, Spectrum TV offers a great array of choices.  
Background
Spectrum is a cable TV, internet, telephone and wireless company based in the US. In 2019, Spectrum launched its TV Essentials services to target customers who prefer online viewing. As CEO Tom Routeledge describes it, Spectrum TV Essentials is a "low-priced, entertainment-only bundle unencumbered by the high cost of broadcast retransmission consent fees and expensive sports programming." Spectrum TV Choice is an evolution of TV Essentials
Disclaimer: While we do our best to stay as up-to-date as possible, we cannot guarantee that the information on this page is fully accurate, as streaming services regularily change their offerings. Please refer directly to each one streaming service for their latest offerings, in-depth questions, or complaints.
Affiliate disclosure: In order to get the data that made this list possible, some of our partners (Justwatch and Flixed) might collect revenue if you click on some of the links in this page. We might also collect revenue in some cases from your click, this allows us to work on making agoodmovietowatch.com better.